It's that time again…
Last year we have over 60+ stores and exclusive Pew Pew Tactical deals…this year we're looking for even more!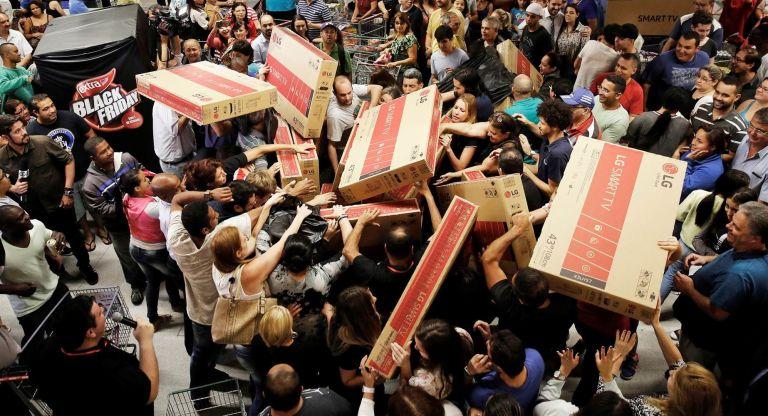 We're still a few days away from actual Black Friday and Cyber Monday so many deals are still in the making. But we'll be updating every few hours!
There's some actual deals out there for 2021 when last year was just trying to get something in stock.
Ammo In Stock
Ammo is at the top of mind for many…us included. 9mm is slowly lowering in price to around to 34 cents per round (CPR) for the good brass stuff. But some calibers are still super hard to find or very expensive.
Here's some of what's in stock at reasonable prices (right now):
9mm
5.56/.223
Other
And check out our Best Places to Buy Ammo Online if you need more suggestions.
Last year PSA had some of the best sales we saw and the real deals will be coming out Monday.
Right now it's simple Daily Deals and free shipping on all firearms, kits, and uppers.
One of our go-to deals is their 16″ 5.56 Midlength AR-15 Build Kit for $479…it's the basis of our favorite build from them in our PSA AR-15 Review.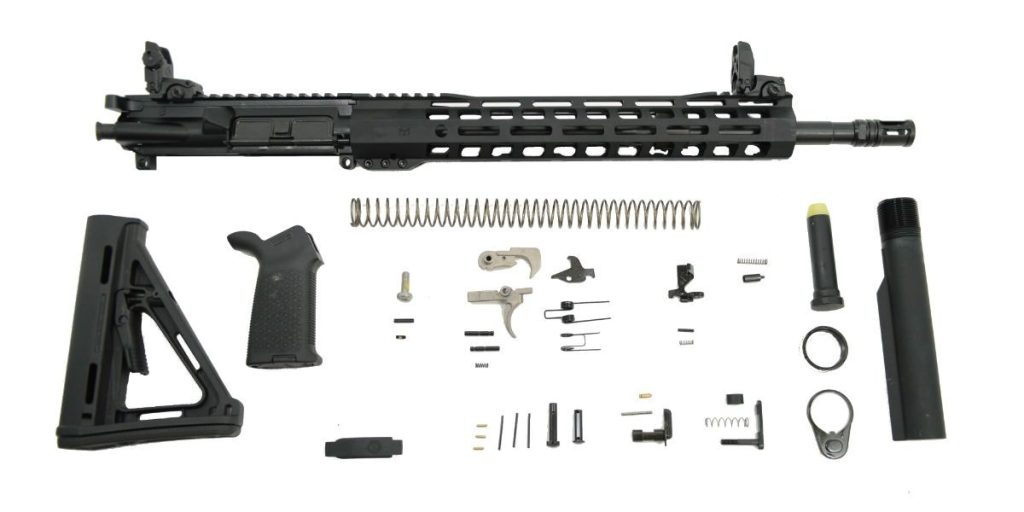 In the meantime check out our All PSA Reviews page where we…you guessed it…have reviewed pretty much everything they've ever made.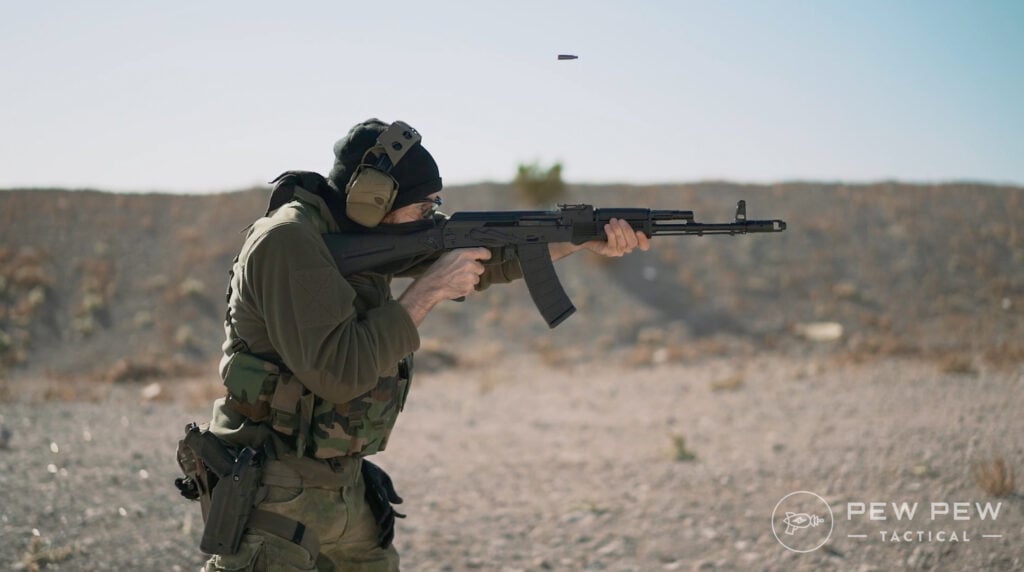 And they've been pretty good about ammo too.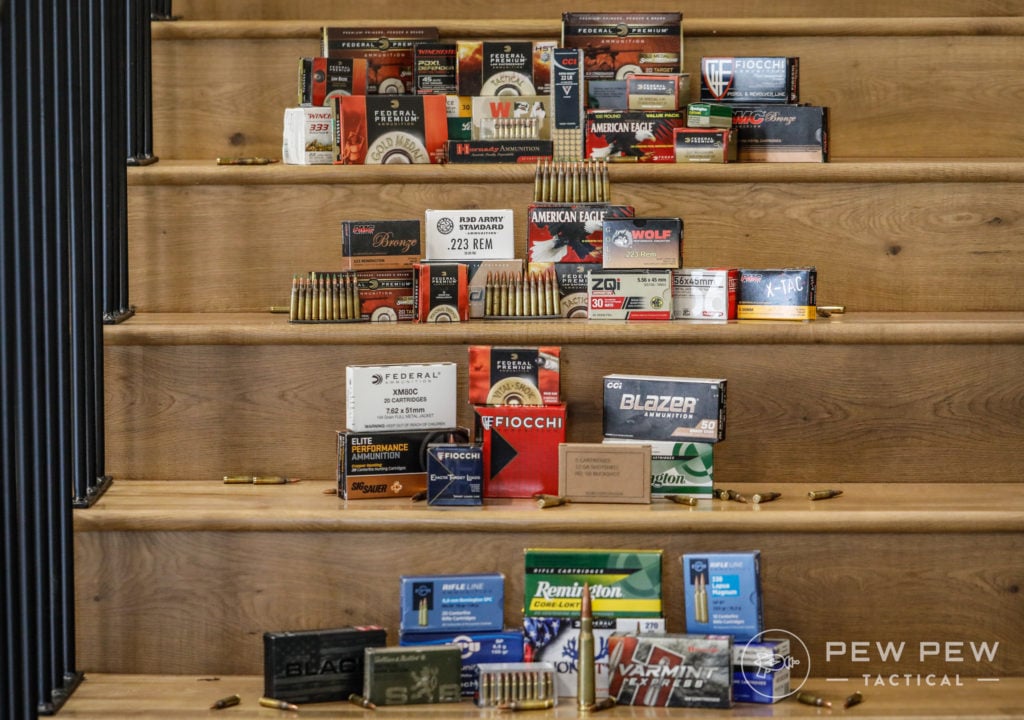 Brownells has a very nice Free $25 for every $100 Gift Card deal. We've already gotten ours and it takes about 24 hours to see both in your email.

If there's also something you're eyeing…they have a $30 off $300 with coupon code RTC.
May we suggest their new FM-15 Zhukov which we finished testing this week and love…stay tuned for that video/review.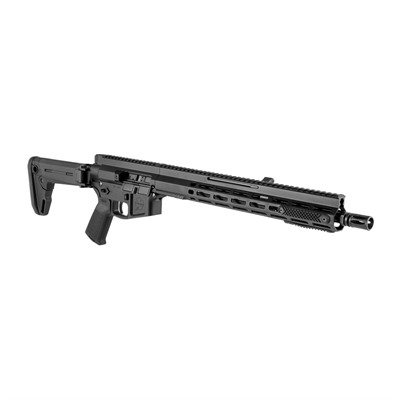 Otherwise their main Black Friday & Cyber Monday deals haven't started yet.
PA is on with their Pre-Black Friday Sale especially with that temping $199 Radical Arms Upper.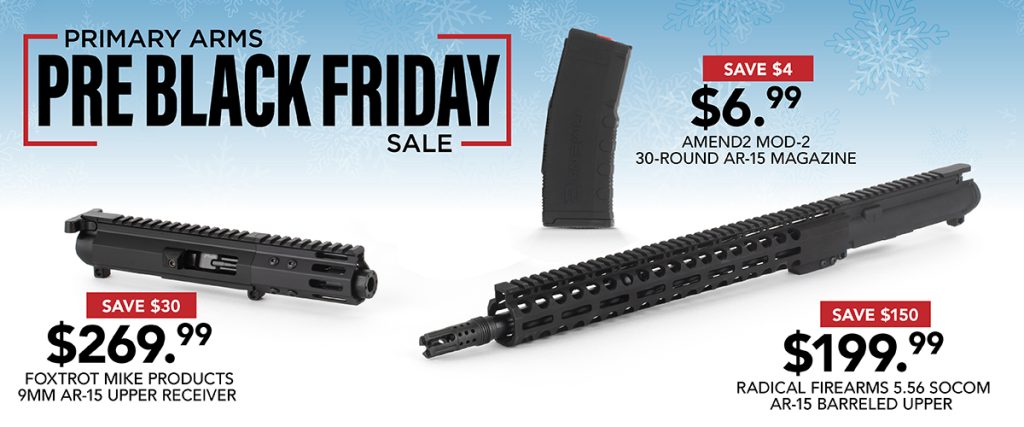 And one of our all time favorites is their SLx 1-6x ACSS Gen 3 for $289…check out full review here.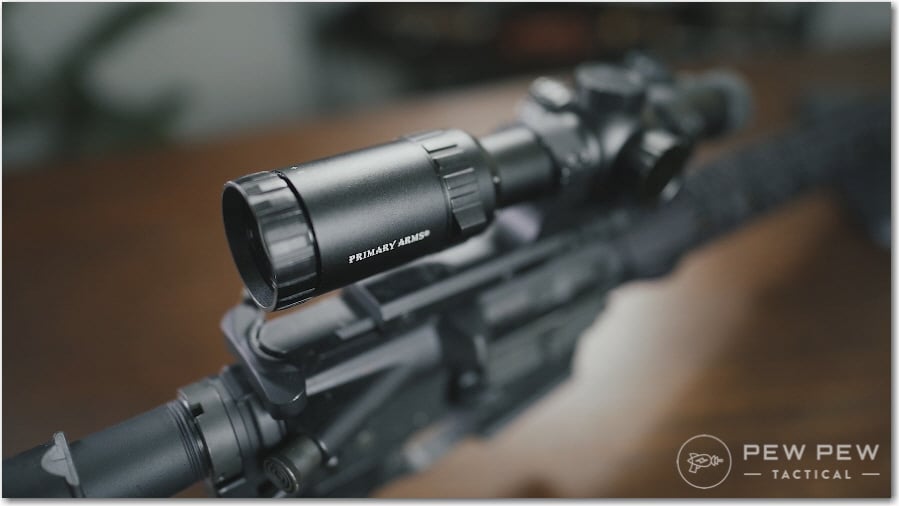 Rainier has a Black November going on with all their deals here. If you're looking for some Gucci slides, nice optics, or anything else in between…check it out.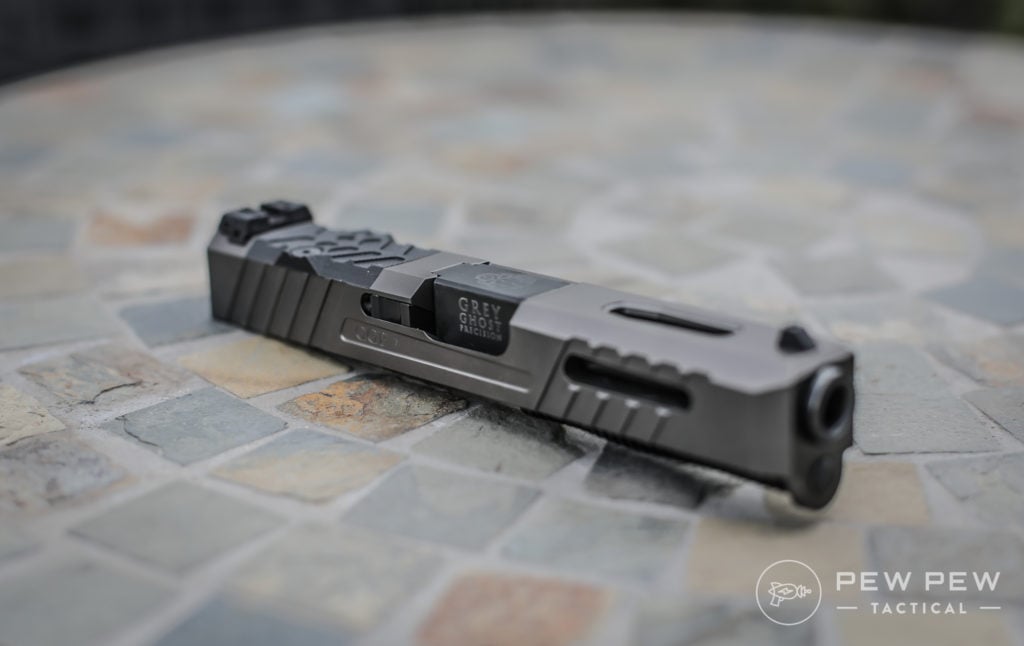 Black Friday full sale is in swing! Use code IMPACT to save 35% storewide.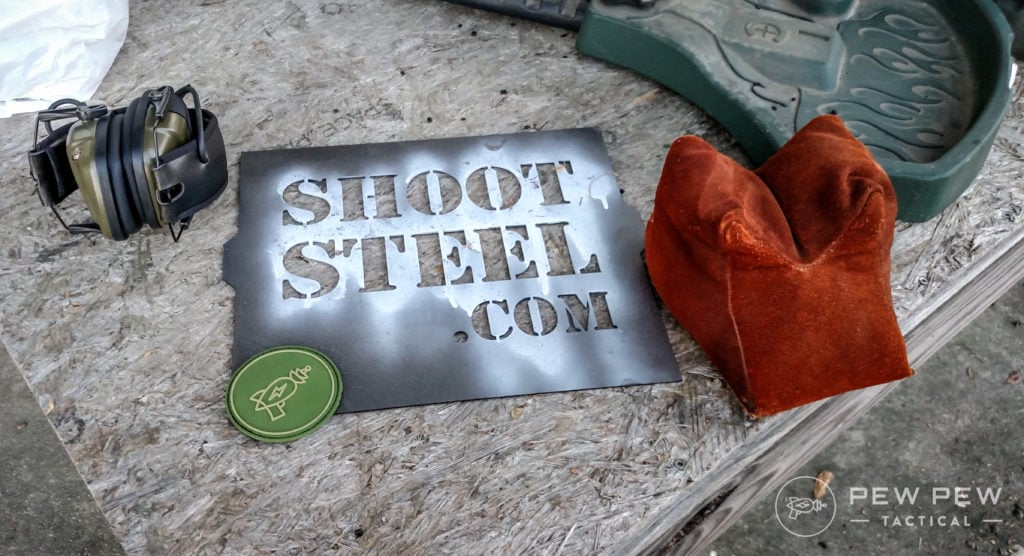 Plus some other goodies as well:
SURPLUS 3/8″ AR500 IS 35% OFF WITH NO CODE REQUIRED
SURPLUS 1/2″ AR500 is 40% OFF WITH NO CODE REQUIRED
ALL ORDERS OVER $199 GET AT LEAST ONE FREE ITEM
ALL ORDERS OVER $250 GET A FREE 3/8″ AR500 TARGET
ALL ORDERS OVER $350 SHIP FREE
They are what we use in all our shooting review videos…and their up armored version has withstood everything even at close range.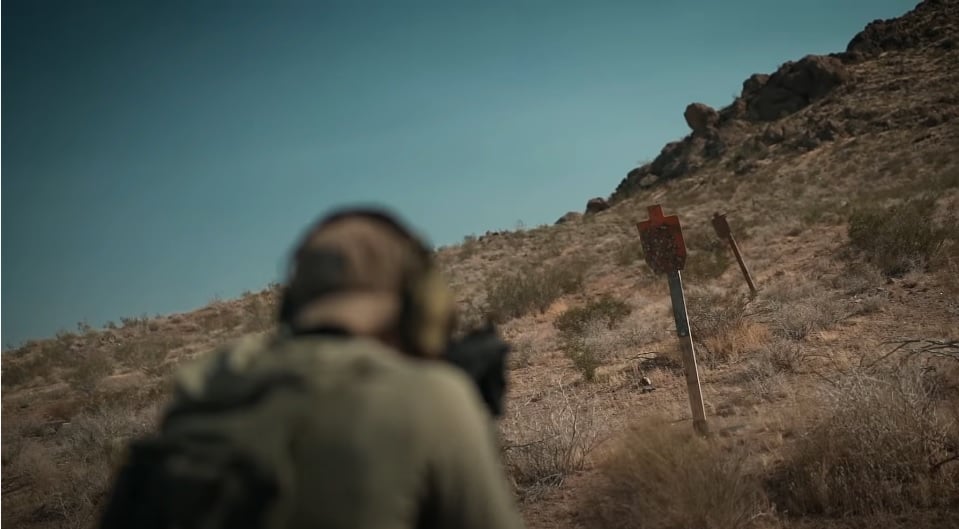 Discount added automatically in cart, no code needed!
Grab the Pew Pew Tactical Exclusive target pack for just $109…and then add on that extra discount with code IMPACT!
109
at Shoot Steel
Prices accurate at time of writing
Prices accurate at time of writing
This bundle includes (1) 3/8″ AR500 12″x20″ Dual Purpose Target, (1) 3/8″ AR500 8″ Static Target, and (1) 3/8″ AR500 5″ Static Target.
Aero Precision has some of the best AR-15 Uppers and Lowers, AR-10, and even 9mm PCC stuff around. And we've got reviews of them all here.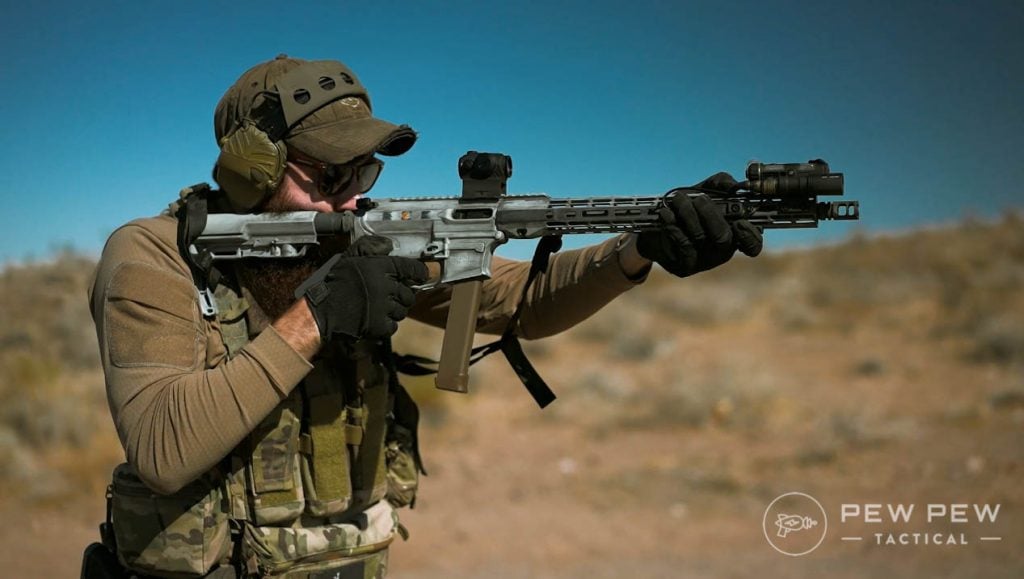 No early Black Friday deals yet…but they always have some nice savings when we get closer so stay tuned.
Starting on 11/24-11/29, Olight will have free shipping on all orders over $29.
And even now they have their Black Friday Deals already up to see…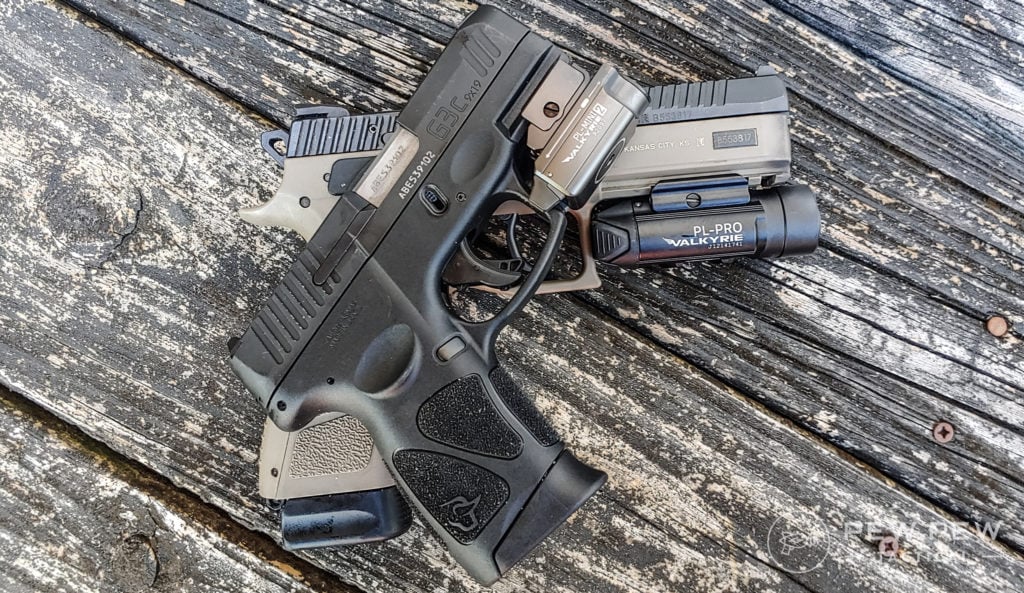 Such as the Baldr Pro R Pistol Light with laser for $108.
Find all their Pre Black Friday Deals here if you're looking for anything mag related…from PMAGs to Glock Mags and everything in between.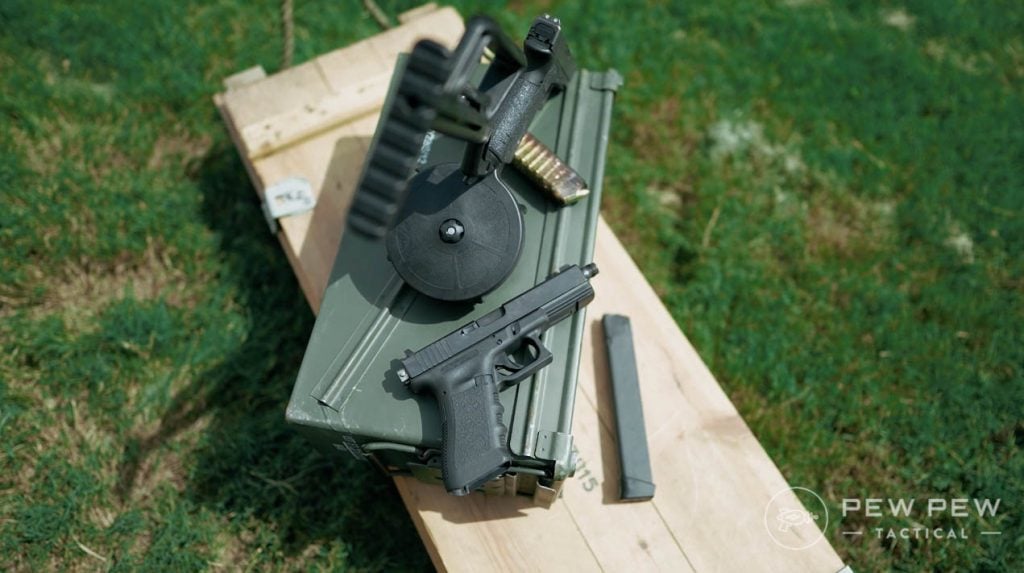 HUGE sales going on at AR500, 20% off site wide with coupon "BLKNOV" plus a LOT of deals on carriers, plates, and more!
We've reviewed the armor plates and the carriers before and really like them, take a full look at all of the armor blasting goodness!
Looking for a free suppressor?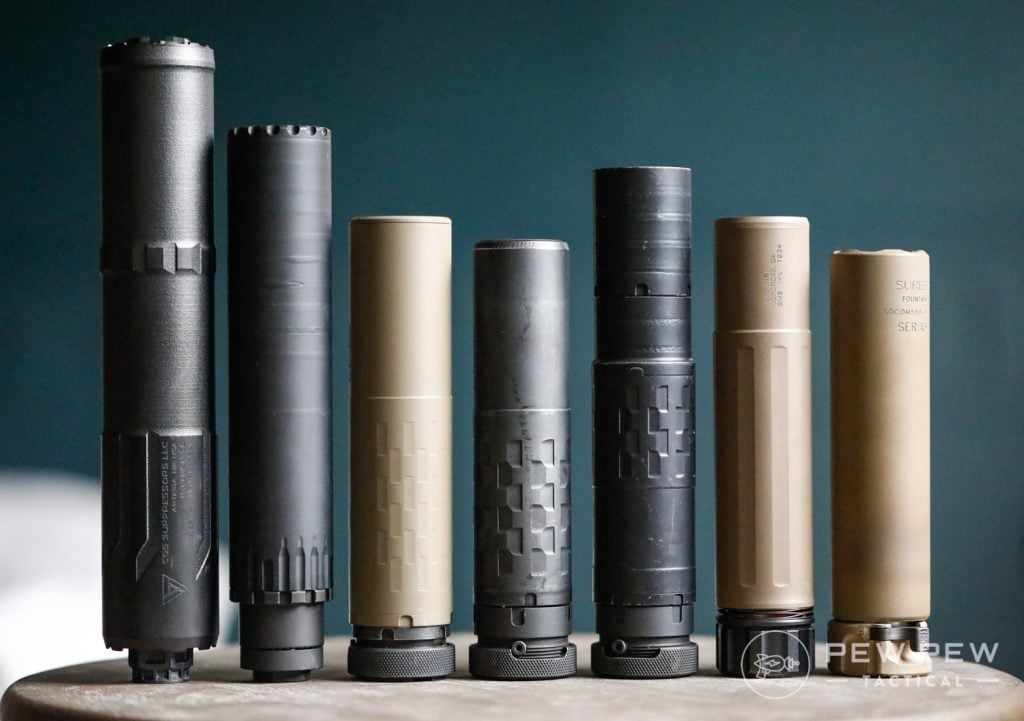 If you spend over $599 you'll get a free SilencerCo Warlock…and if it's over $799 you'll get a free Octane 9 or 45.
Check out the details above as well as our Best AR-15 Suppressors, Best 9mm & 45 ACP Suppressors, and Best Rimfire Suppressor articles.

One of the newer retailers for new and used guns, Guns.com has some nice Pre Black Friday Sales that end Monday:
10% off Mags
10% off Scope Rings
15% off Range Gear
Black Friday has brought 15% off on Handguards and 20% off on Sunglasses! No codes or coupons needed.
We've been using STNGR handguards on several builds for a while now and really like them for their durability and ease of use.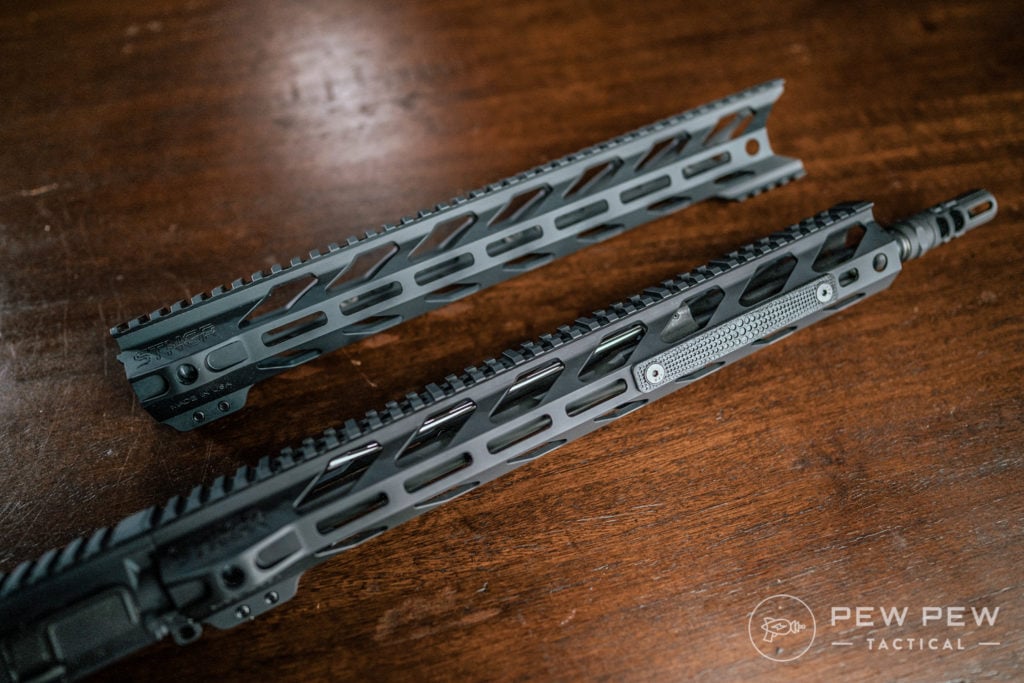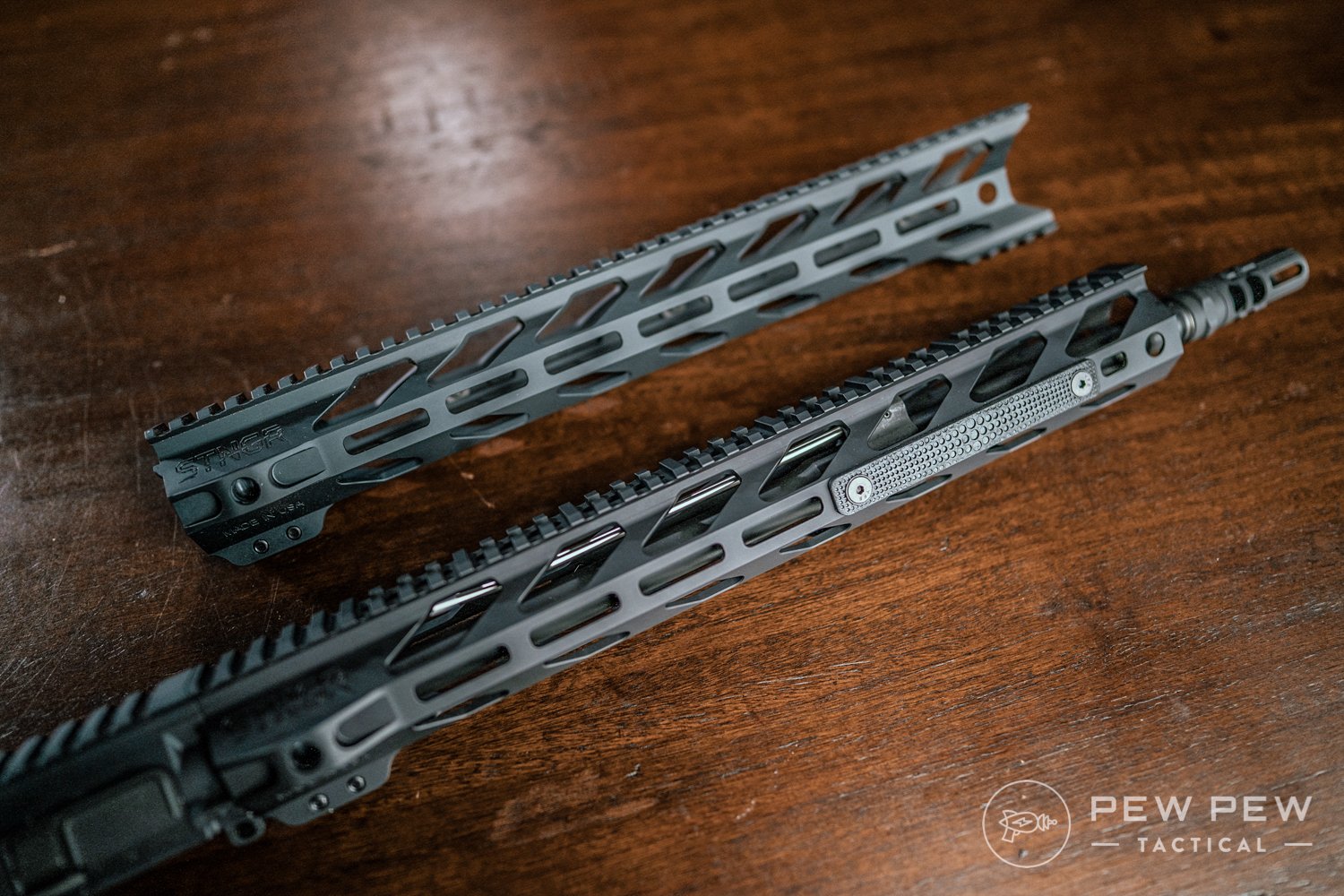 134
at STNGR
Prices accurate at time of writing
Prices accurate at time of writing
And they have been going strong on our night shooting rifle.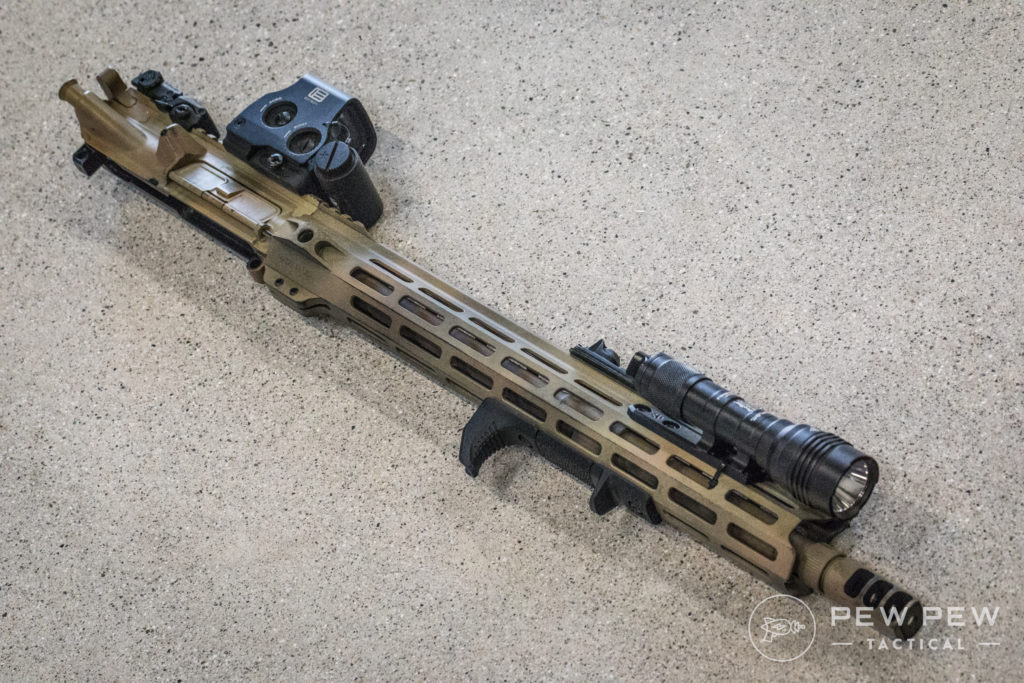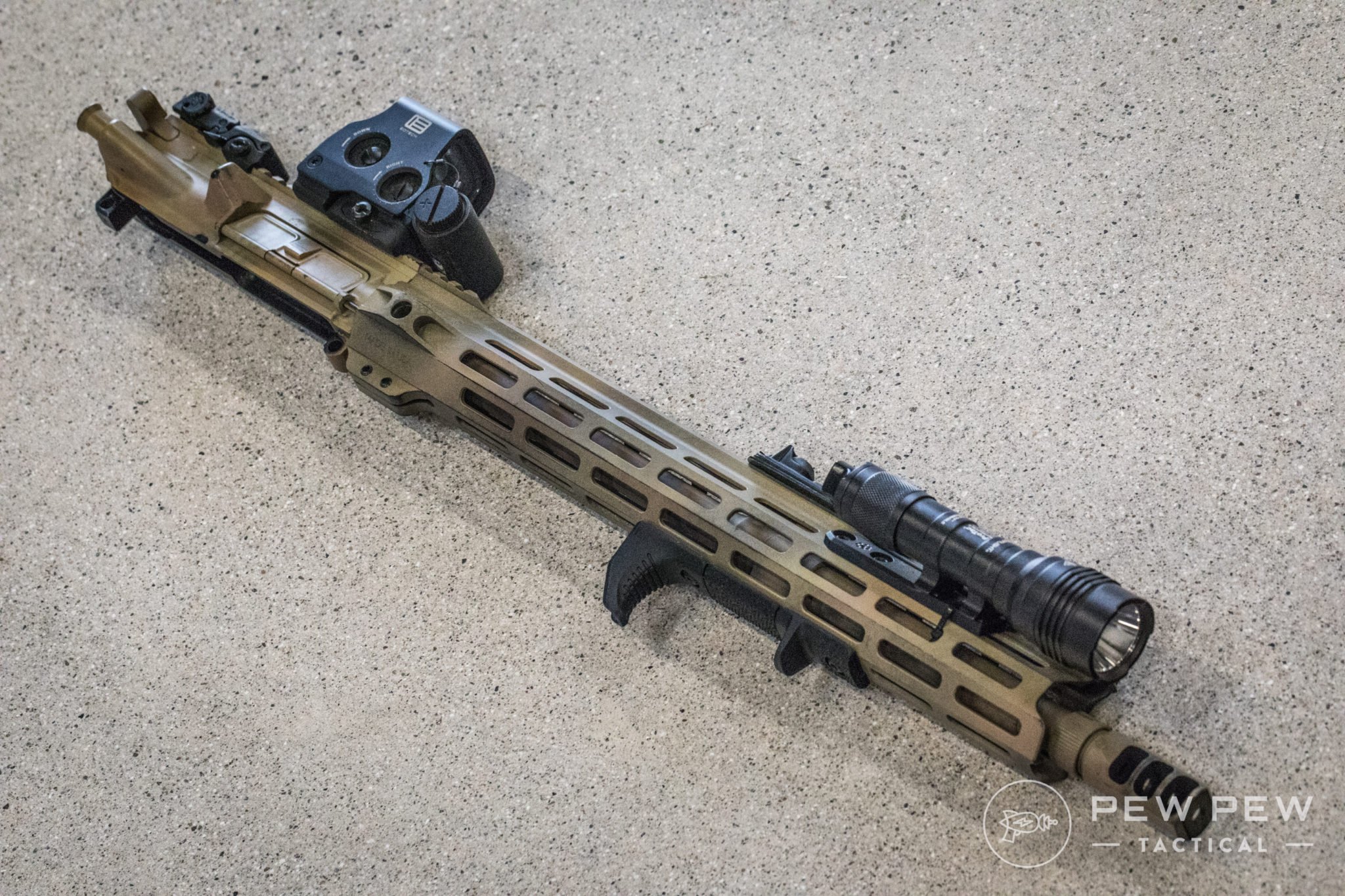 We've also been wearing their ballistic rated eye protection for months and LOVE them! I have both the grey and the yellow tinted glasses and highly recommend them!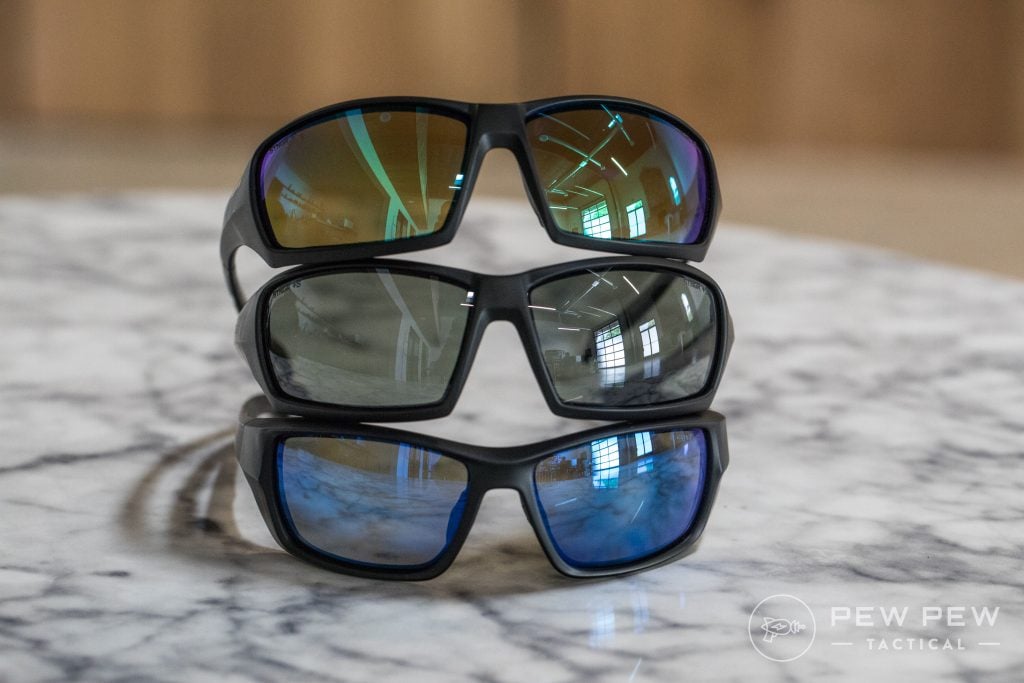 Our favorite manufacturer of affordable (and US made) AR-15 handguards…use code BFCM for 25% off.
We've been using STNGR handguards on several builds for a while now and really like them for their durability and ease of use.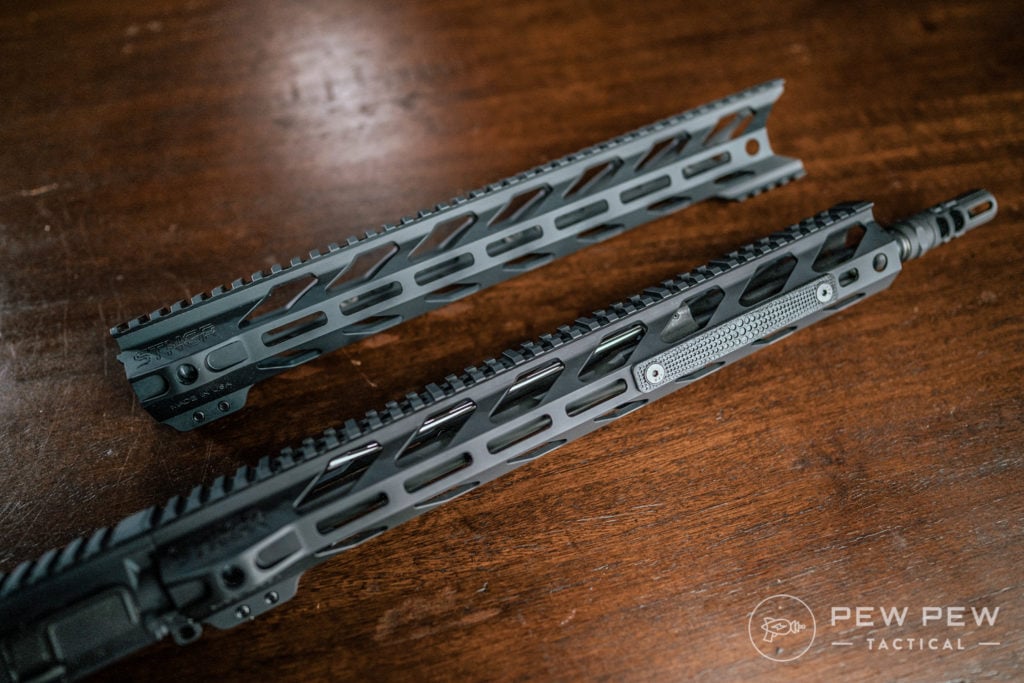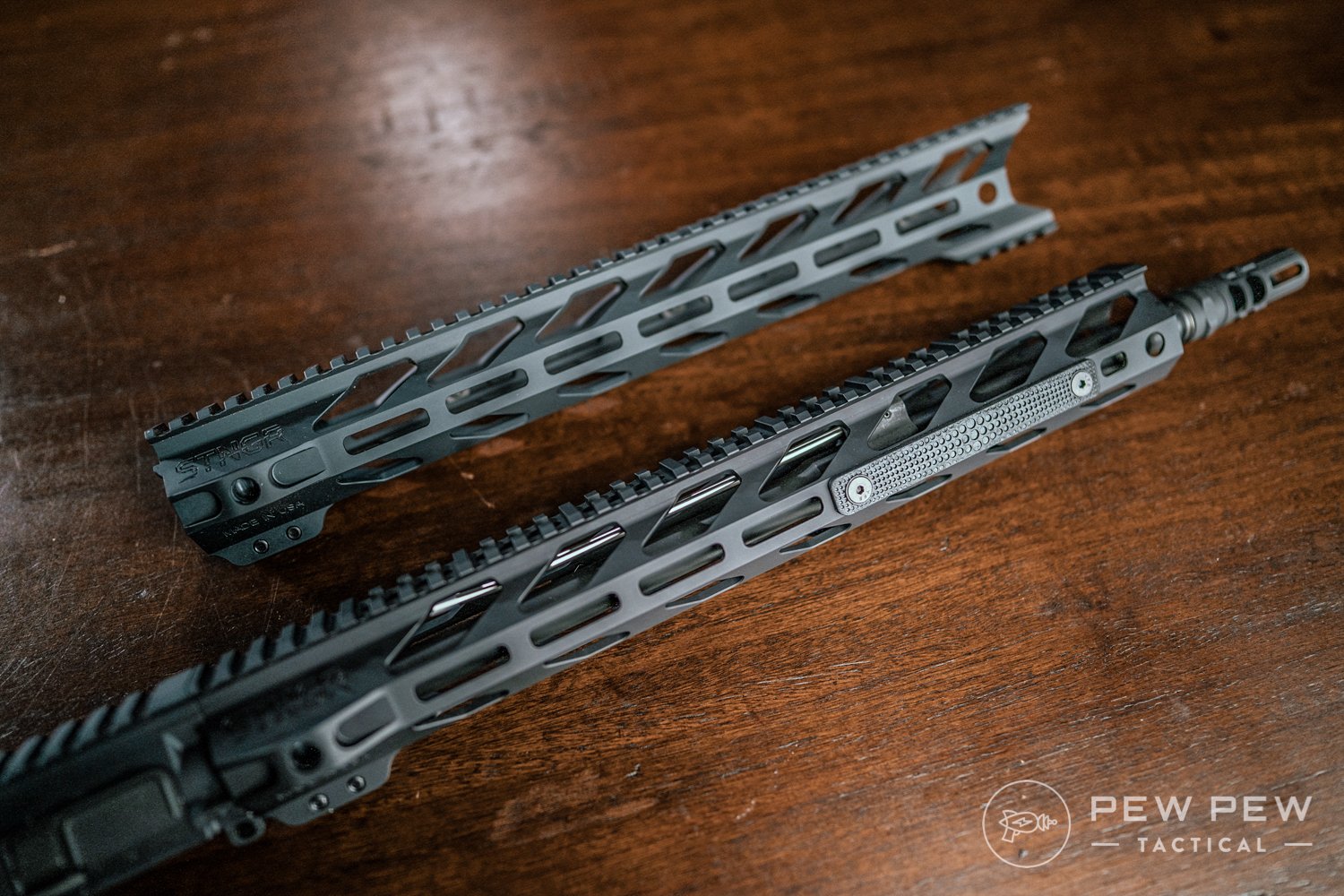 134
at STNGR
Prices accurate at time of writing
Prices accurate at time of writing
And they have been going strong on our night shooting rifle.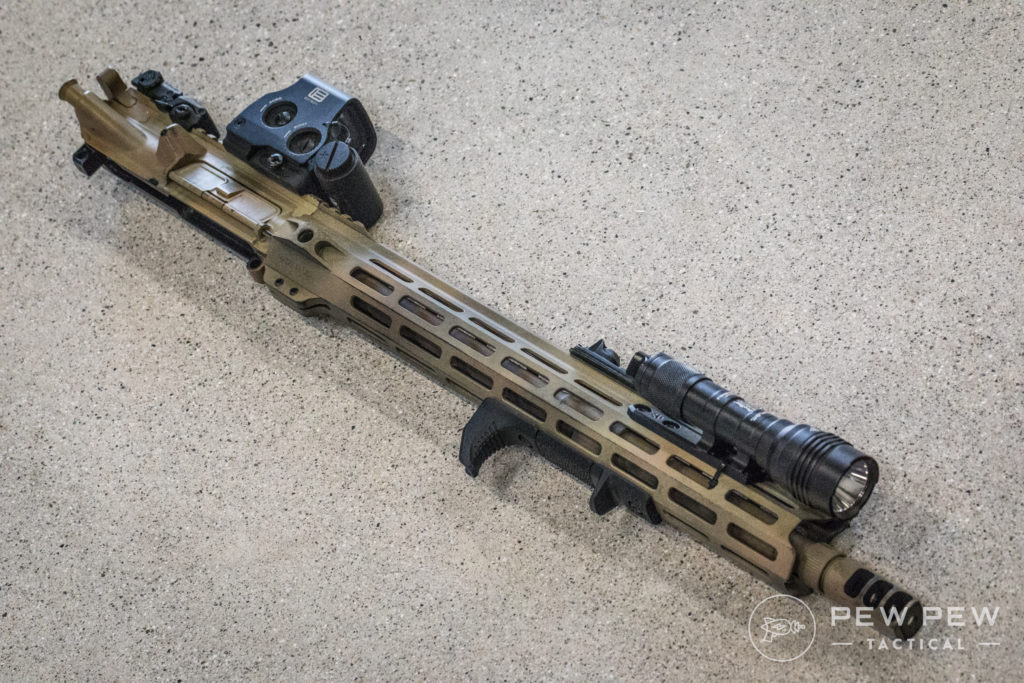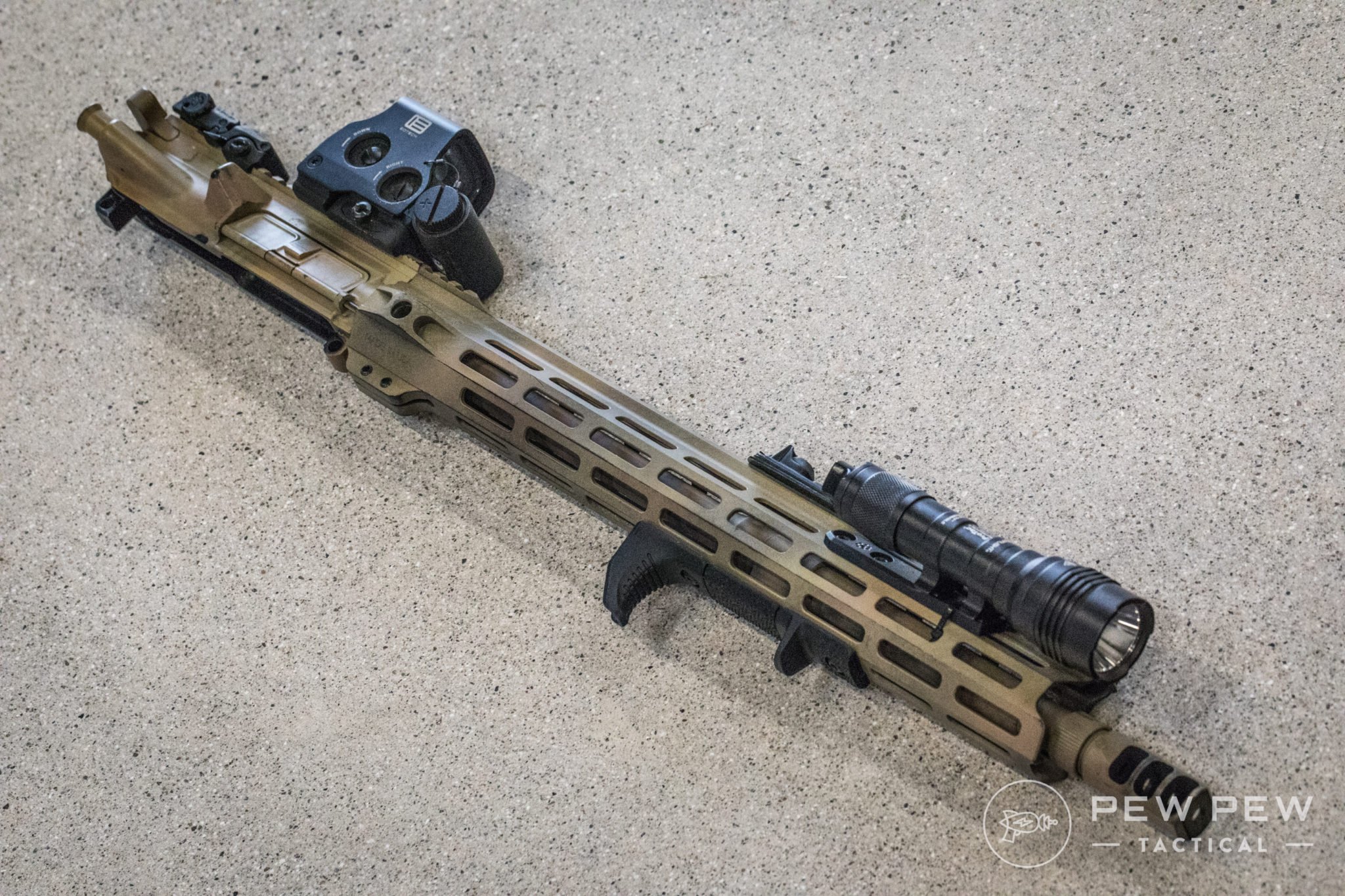 We've also been wearing their ballistic rated eye protection for months and LOVE them! I have both the grey and the yellow tinted glasses and highly recommend them!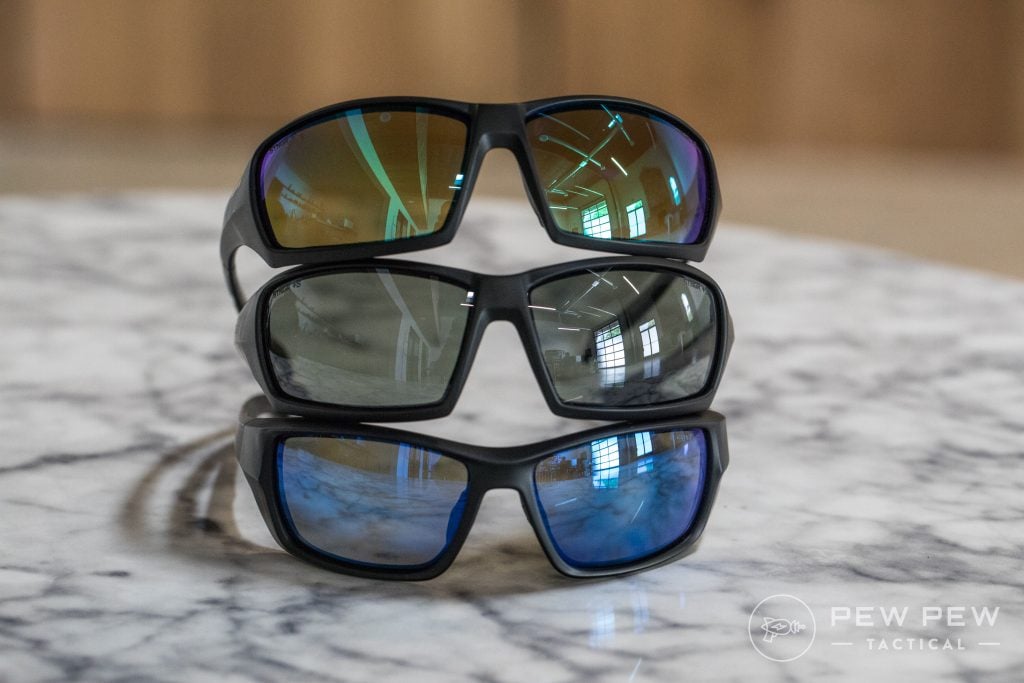 87
at STNGR
Prices accurate at time of writing
Prices accurate at time of writing
Check out their Early Black Friday Deals…knives, helmet covers, bags, etc.
These people have some awesome tactical gear that we've reviewed before, but they also have great training gear and targets, plus some wicked cool moto posters!
My personal favorite poster from RE Factor is the Colonial Maritime Raid Force!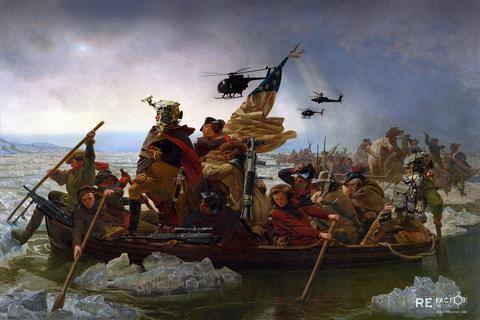 Check out their store here.
NICE deals this Black Friday with code BF21 for 20% off entire store.
Our favorite AR-based 80% completion jig is the Easy Jig 3 from 80% Arms.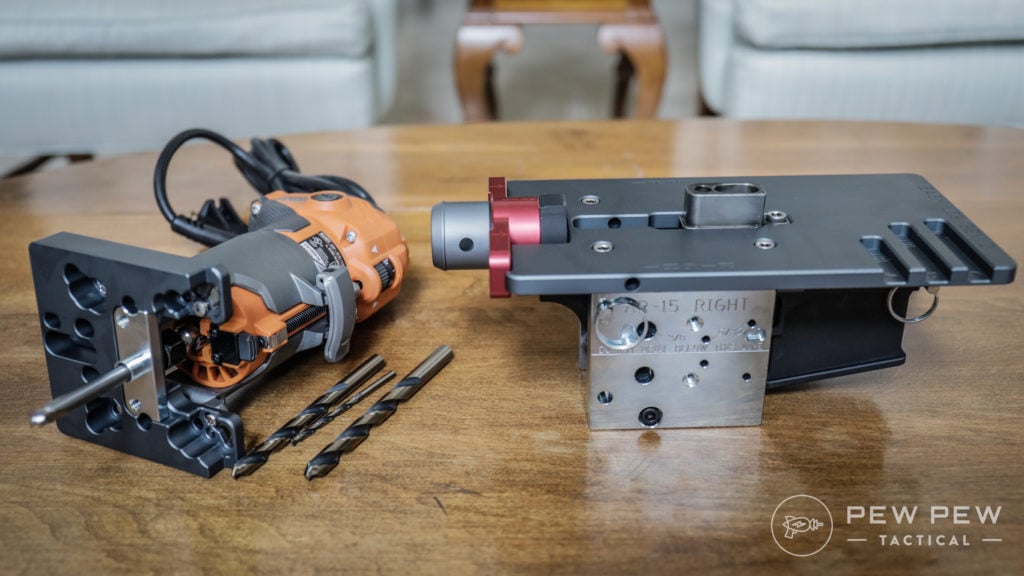 No need for a mill or even a drill press. Just a wood router and power drill.
Check out our full review of it in action plus our overview of the Best 80% AR-15 Receivers & Jigs.
And now they have their latest Gen 3 version. We have it in hand and will have a review update out soon…but it rocks even more!
300
at 80% Arms
Prices accurate at time of writing
Prices accurate at time of writing
And now they have the latest version of their GST-9 Mod 1 pistol frame with modular lengths (both frame and grip) AND fits Glock holsters.
We had a good time with the original version.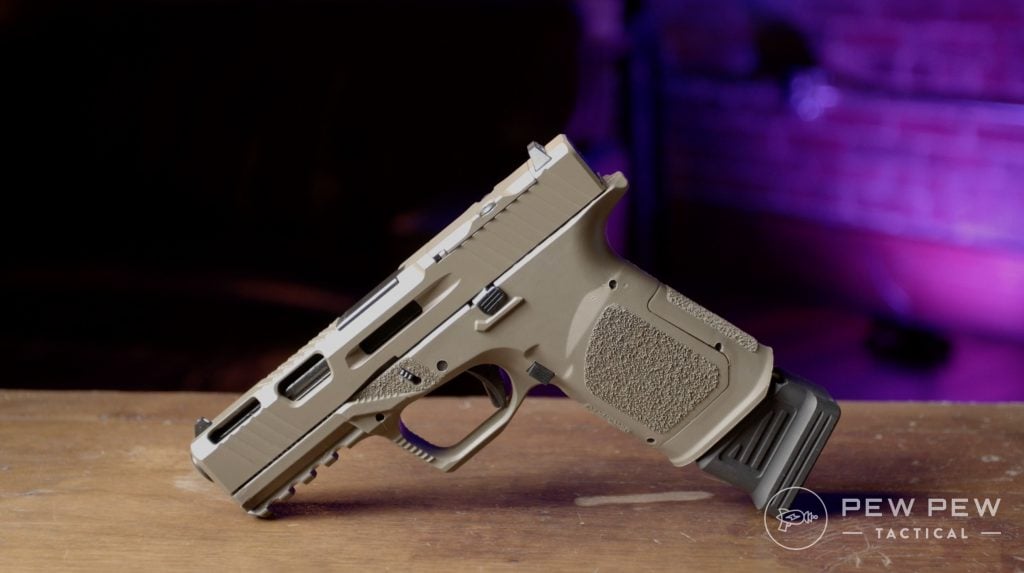 Get 15% off with code "PEWPEW15" at Savior Equipment…our current favorite manufacturer for everything gun bag related.
Our fav is their Urban Warfare bag series which is semi-discrete and looks great without a bunch of dump pouches.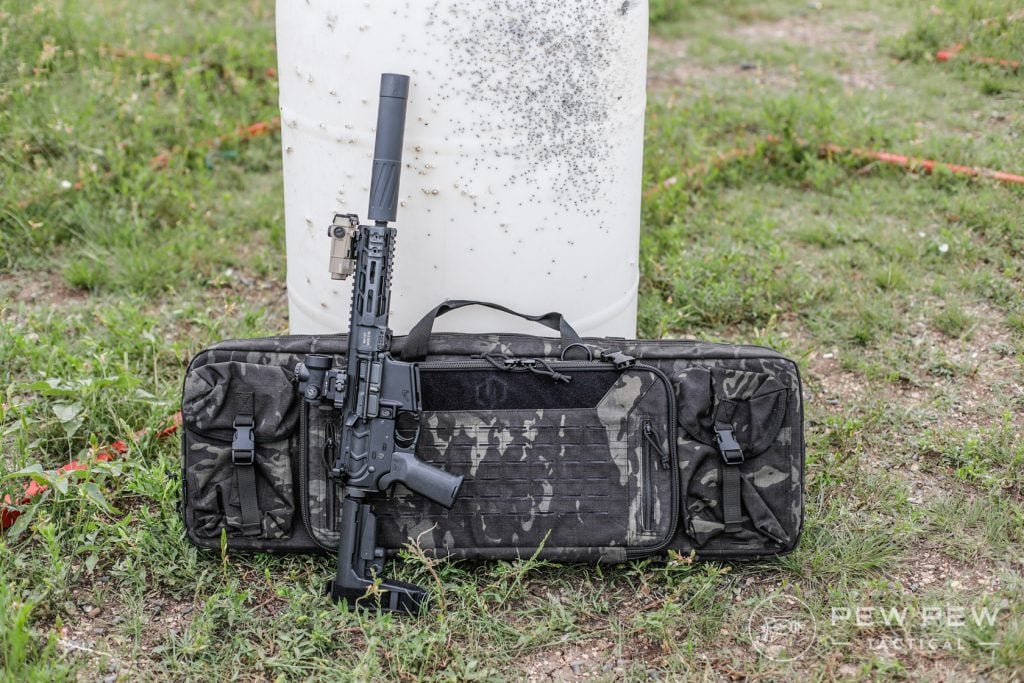 We're also digging their collapsible rifle stand (in both regular and shorty boi) models for when you're going to a competition or range that doesn't have tables.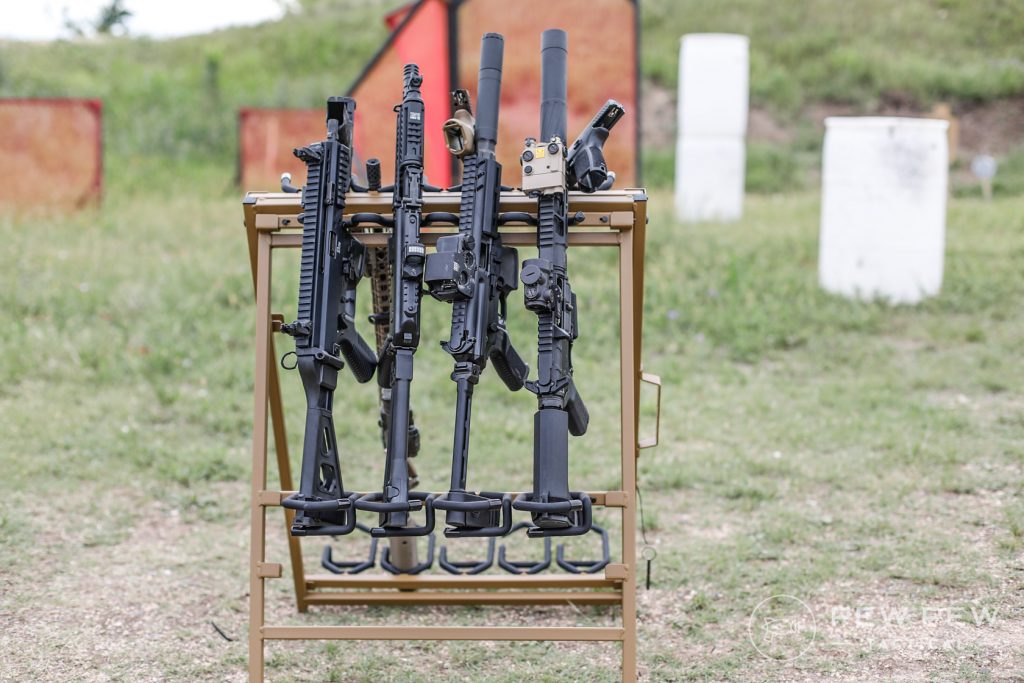 And also the Coffin when I only want to bring one rifle to the range.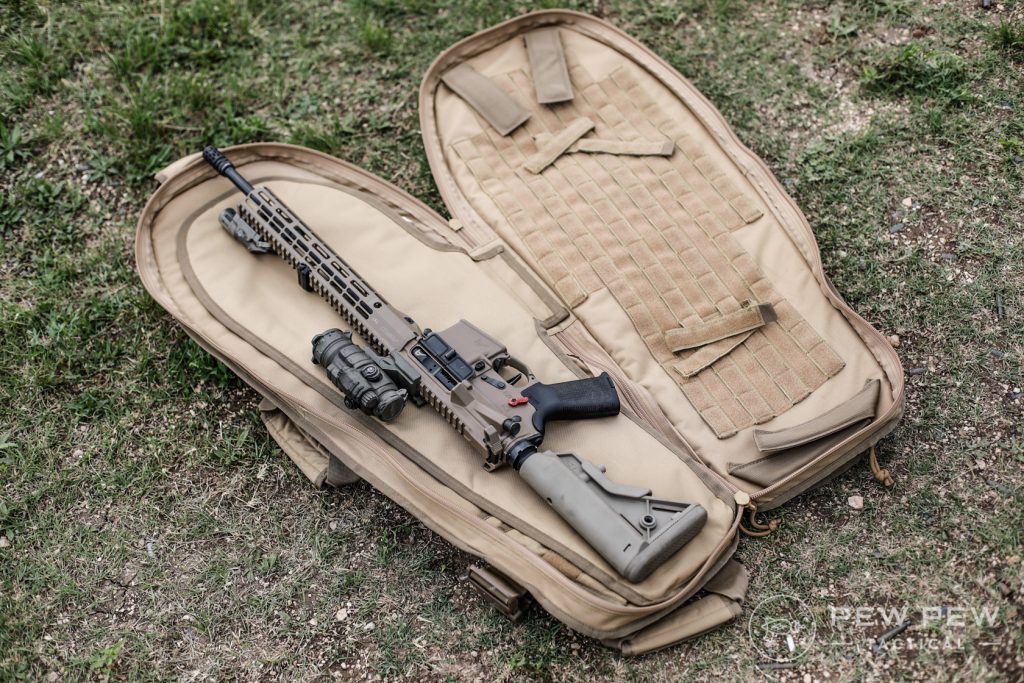 See more in our 17 Best Gun Cases article.
Looking for a top notch AR-15 muzzle device? How about a 3D printed inconel one?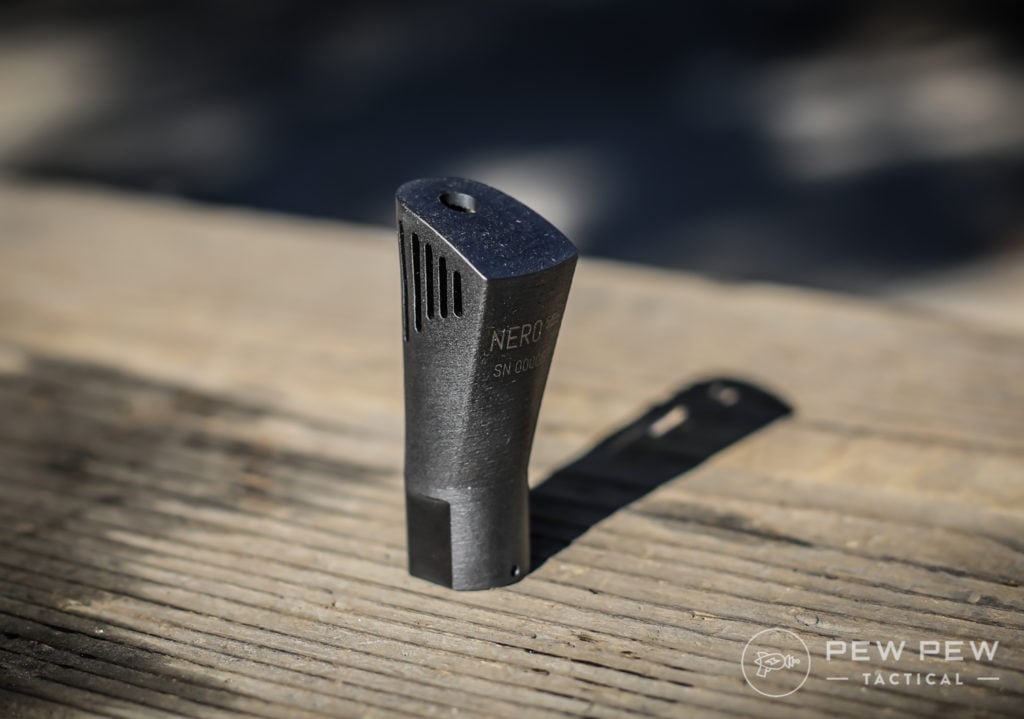 Check out the Nero from Walker Defense and with 20% off with code PEWPEW20.
And see how it fared in our Best Muzzle Devices article.
Shall Not Comply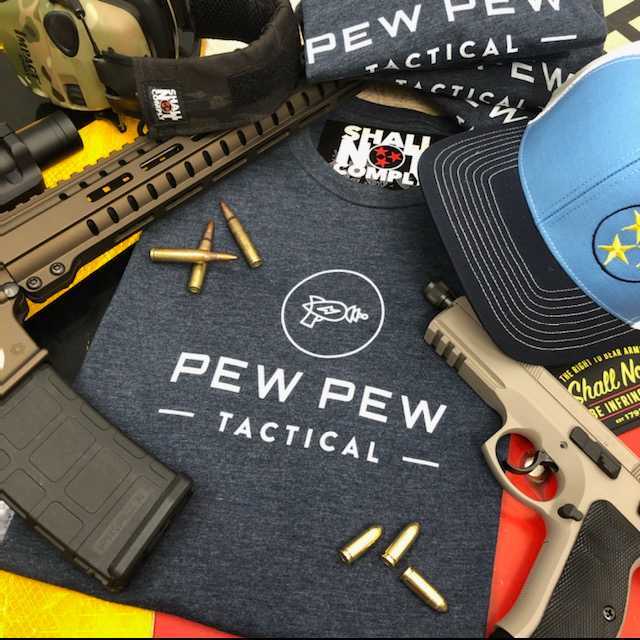 We've partnered up with Shall Not Comply to feature our Pew Pew Tactical shirts & patches.
In stock and ready to ship so you aren't stuck waiting for weeks anymore.
And one of our best-sellers is back in stock…the Pew Pew Tactical Sling in multicam and black multicam…made in the US by Flatline Fiber.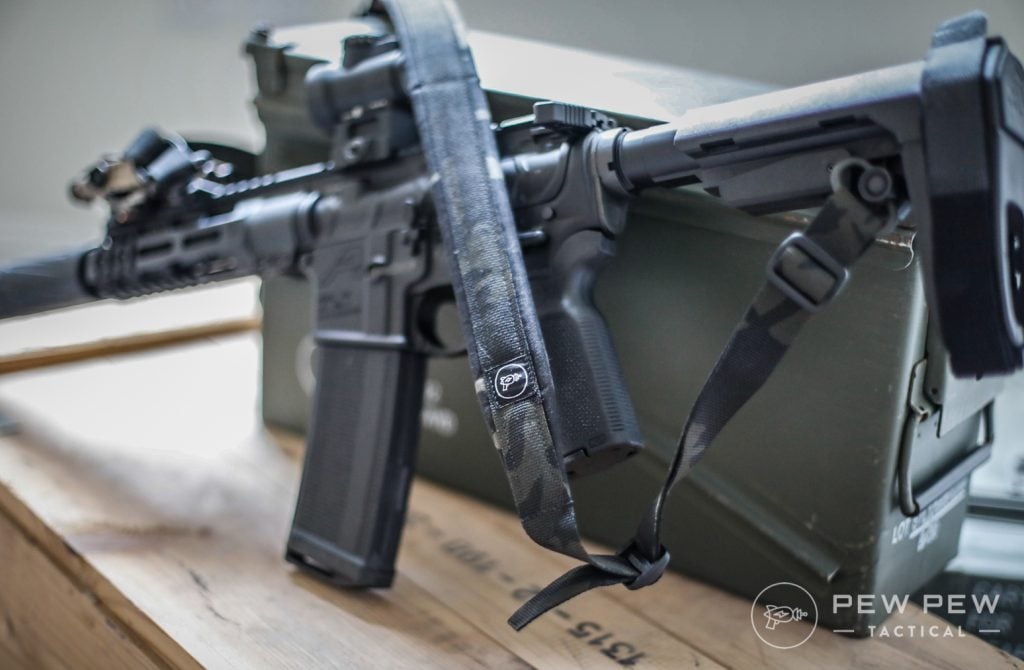 And the current deal is on Kore Belts…our favorite CCW belt that is easy to adjust on the fly and holds up everything you can throw at it…10% off with code PEWBELT10.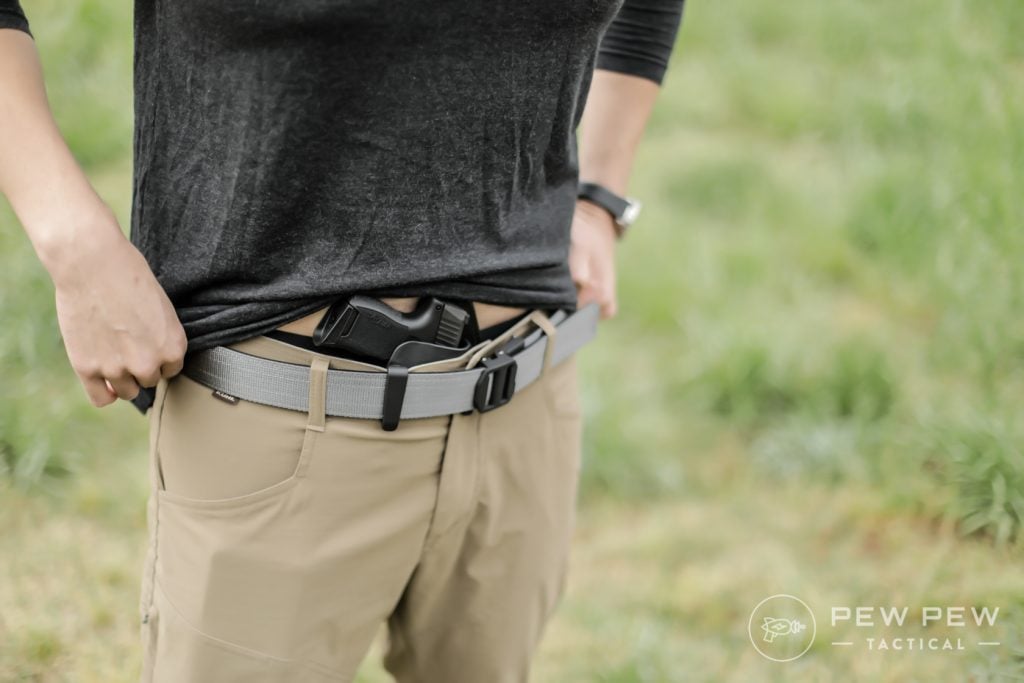 Thank you so much in advance for your support!!
---
Note: These following companies haven't updated their Black Friday & Cyber Monday Deals yet…so stay tuned!
---
WOOO, the full Black Friday Sale has started! No more of that "pre-black friday", now we're on to the good stuff!
Sig Sauer KILO2000 Rangefinder — $250 (normally $300)! This is the UPGRADED model from the Kilo1400 that we tested in our Best Laser Rangefinder review, this is an AWESOME price for one of our favorite tools.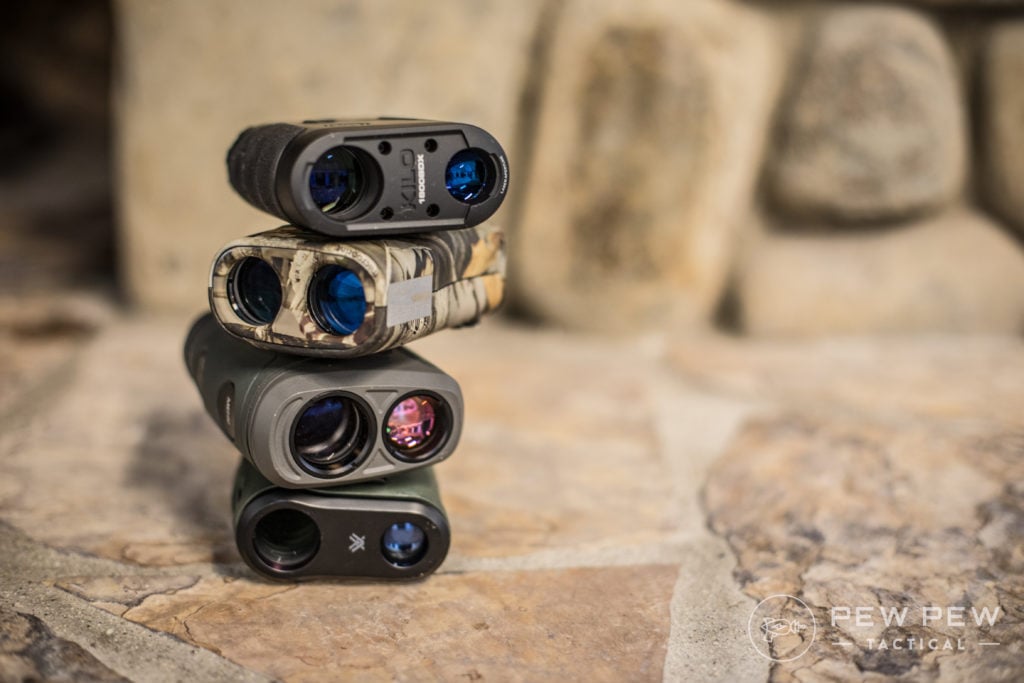 RedHead Clothing, up to 50% off! Really solid clothing line from Cabelas/BassPro. Quality is nice and the prices are fair, at 50% off these are some MUST buys!
Take a look at the rest of Cabela's Black Friday!
From steel targets to hearing protection, Caldwell is one of those brands that has it all really. We use… a LOT of their gear.
Bags, rests, targets, steel targets, we use a ton of it!
And a TON of it is on sale! Right now, ALL range gear is on sale ranging from 30-50% off!
We've also got some AWESOME exclusive deals for Pew Pew Tactical readers! Rifle rests, chronos, targets, on HUGE exclusive discounts!
I highly recommend their chronographs and target stands!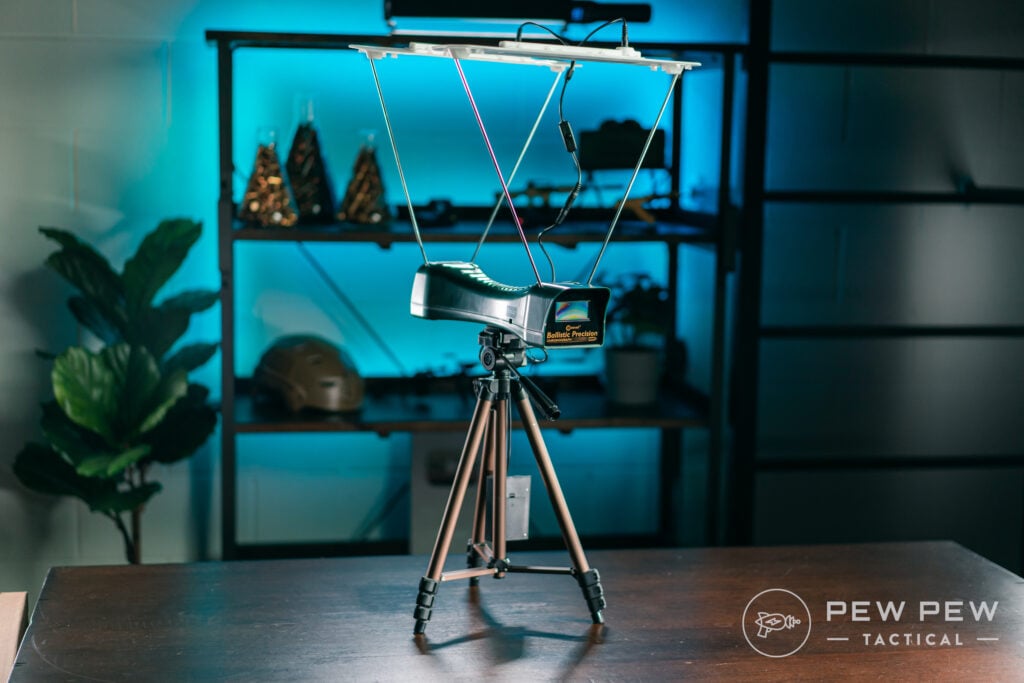 Last year there were a few good deals on hearing protection and ammo cans, and of course all of the awesome Amazon products.
If you're looking for a fun gift, maybe take a look at the Omniblade!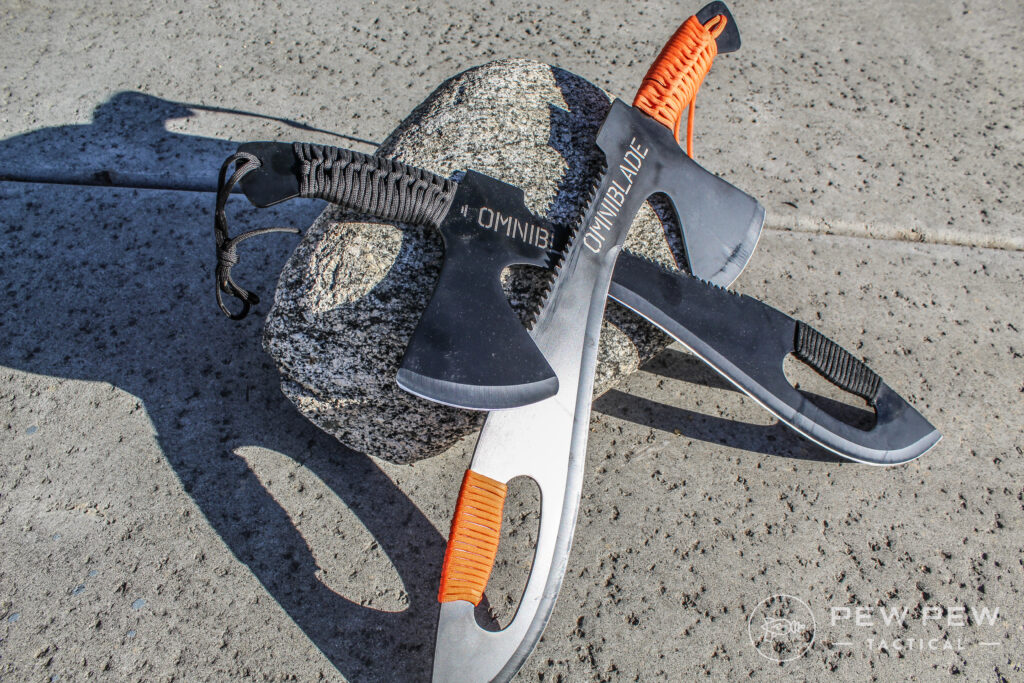 This is a weird tool that we're reviewing right now, but it's surprisingly effective and handy. The Omniblade, perfect for the survival minimalist!
Otherwise…pretty standard fare:
See the rest of Amazon's deals.
Black Friday deals are kickn at OpticsPlanet this year!
Up to 25% off Mystery Ranch backpacks, these are some of the gold tier for backpacking and hunting.
Bushnell Forge binoculars are on some BIG sales, the 15x56mm is only $700 (normally $960!) and the 8x42mm is down to $360 (normally $551!)
Here is a peak through our Forge 15x56mm we're testing — btw, we LOVE it.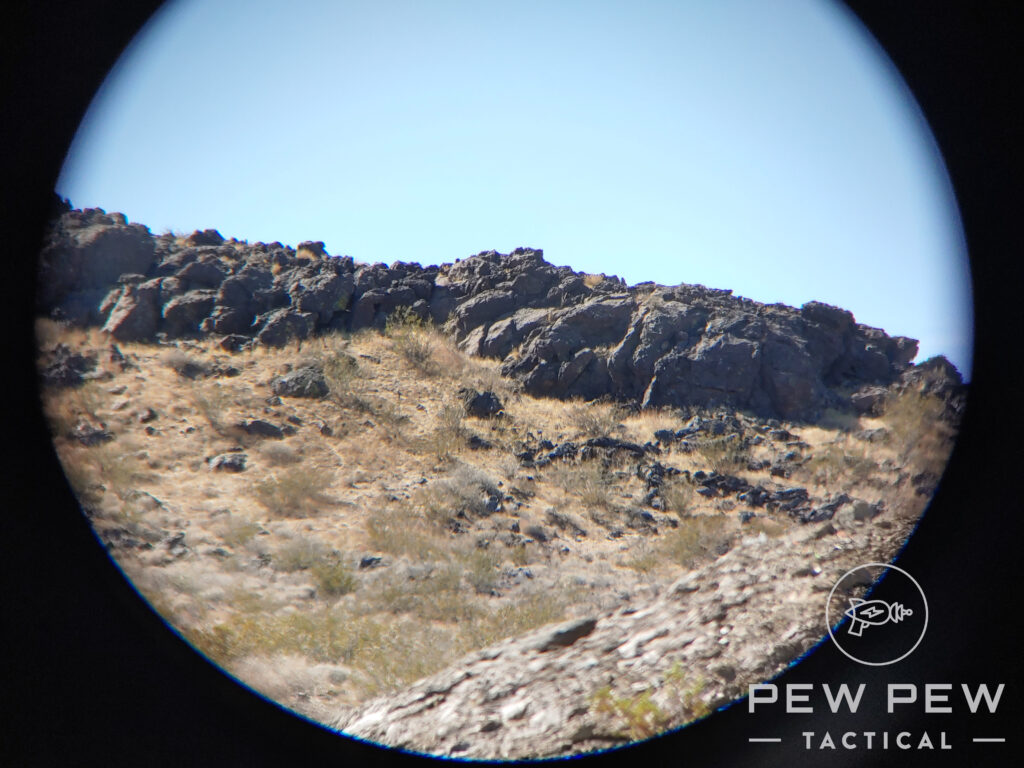 Vortex, CMMG, Inforce, Rise Armament, all have some great deals right now.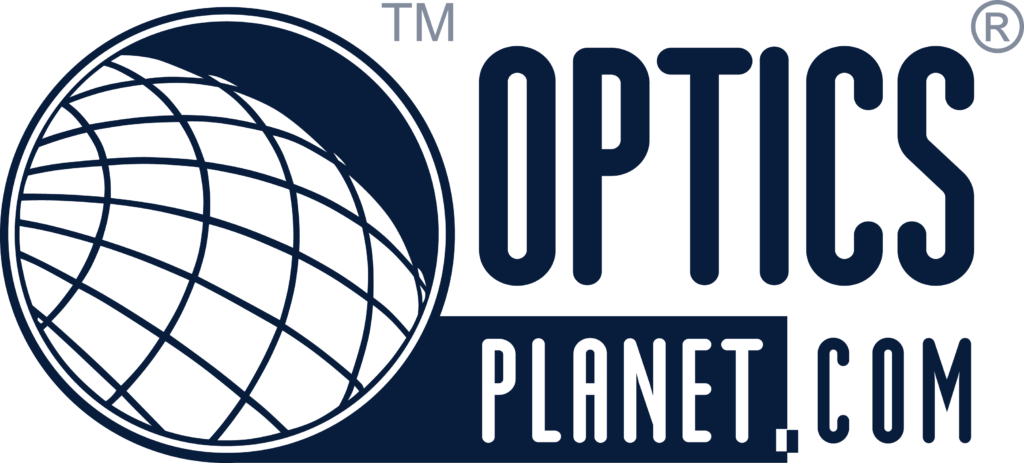 Check out all of Optics Planet Holiday Sales!
Not a ton of deals in firearms but they got a LOT of camping and outdoor options in the Black Friday Doorbusters!
Umarex Gauntlet PCP Air Rifle — $200!
Something I love about Sportsman's guide is there sometimes strange and interesting selections, like this French Military Surplus Gas Mask, complete with bag and filter! Just $53.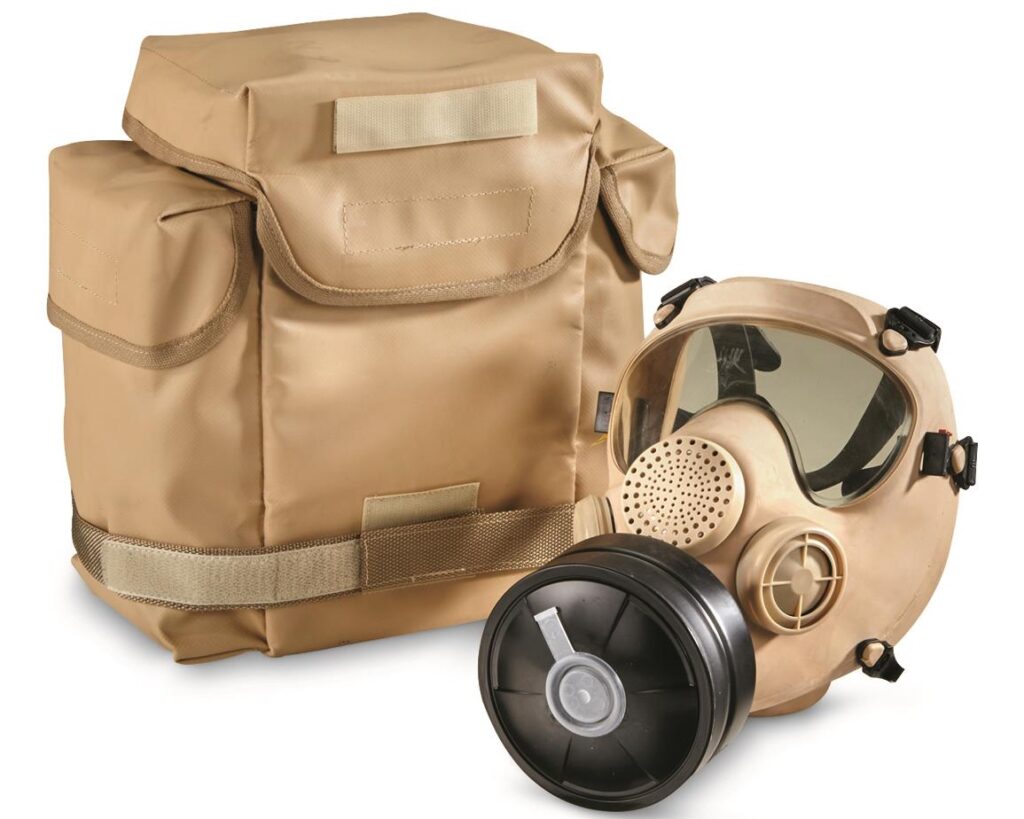 The biggest savings were found for Sportsman's Guide Buyer's Club members, if you haven't looked at the program yet – now is the time!

Everyone needs first aid kits, period. For the range, for the home, for the car, and more — you always need first aid kits. Plus a HUGE Black Friday sale — 30% off, no codes or coupons now through Cyber Monday!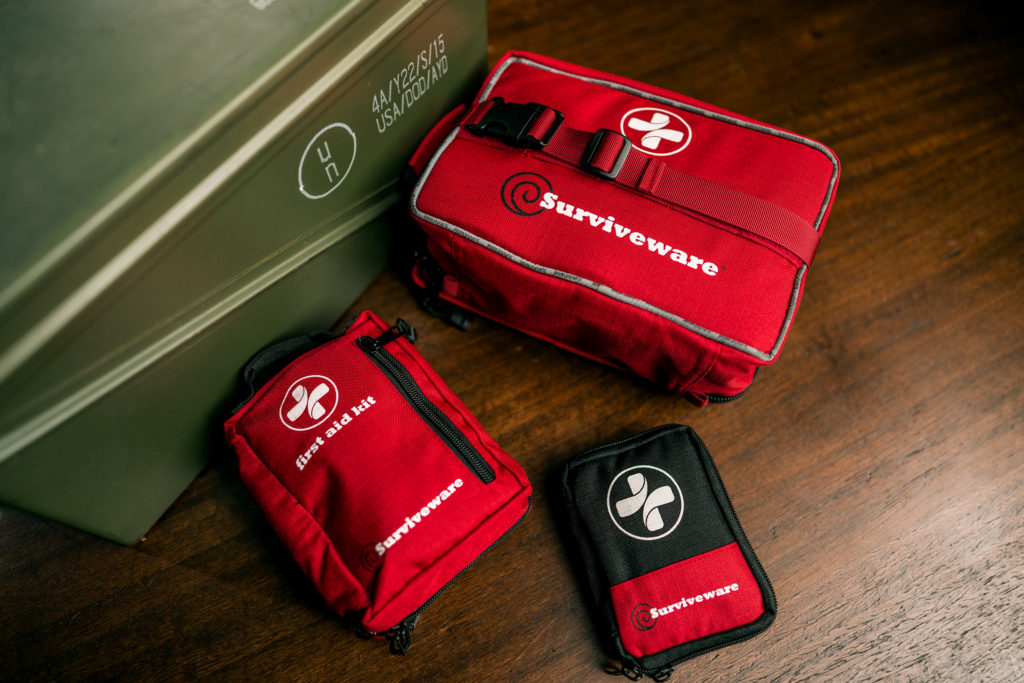 Surviveware is a great provider of pre-made first aid and trauma kits for every size and budget need.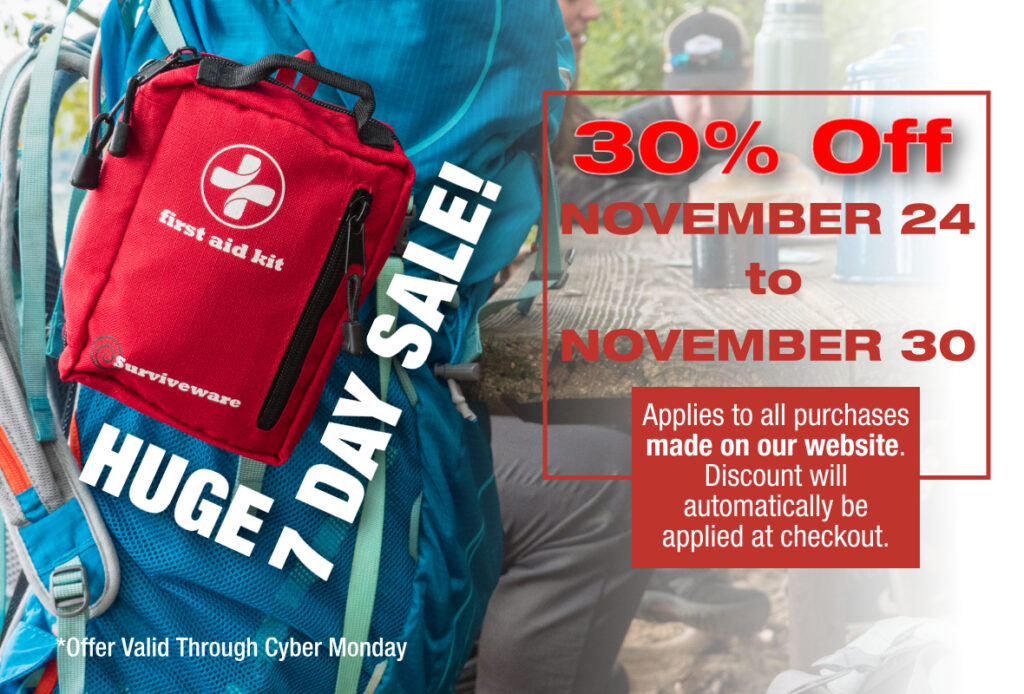 I'm currently testing out their new Responder 72-Hour Backpack and it is simply unparalleled.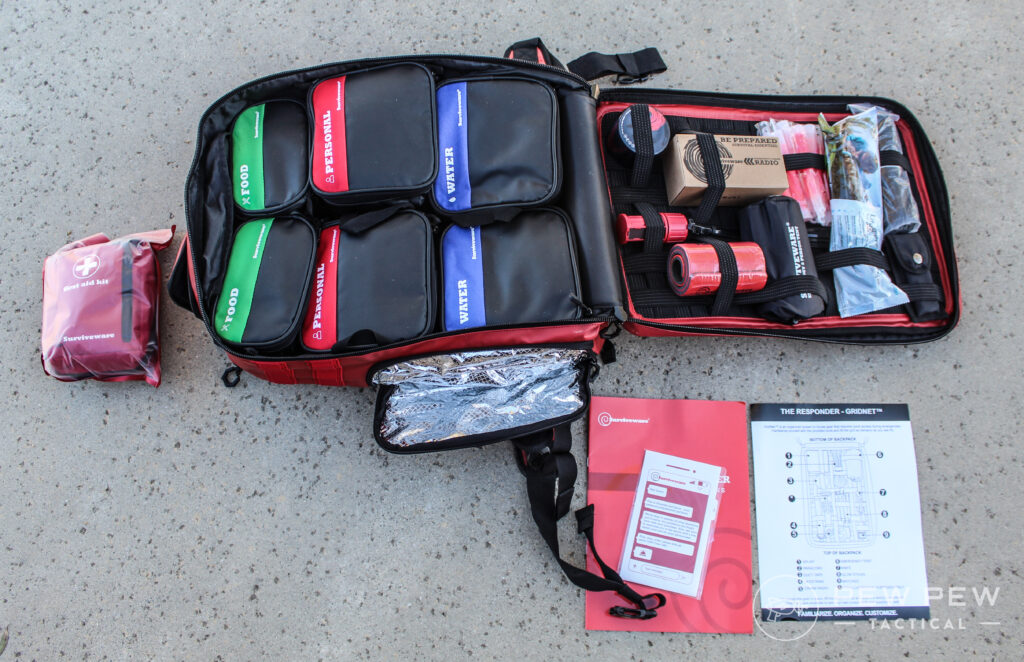 Packed with food, water, first aid kits, and a ton of supplies — this is one of the best Bug Out Bags I've seen, AND it comes in at a great price.
Take a look at our complete review!
No massive sale, but they do have some awesome Builder Kits AND 30% off .224 Valkyire Barrels with code "BF2020"!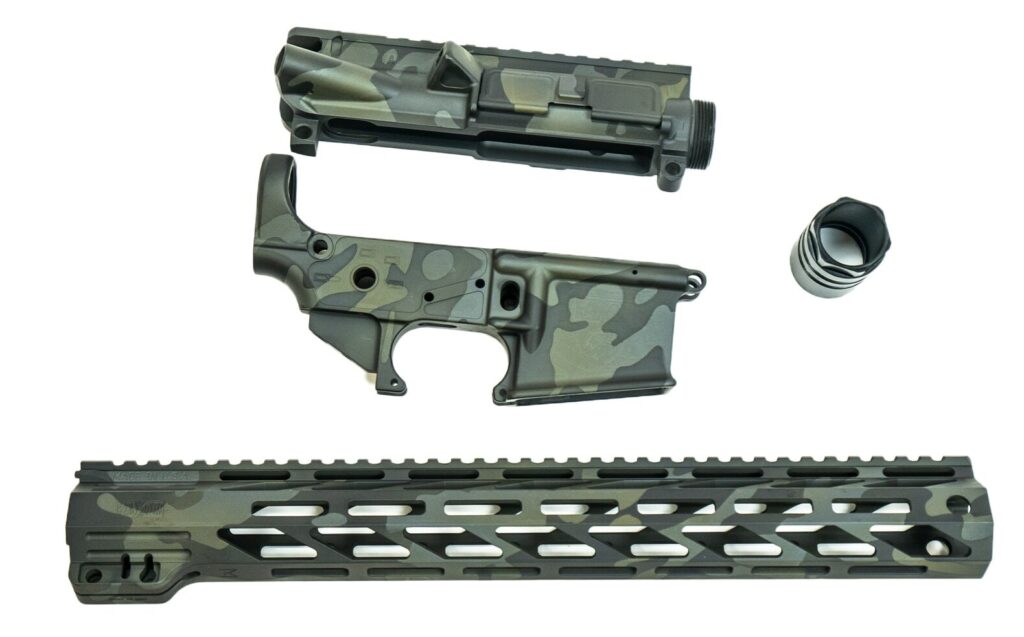 Black Friday Sales are happening! Get the Agile Ultralight 52 Pro for $800 (normally $900)
Need it bigger? The Agile Ultralight Quad Kit Pro is $200 off right now!
Why do we like them?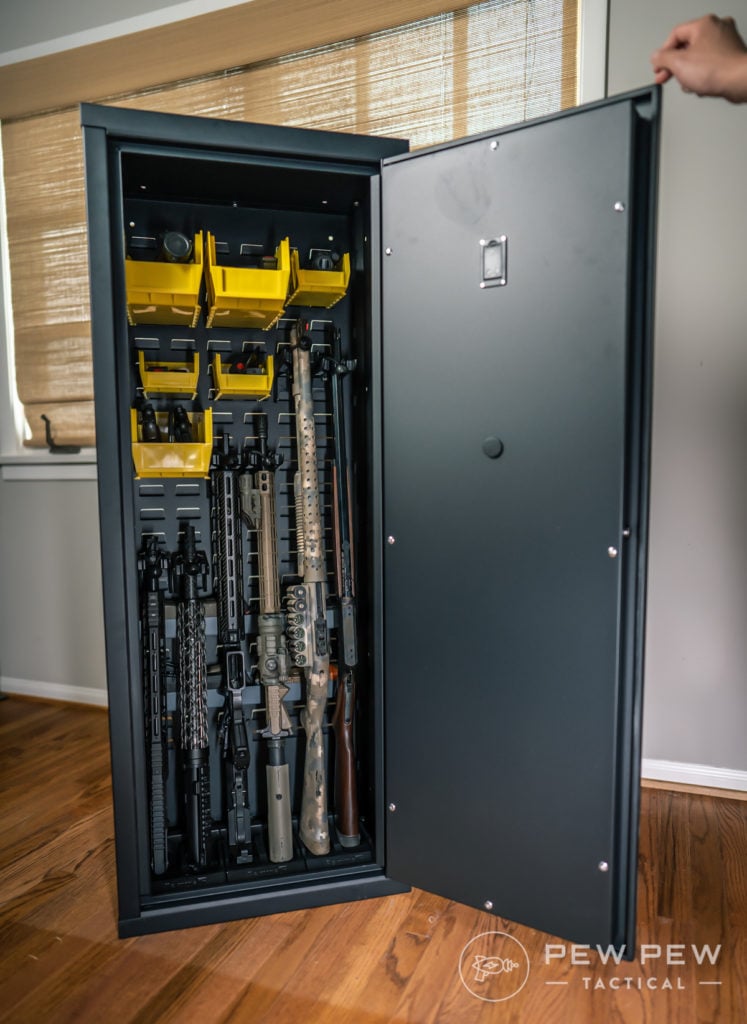 Unlike other safes which are a hassle to install…the Agile comes flat-packed (so you can get it into your room) and all assembly is internal.
Take a look at the full video for all the details!
See all their deals here.
Grab some free shipping and a tshirt with CrossBreed's early Black Friday!

We're pretty big fans of Crossbreed holsters and several of us use them as our personal EDC CCW holster.
Be sure to take a look at the full reviews! See all their deals here.
A great source for everything ballistically rated, RTS Tactical has carriers, plates, helmets, and a whole lot more.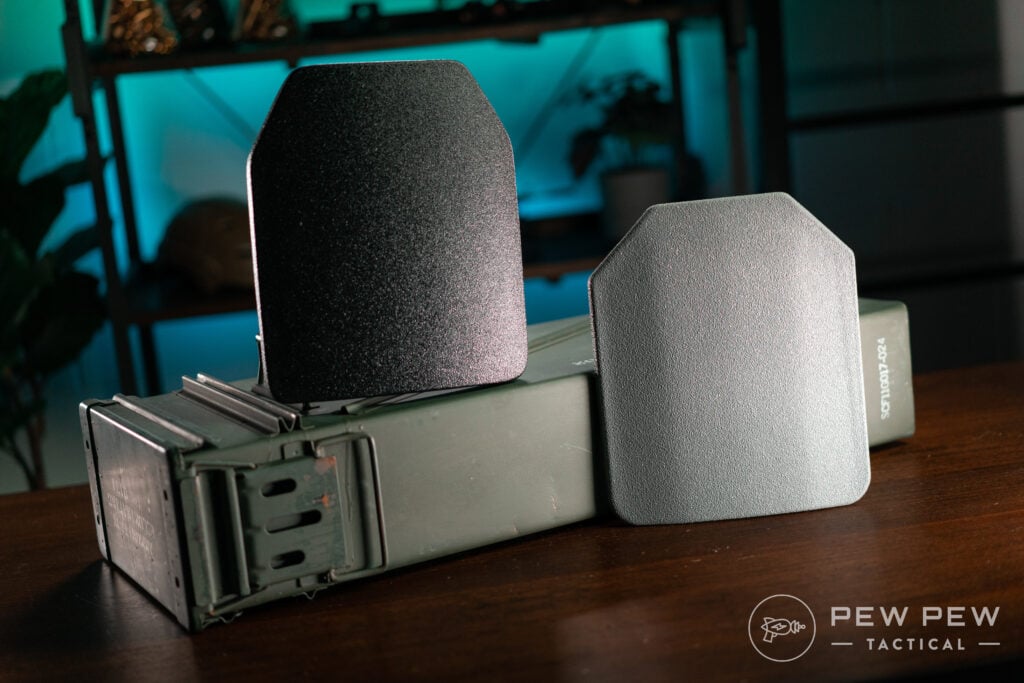 We have them in hand and will test soon.
Some nice deals happening right now!
$30 dollars off RTS Ceramic Active Shooter Kit plus a $10 gift card! Use code "CERAMIC30".
$20 Dollars off all RTS AR500 Steel products AND Free Shipping. Use code "STEEL20"
Pew Pew Tactical Exclusive 20% off SITEWIDE! Just use code "PewPew20" or click this link!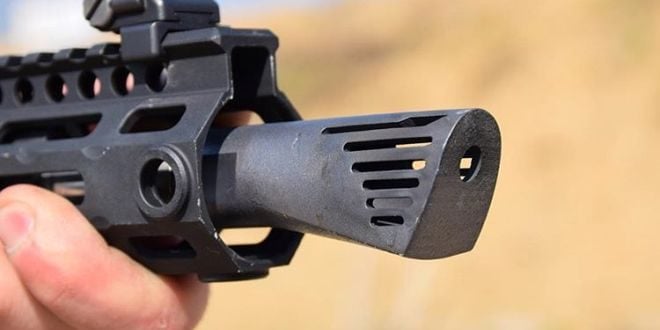 The Nero is a really cool muzzle brake that is 3D printed Inconel (fancy science metal)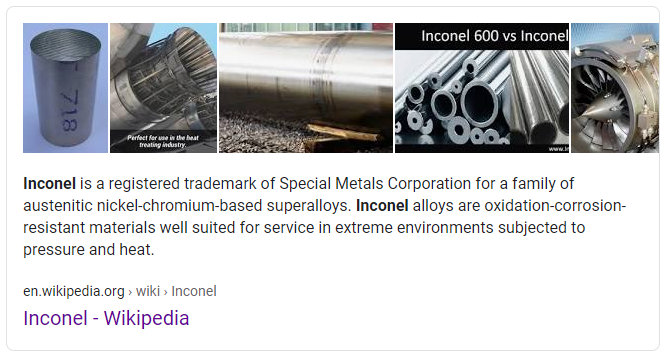 This allows them to make a muzzle brake that simply cannot be milled using normal methods and lets them design a brake that is basically total magic.
Plus it being 20% off?! Buy it now price!! Take a look at all of the Best Muzzle Brakes!
Wildfires, gas attacks, smog, tear gas, there are a lot of reasons why you might want to have some protection for your lungs on hand.
Parcil is one of the best you can find. And they are coming in HUGE with a massive Black Friday sale, one buy get one free on their full face respirators!
Mix and match, unlimited use, perfect for getting the whole family prepped!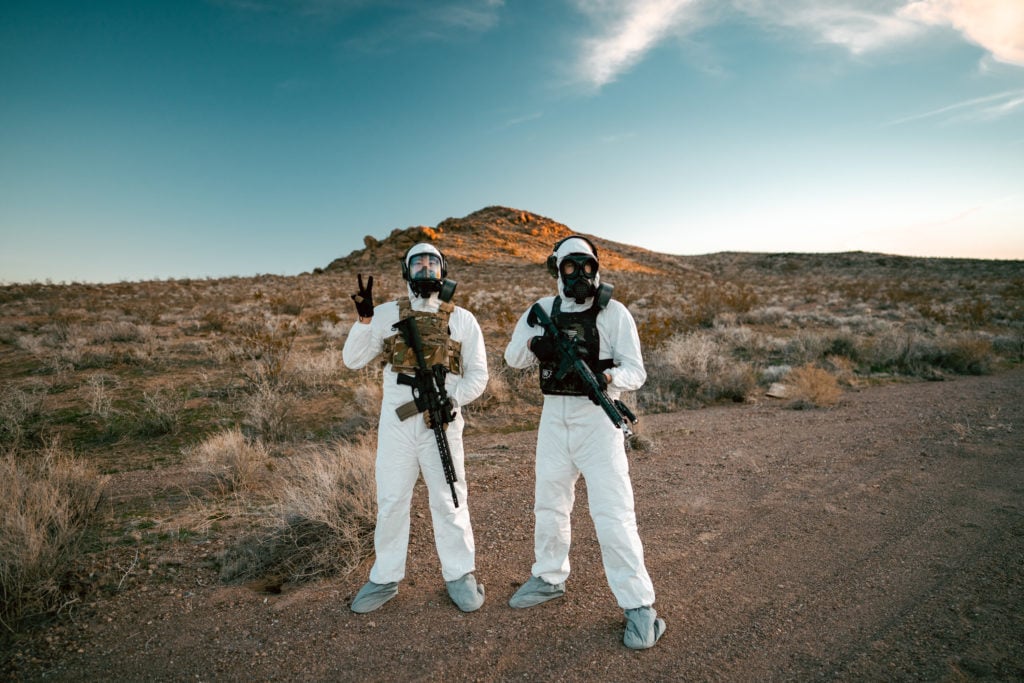 Read the Best Gas Masks, Face Masks, Respirators, & Filters!
Interested in getting your FFL? Class 3 SOT? FFL123 can get you through the process without any pain or headaches!
Dealing with the ATF isn't something anyone wants to do, but you gotta do it to get the coolest toys or to start that gun business you've always wanted.
FFL123 doesn't have any Black Friday deals yet, but something should be coming!
Last year the sale at Stag Arms was super solid, so we're looking to see something good this year also! If they have anything left in-stock…
Make special note of Stag Arms you lefted handed people, Stag has one of the few AR-15s that is actually designed from the forging to be left-handed!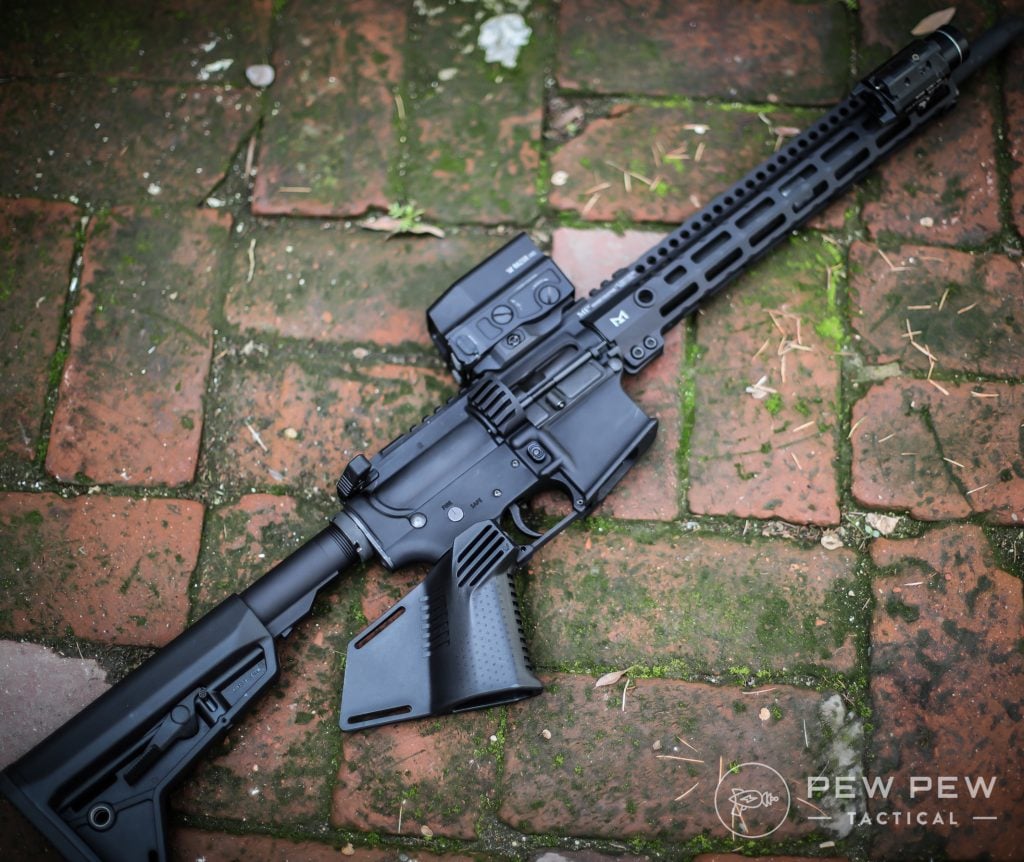 HUGE sale on Vortex Optics — not only do they have some insane prices on their Closeouts, they also have 14% off most everything else Vortex with code "VORTEX14"
Sale is running from now until Nov 30th but supplies are going to be getting scooped up FAST.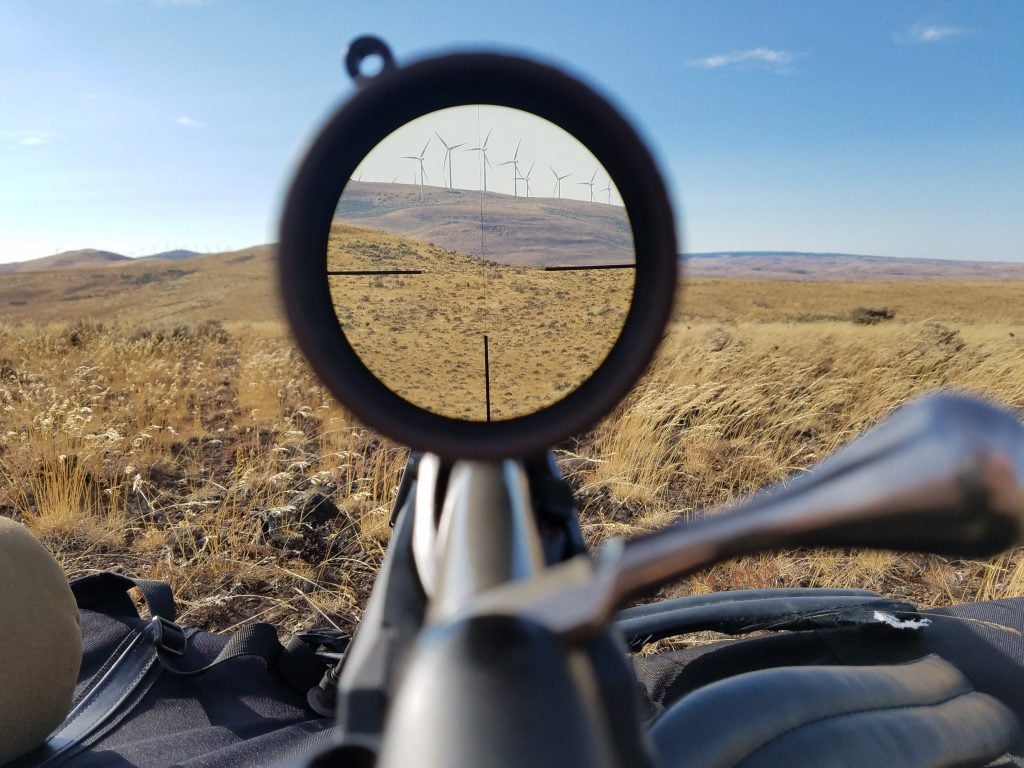 PLUS you get free shipping on orders $250+!
Vortex Micro 3x Magnifier w/ QD mount – $260 w/ code "VORTEX14"!
Vortex AMG UH-1 Gen 2 Holographic Sight — $430 w/ code "VORTEX14"
Take a look and grab them quick!
Some solid deals on specific brands right now, Buck Knives are having some big sales!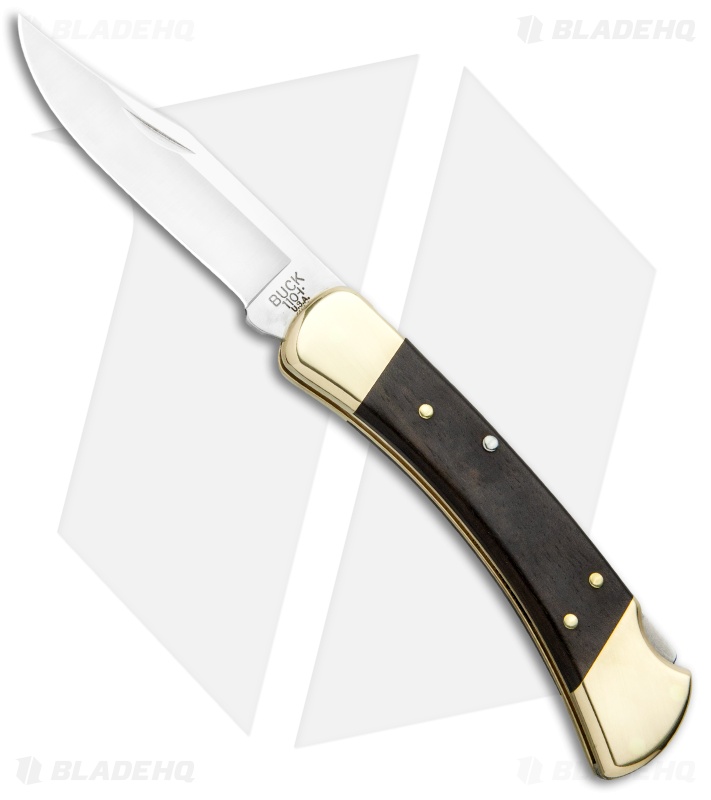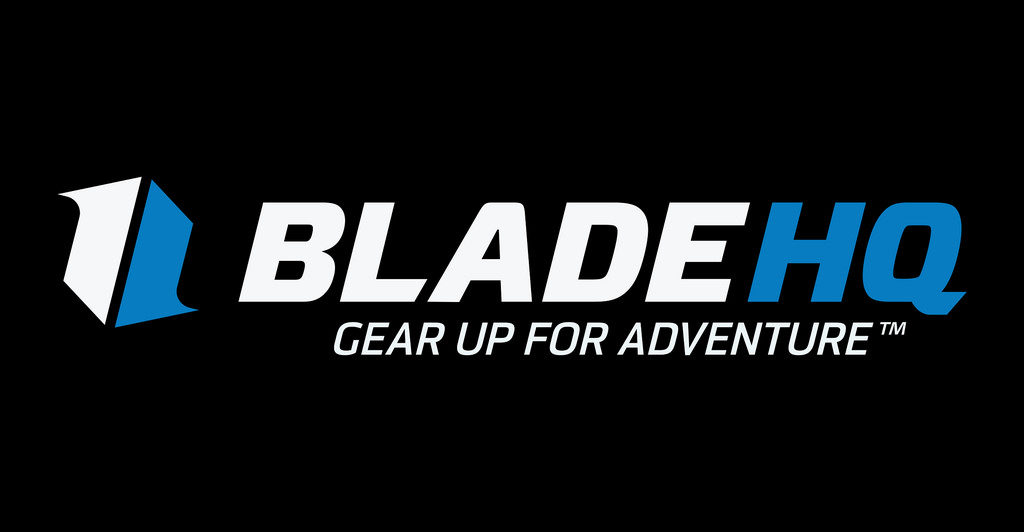 Need some badass stocking stuffers? GOAT Guns has you covered!
The Black Friday sale hasn't started yet, but it will be coming in hot here soon!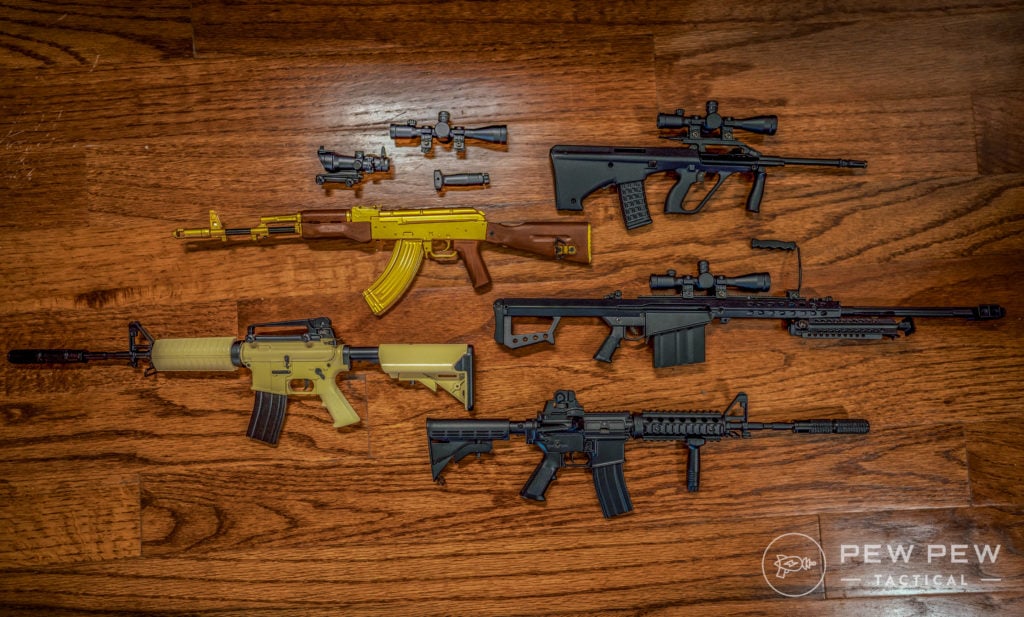 These mini-non-firing replicas of rifles like the AUG, M4, AK-47, and more are super cool!
Check out our full review of them too.
We've reviewed Urban Carry's G2 (and now they have a G3) and really liked it, but currently still no Black Friday deals.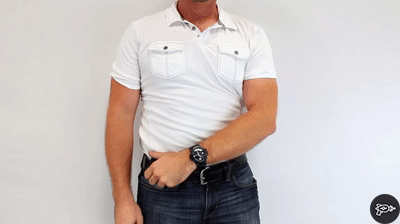 A leading name in carry protection, USCCA is there for you when the worst has happened and you've had to defend your life or the life of a loved one with lethal force.

While not available in every state due to local laws, USCCA has a national network of lawyers ready to act on your behalf.
Eric has a complete review about USCCA, he's been a member since 2017!
Lots of awesome options from multitools to EDC knives, SOG has it all.
No sales yet, but they do have free shipping!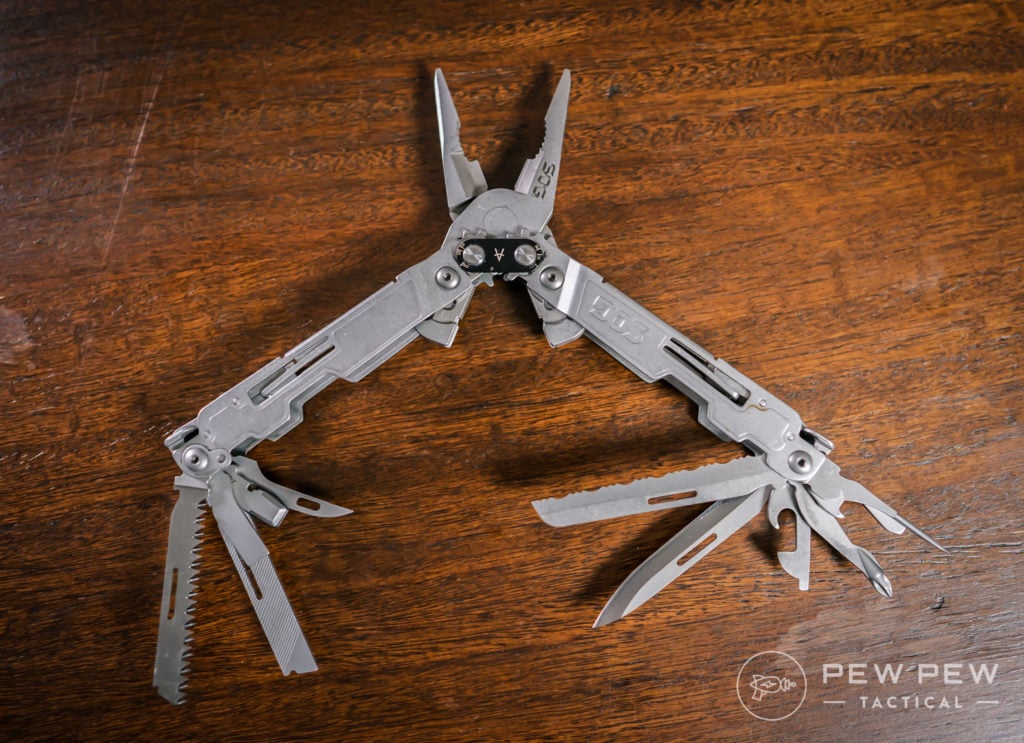 We'll keep an eye on them and update as soon as the deals start!
No info on any Black Friday sales yet, but we should be seeing something soon!
One of the few online retailers with stock still on the shelves, take a look at GunPrime for all kinds of firearms!
If you're looking for a great hybrid leather-Kydex holster, our top pick is Hidden Hybrid for durability and comfort.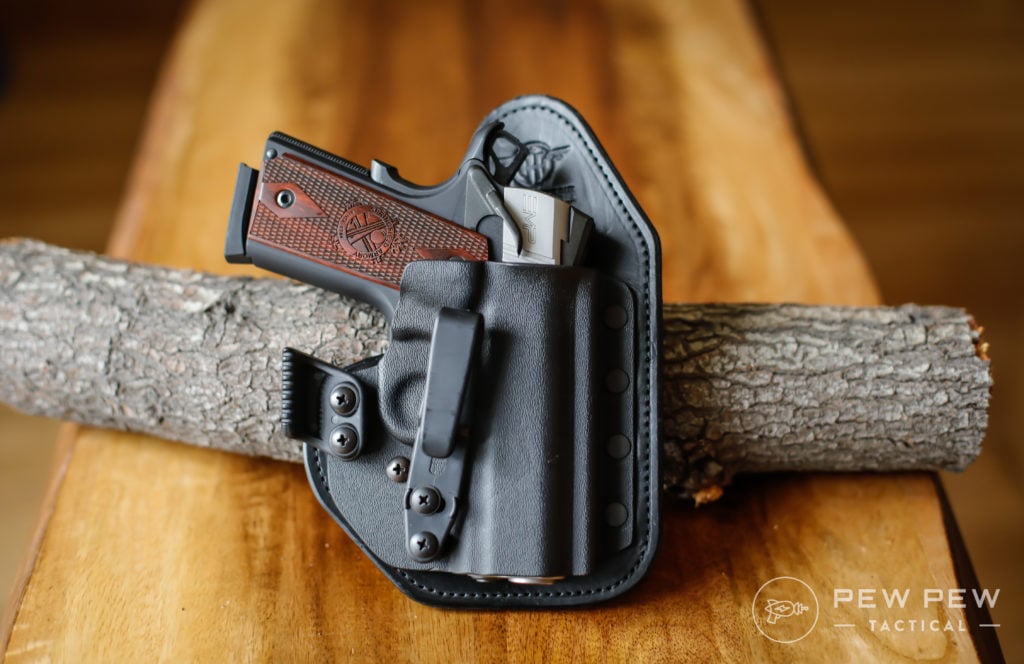 Buy a holster and belt or a holster and mag carrier to get a free Drago Gear double pistol bag ($29).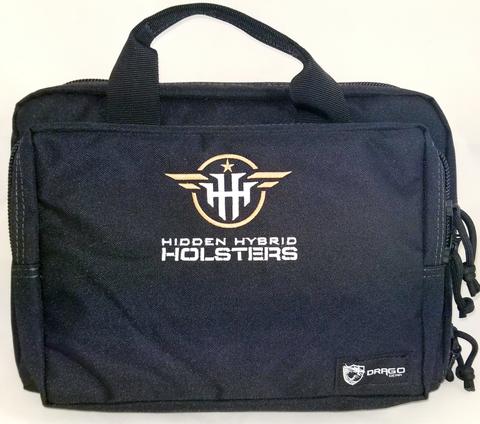 See our full review and our overall Best Concealed Carry Holsters article.
69
at Hidden Hybrid Holsters
Prices accurate at time of writing
Prices accurate at time of writing
Tactical clothing is durable, well made, and designed to be ready for anything.
We're keeping an eye on U.S Elite Gear for some great sales this holiday season!
If you want the best holster on the market, you're probably looking for a Safariland.
The number one name in duty and competition hosters, Safariland is second to none.
MASSIVE sale: Use code "SAFSALE2020" for 40% off Holsters, 20% off Hearing Protection, 30% off gloves, and 50% off Last Chance Items!!!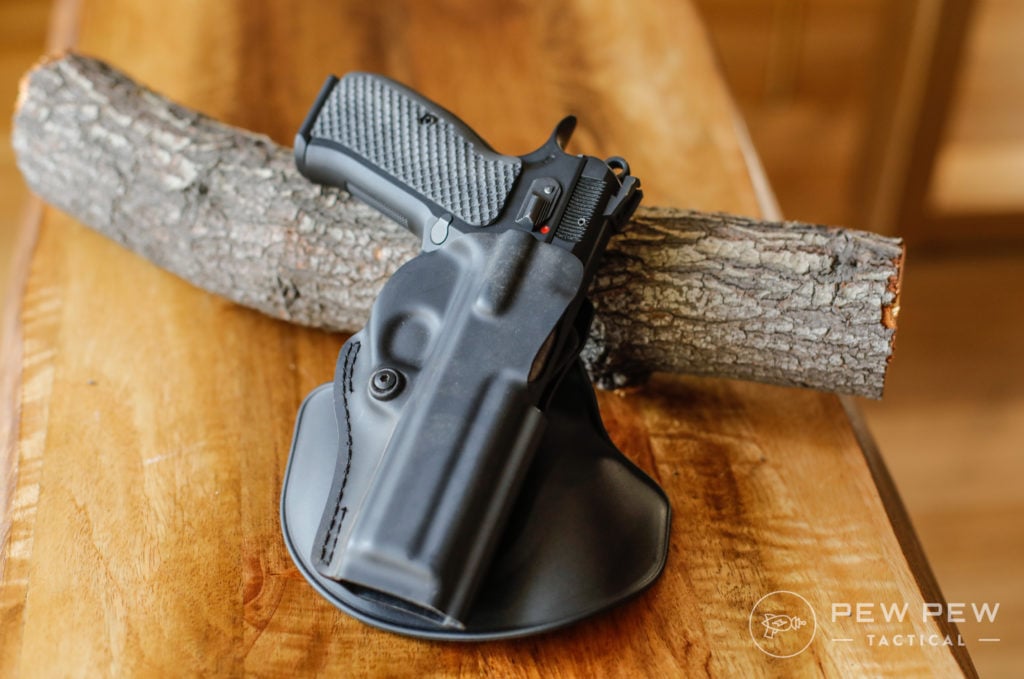 Some of the best AR-15s and AR-10s you can find, DD is a name that has been battle tested for longer than most of the competition has been in business.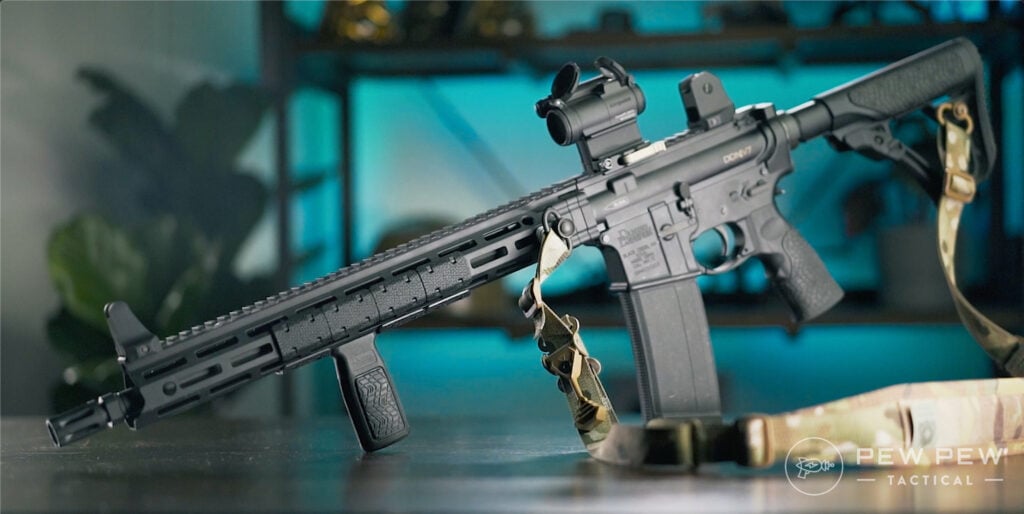 If you're interested — take a look at our DDM4 PDW review or the DD5 VR AR-10!
Some of the coolest looking and best feeling AR, Glock, and Sig accessories around – Tyrant Designs mills all of their parts for the best fit, finish, and feel possible.
Black Friday has arrived! Up to 15% off most items, NEW Glock Magwells are up for pre-sale, FREE shipping over $50, and some free stickers on every order!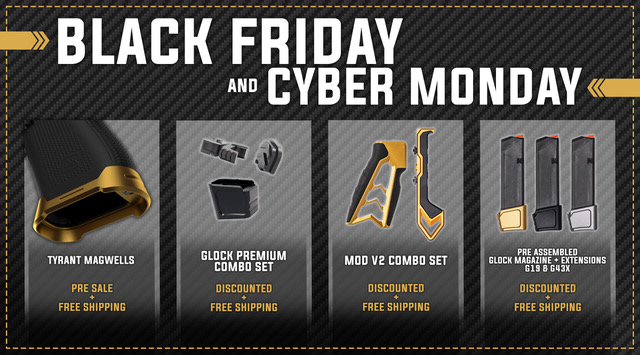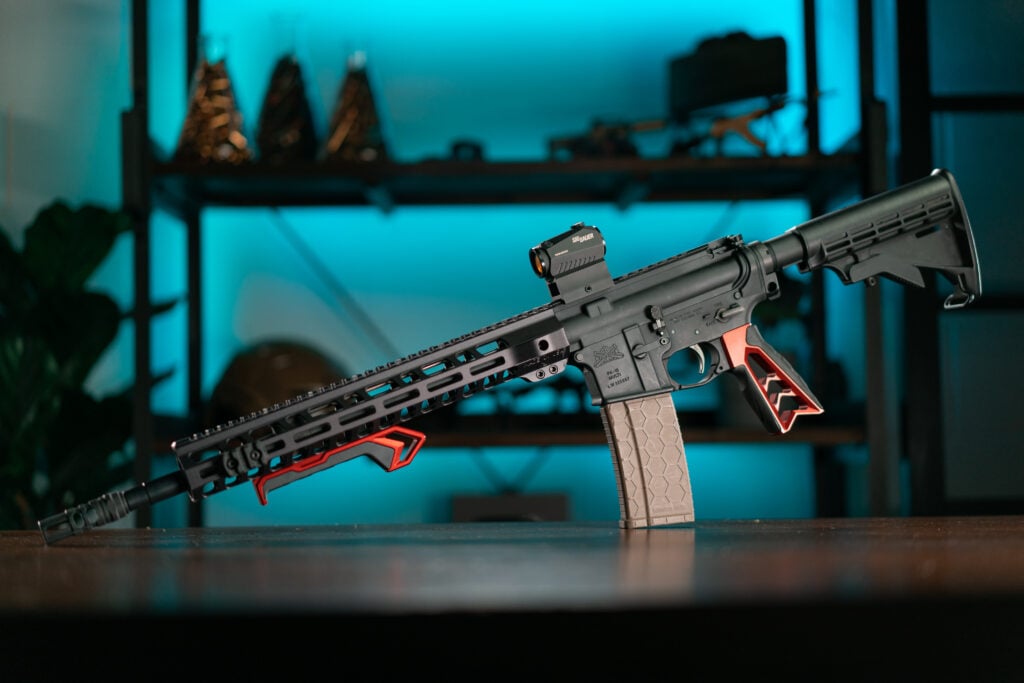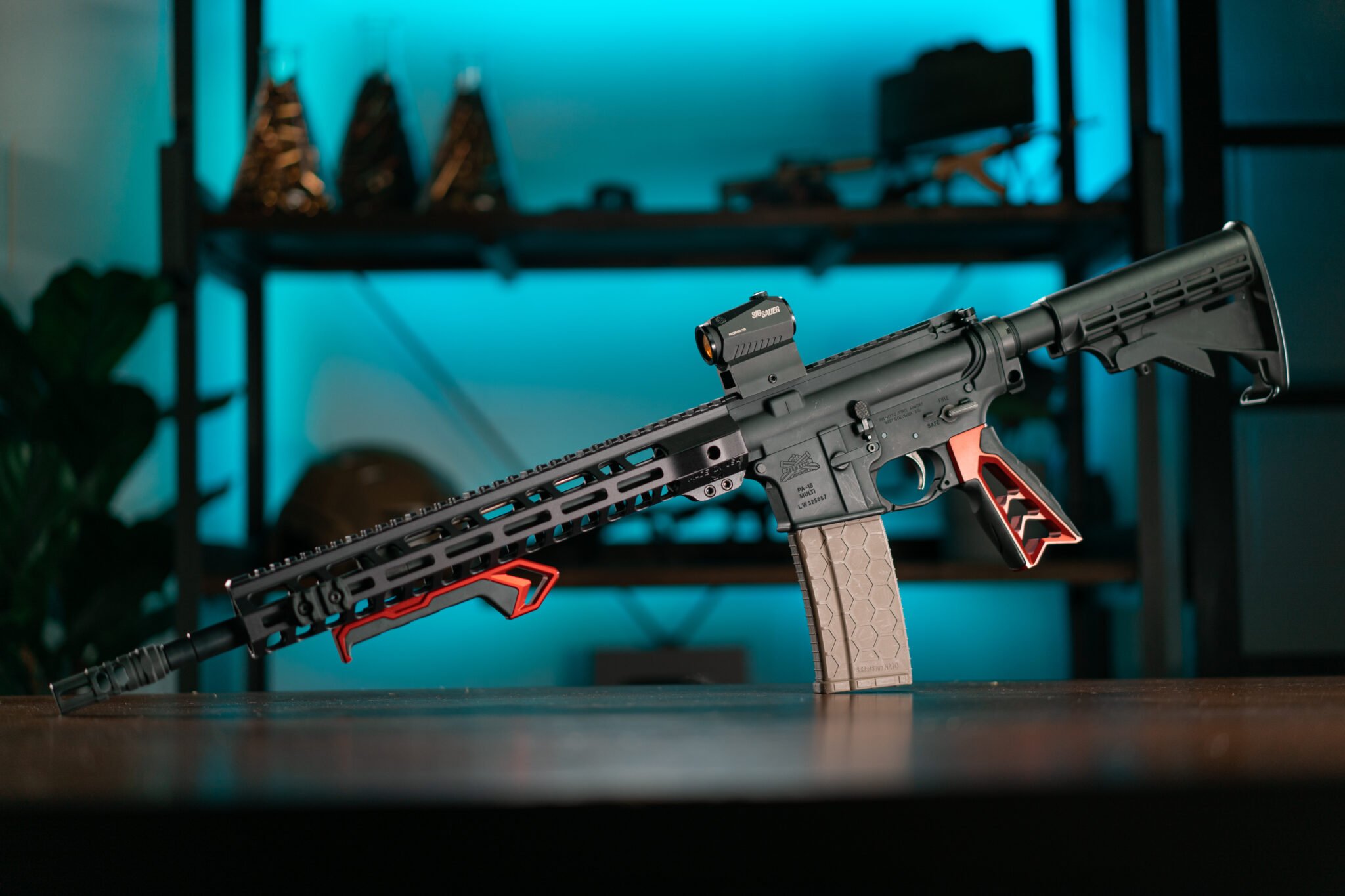 Plus we like their newest foray into Glock mods…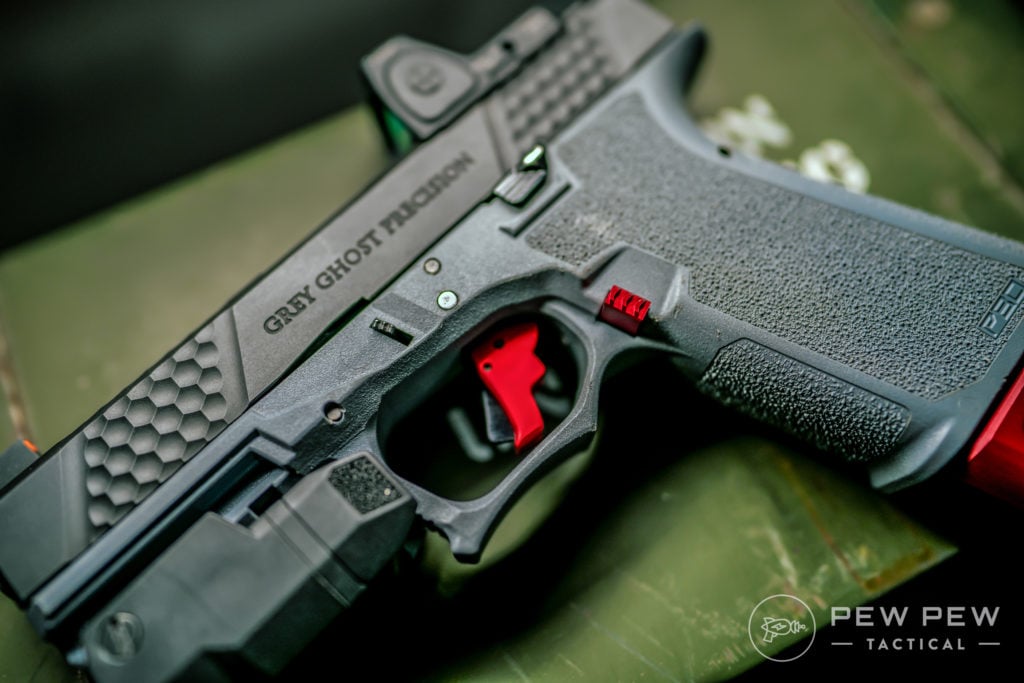 For some of the best Ruger 10/22 and other rimfire gun upgrades on the market, Tandemkross is where you need to shop!
While their big sale has not kicked off yet, it should be here soon!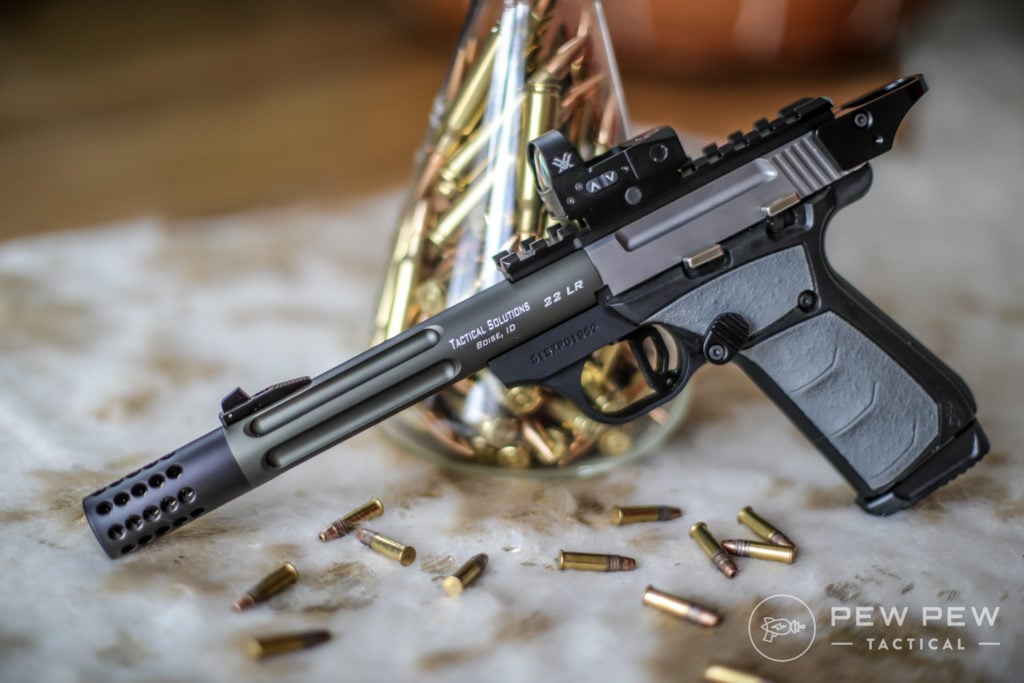 From Buckmark to Victory to the 10/22 and more, Tandemkross has upgrades for it all!
Some Thanksgiving sales we could really use, grills, smokers, deep fryers and more are on sale at Sportsman's Warehouse right now and they mean business!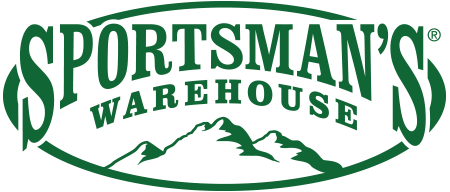 They've also opened a LOT of new store locations this year, so take a look to see if you have a new one near you!
Still waiting on their Black Friday sales to start, but if you're looking for a great leather belt or holster – check back often! Well made, well fitted, and built to last.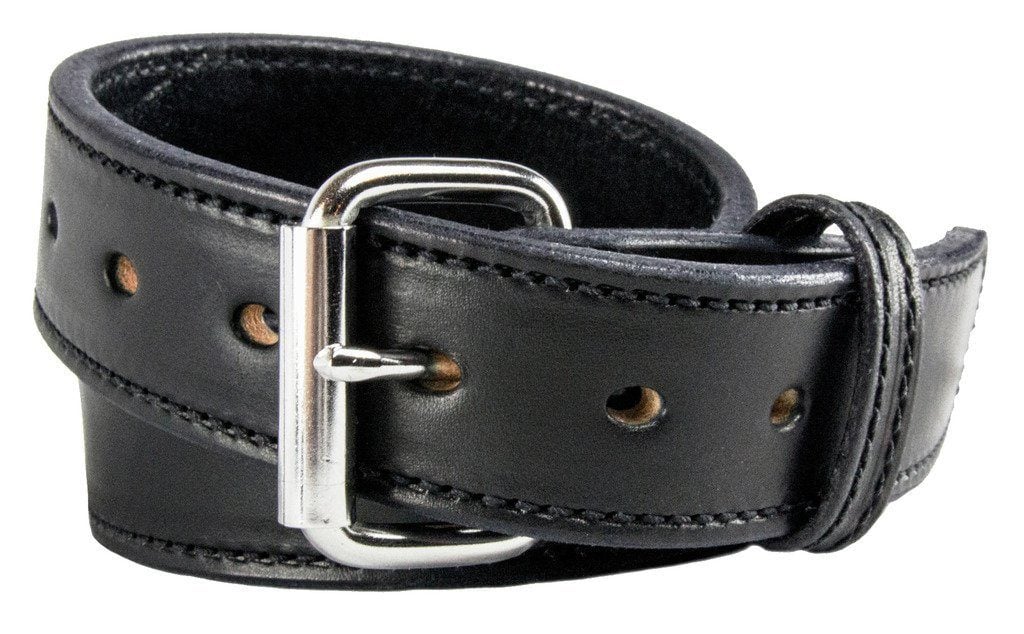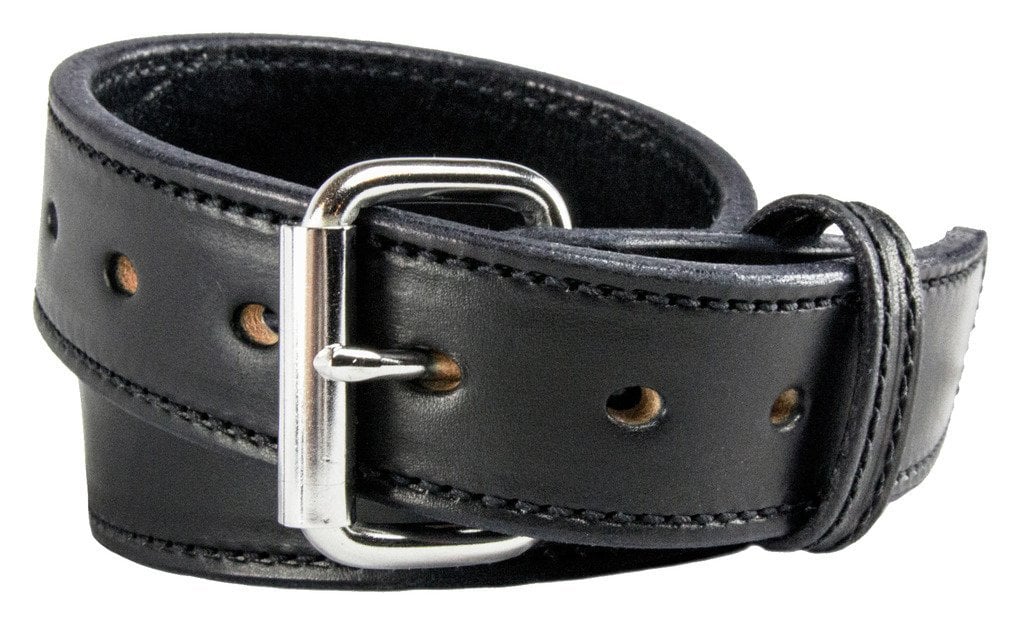 Some of the Best Tactical Pants on the market right now come from Propper!
Even if you're not a high-speed operator, a good pair of pants for everyday wear or for the range really help.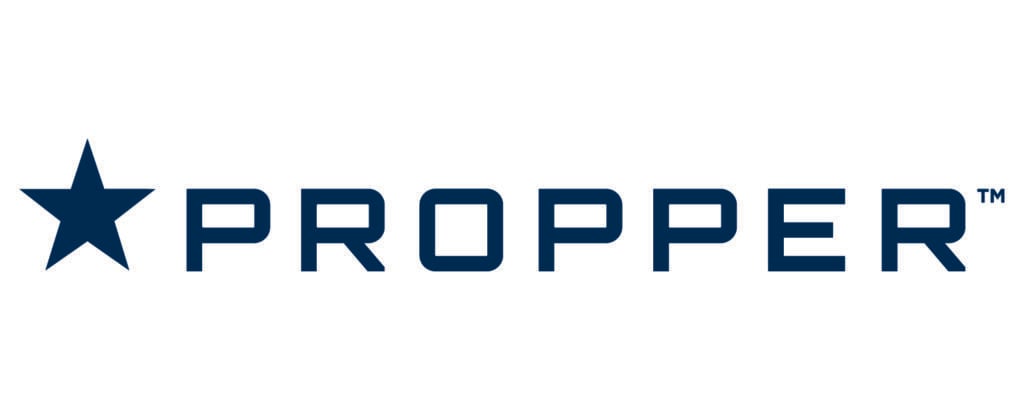 We're hoping to see some great sales from them later in the week, but for now, their Black Friday hasn't started yet.
While you might not be SCUD hunting in Iraq any time soon, gas masks and personal protective equipment still have a place in every emergency kit.
From gas attacks to smoke from wildfires to tear gas, protecting your lungs by filtering the air you breath can save your life.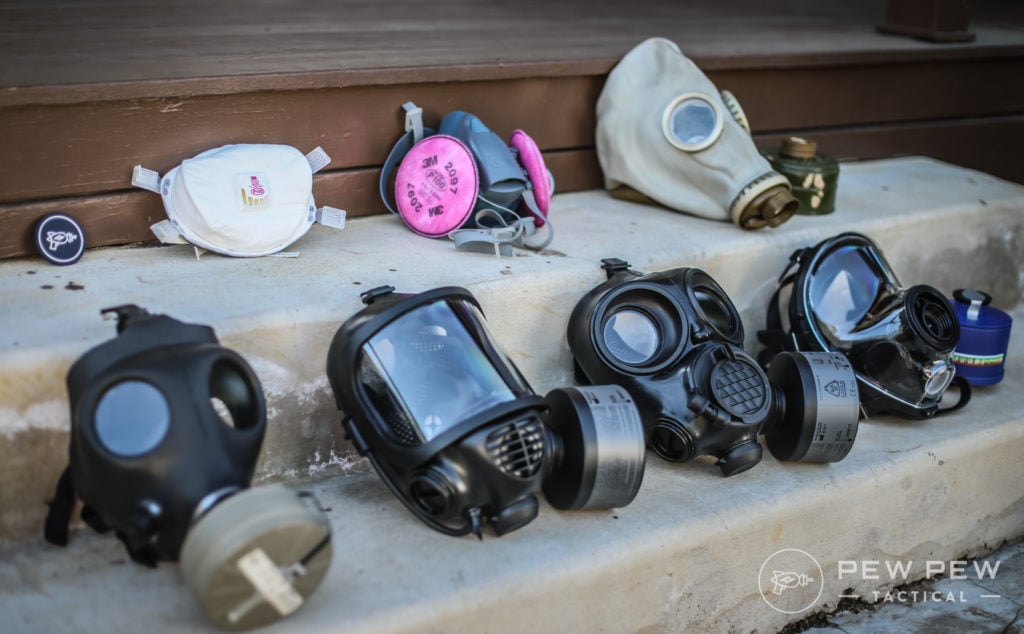 We've tested a bunch of gas masks before and really like what MIRA Safety has to offer.
We have a few reviews covering Vaultek's MXi, VT10i, and VT20i safes — this are solid and dependable handgun safes.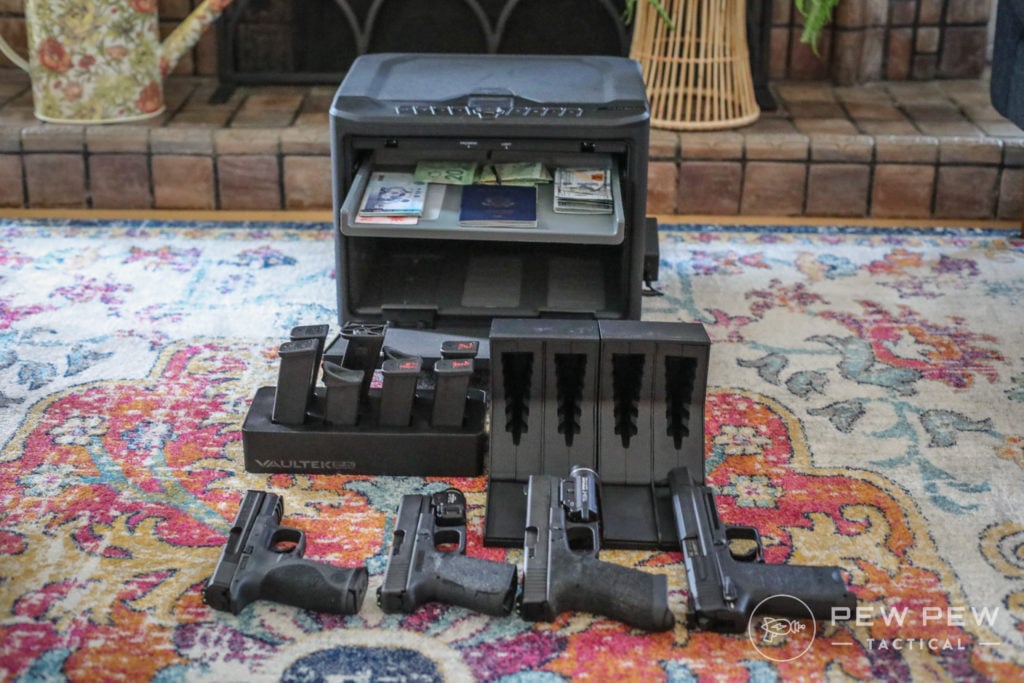 Our new favorite travel unit is their Lifepod.
109
at Vaultek
Prices accurate at time of writing
Prices accurate at time of writing
Check it out and more in Best Quick Access Gun Cases.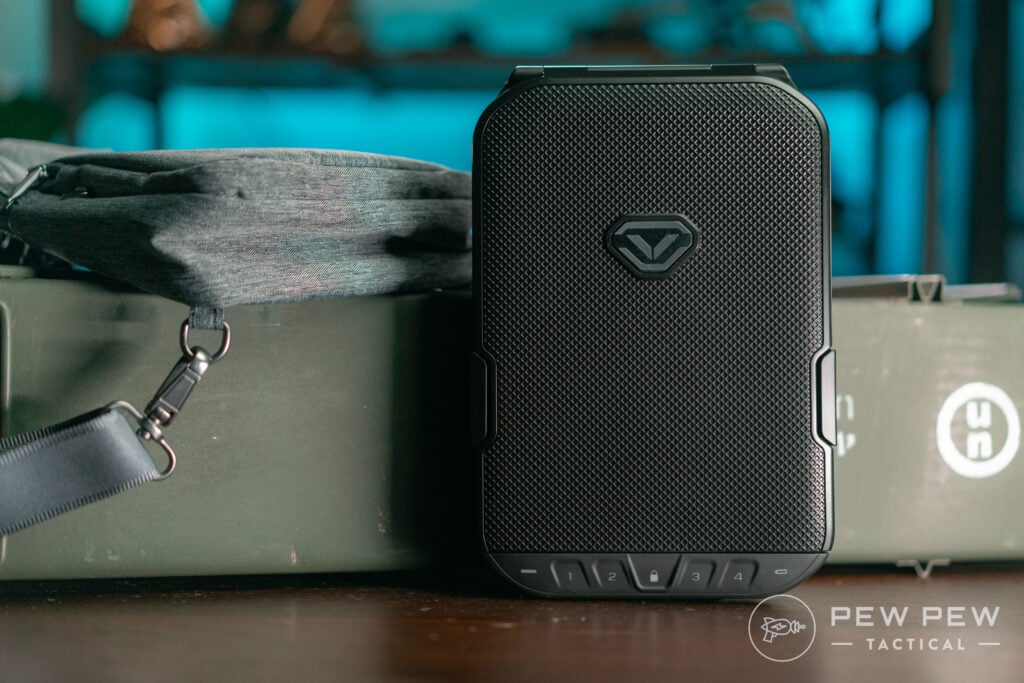 Black Friday hasn't started for them yet, but we'll keep checking!
Body armor isn't high on everyone's list, but a good vest can save your life when you really need it.
From home defense, civil unrest, or just going to public ranges — don't be caught unprepared.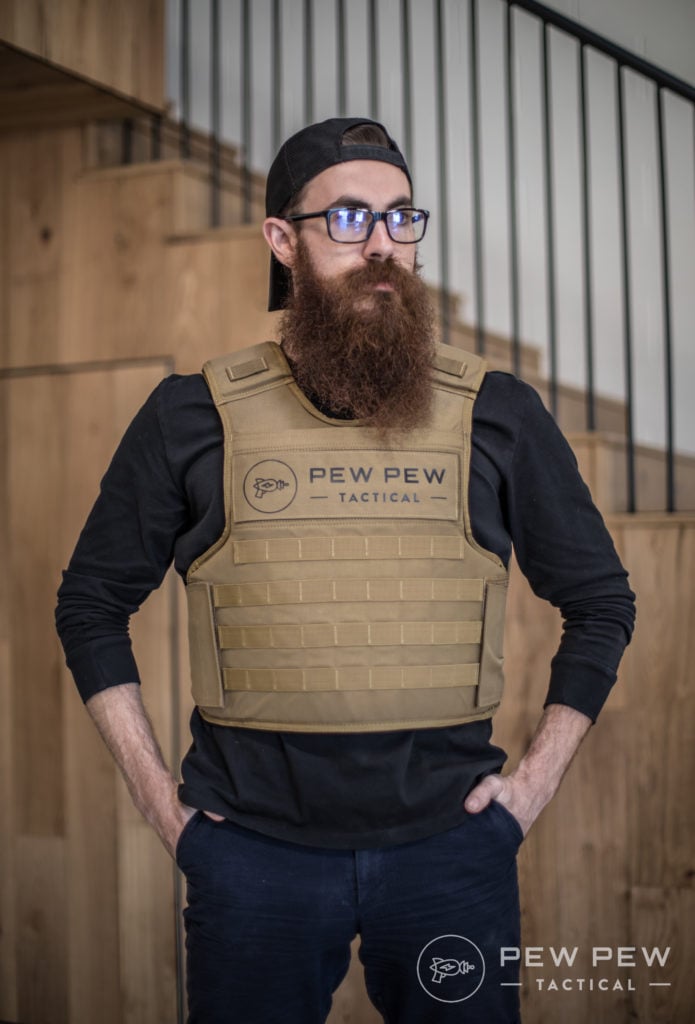 We're pretty happy with the soft armor we've tested from Safe Life, from the comfort and weight view these are great! FLEXIBLE rifle rated armor is a very cool new innovation!
Some solid sales and deals happening on vests, belts, and more! They also have a sweet offer to get a FREE carrier with any vest!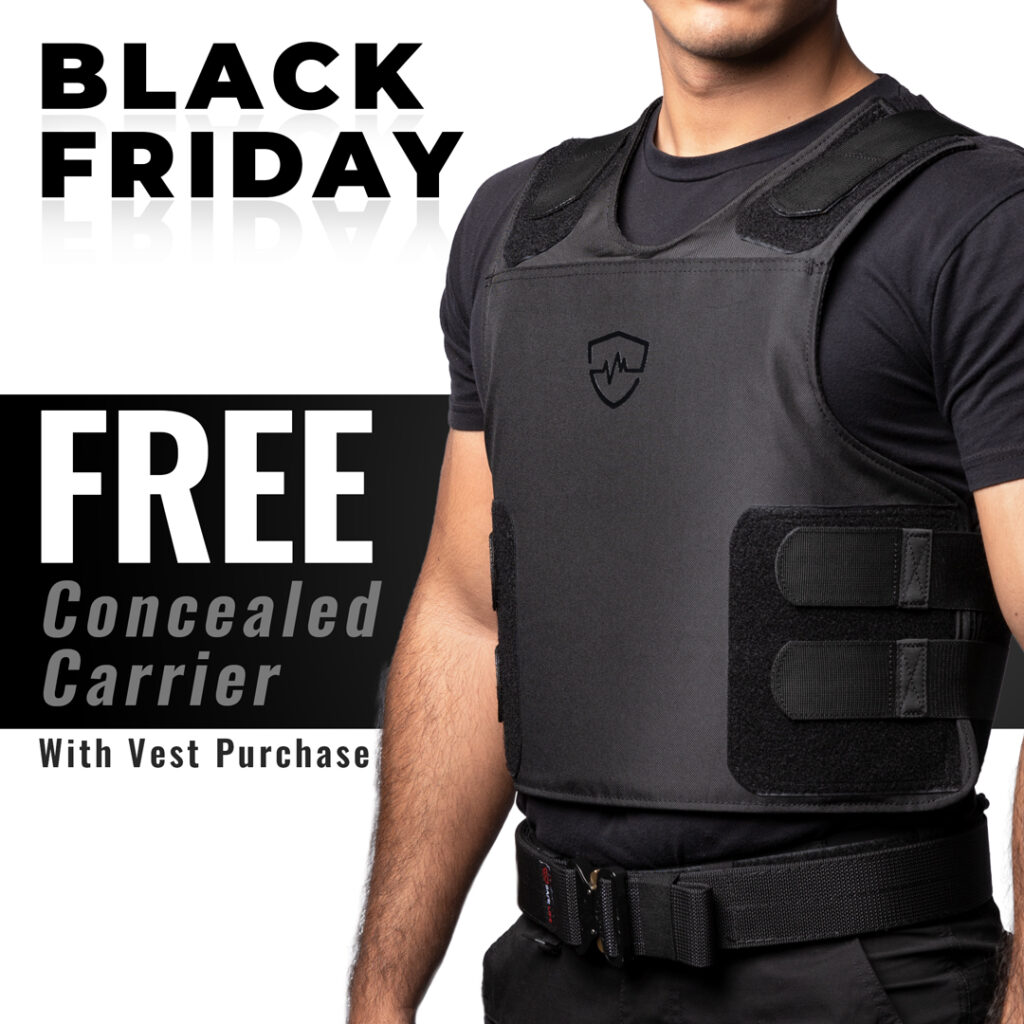 Some big-time sales!!
15% off of their C-Series optics, including their brand new CM.1 8×32 monocular.
They are also offering FREE customizations starting Black Friday and extending through the end of the year!
We have several Maven reviews coming soon but the results have been awesome so far. Direct to customer sales allows Maven to deliver some incredible glass quality for their price points.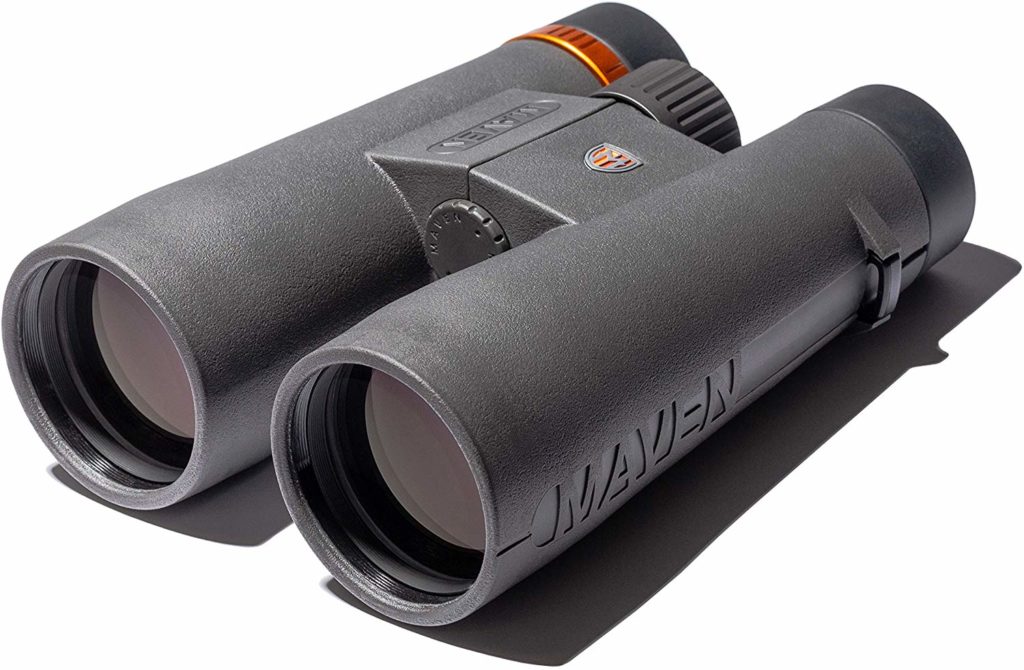 Awesome Glock triggers, barrels, parts, and more! The big sales have not started yet, but last year was great! Check back soon for all your Glock upgrade needs.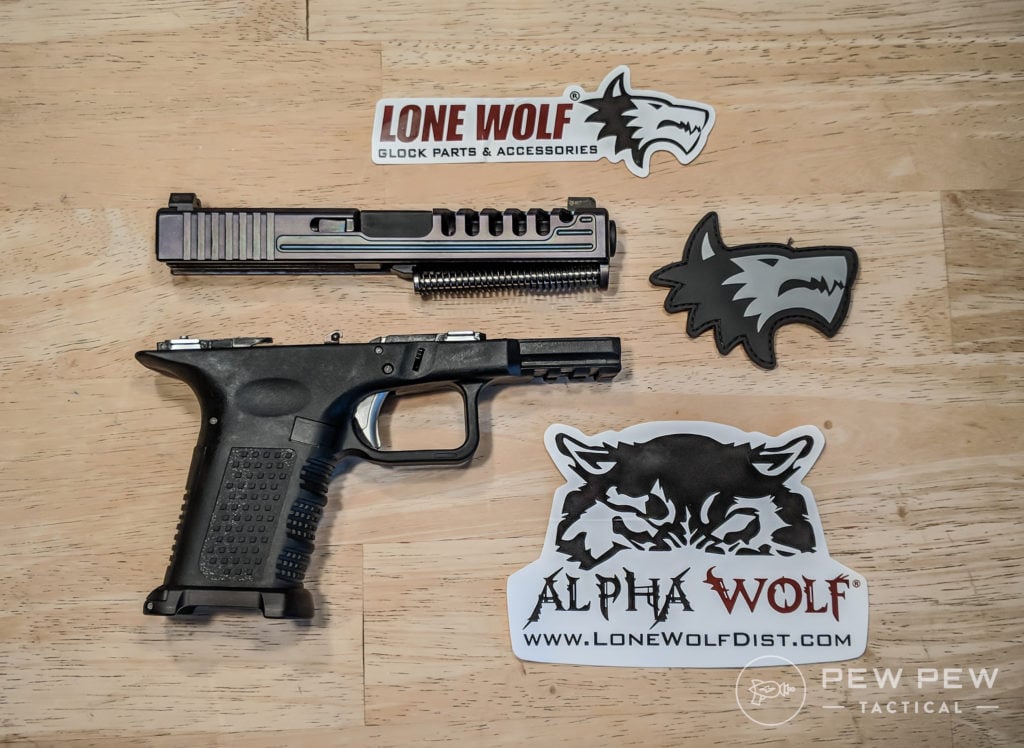 Holsters are everywhere these days, but finding a good one is still one of the hardest parts of carrying!
Concealment Express has a great line of IWB and OWB Kydex holsters – we've used them for EDC ourselves. See our full review.
Gets It Done (IWB)
37
at Concealment Express
Prices accurate at time of writing
Prices accurate at time of writing
Awesome barrels for a great price is what Ballistic Advantage is known for! We've reviewed their Hanson Profile barrels before and REALLY liked what we got.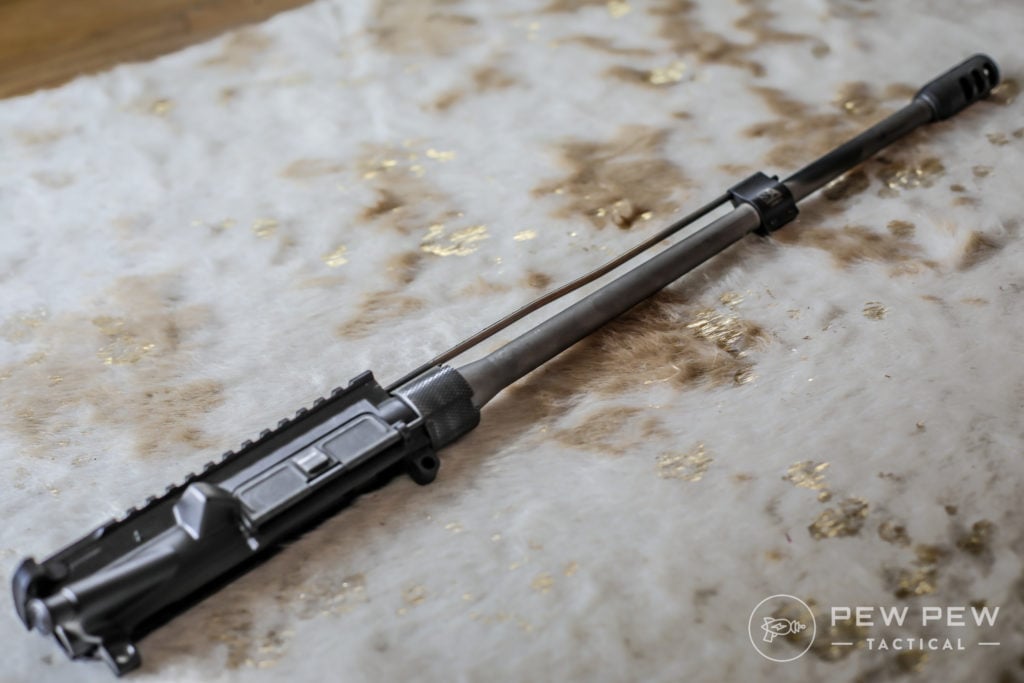 Need a holster? Tenicor should be having some solid Black Friday sales soon, don't miss out!
Read about our tests and thoughts on Tenicor in the Best Concealed Carry Holsters!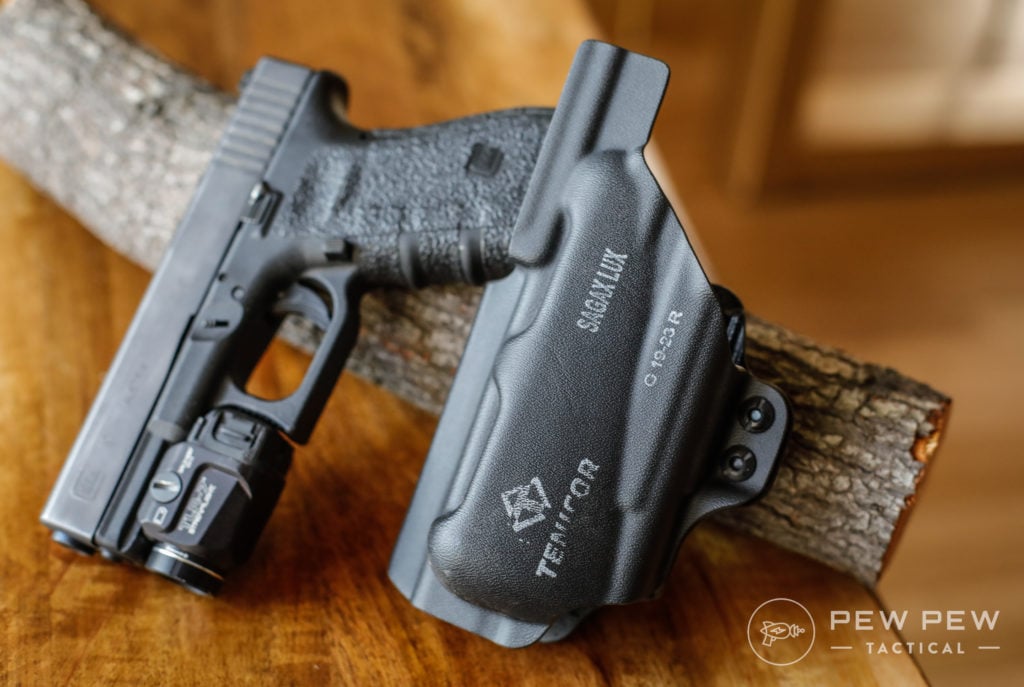 One of the best Black Friday sales this year at LAPG!
Oakley, Vertx, Altama, all 25%!!
PLUS they have a great section of their holiday gift ideas and house branded gear on BIG discounts.
LAPG also carries their own line of products, their First Aid Bag is one of my core medical bags and their pants are one of my main range wear.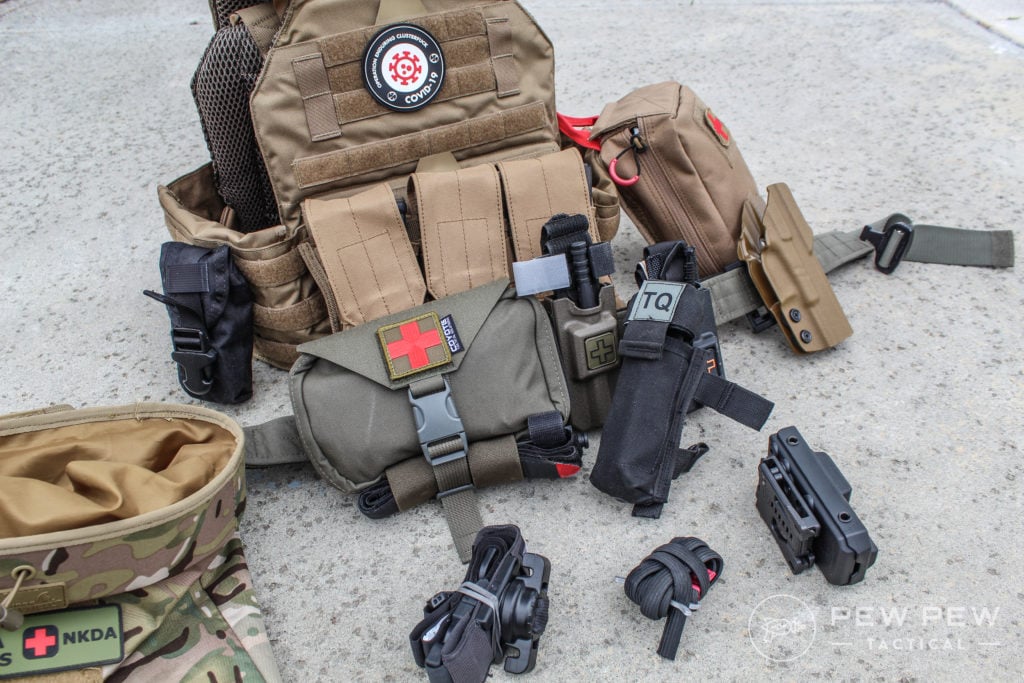 Solid ballistic rated helmets for a decent price. No info on their Black Friday yet, but we should see something soon!
Take a look at our video of John's latest helmet set up including nightvision and HHV!
Thermal optics are not cheap normally, but ATN has some great starter options AND some outstanding top tier optics if you're looking to really go big this year.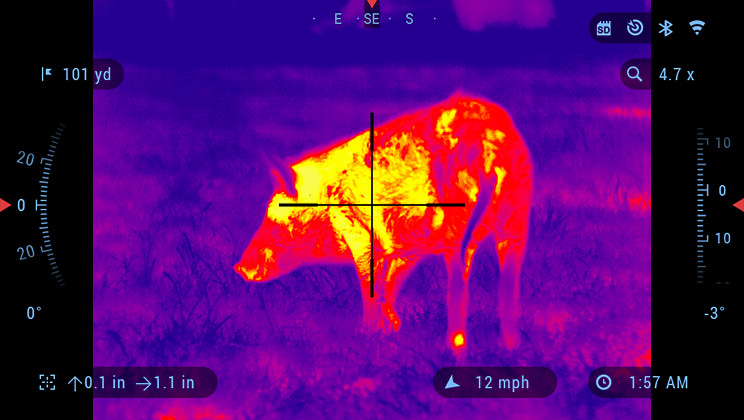 Check out all their deals here.
Pants, shirts, belts, bags, and a whole lot more – 5.11 has a LOT of great stuff to take your pick from!
Black Friday has started with 25% off SITEWIDE, no codes or coupons required!!
They have lots of awesome stuff and every item from 5.11 we're tried, we've really liked.
Top of my list this year is the new RUSH100 Backpack and the Vehicle Ready Hexgrid!
RUSH100 backpack is 5.11's brand-new 60L pack with an internal frame and LOTs of room for expansion. Everything about this bag is big and built for harsh environments. We have a full review coming, but we're really excited by it already!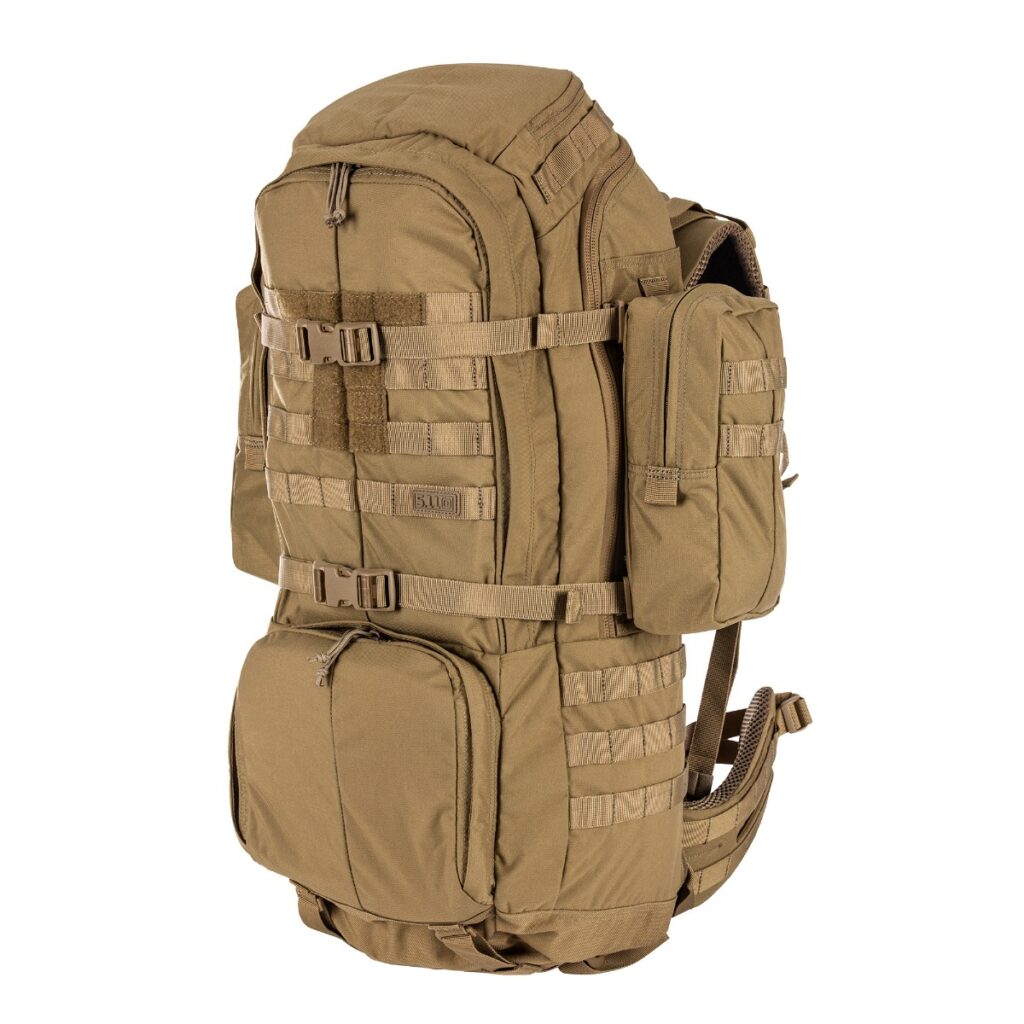 We first saw the Vehicle Ready Hexgrid at SHOT 2020 and it was basically the only new product that ALL of us were interested in getting our hands on. We have it in-hand now and we love it. Check it out!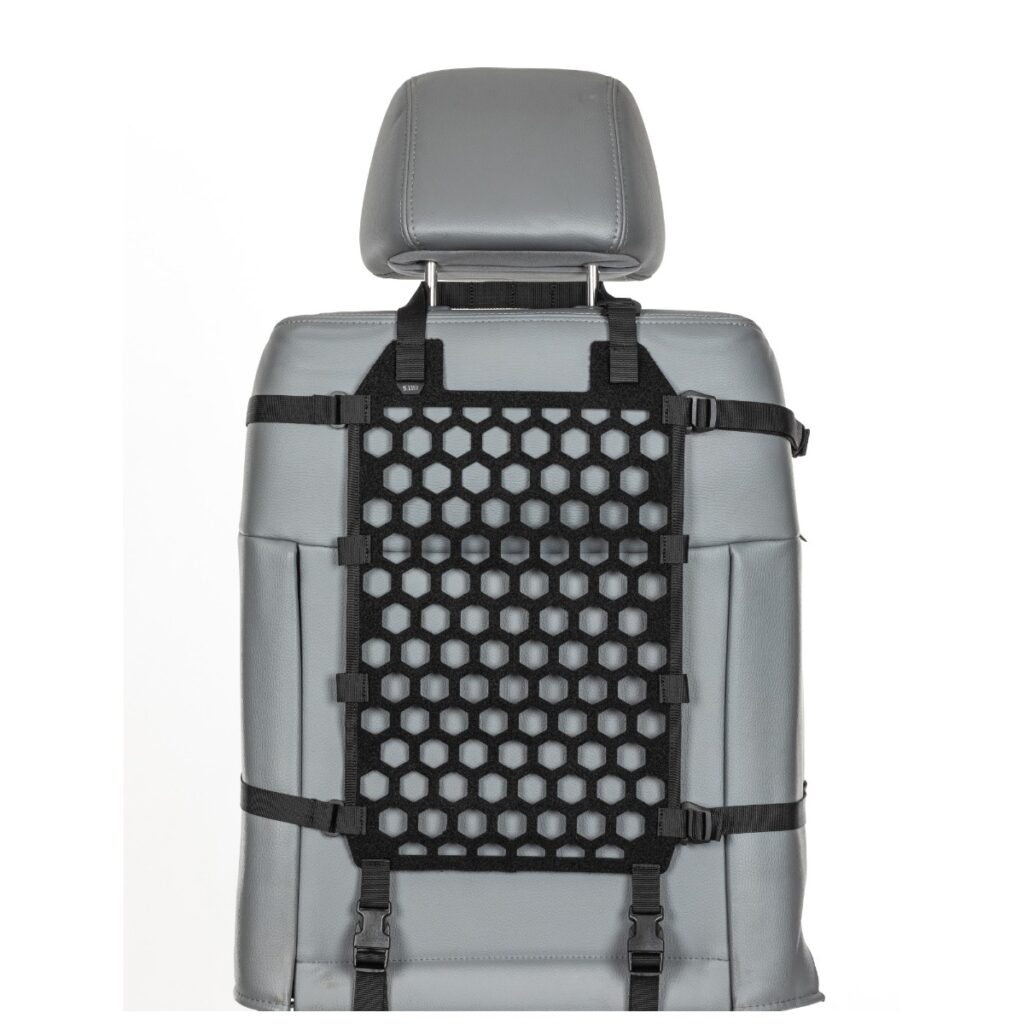 Take a look at our review of their Low Profile bags:
Great for people in ban-states, the Resurgent Arms grip is one of our favorite for "Featureless" AR-15 builds. Full review here.
Use code "pewpew10"
40
at Resurgent Arms
Prices accurate at time of writing
Prices accurate at time of writing
Another ban state compliance option, the Patriot Pin is a great way of converting your standard AR-15 into a fixed magazine rifle.
55
at Patriot Pin
Prices accurate at time of writing
Prices accurate at time of writing
Last year had some solid sales!
Got a little prepper in you?
Wise has some of the best bulk survival food solutions out there.
The last couple of years the Wise sales have been awesome, but nothing started this year yet.
Parting Shots
Alright, thanks for sticking with us, and happy hunting.
Like I said, we'll be updating this as the sales go on, and be sure to let us know in the comments if you find an awesome deal we haven't mentioned so others can save too.
Thanks, and enjoy your Thanksgiving!
Want to see our favorite guns and gear? Check out our Holiday Gift Guide and Editor's Picks.
The post Black Friday & Cyber Monday Gun Deals [2021 Hand-Picked] appeared first on Pew Pew Tactical.