Regulated by the National Firearms Act, suppressors can seem like a pain to add to your gear collection.
You have to jump through some hoops, including paperwork, fingerprints, a background check, a waiting period, and a $200 tax stamp to get your hands on one.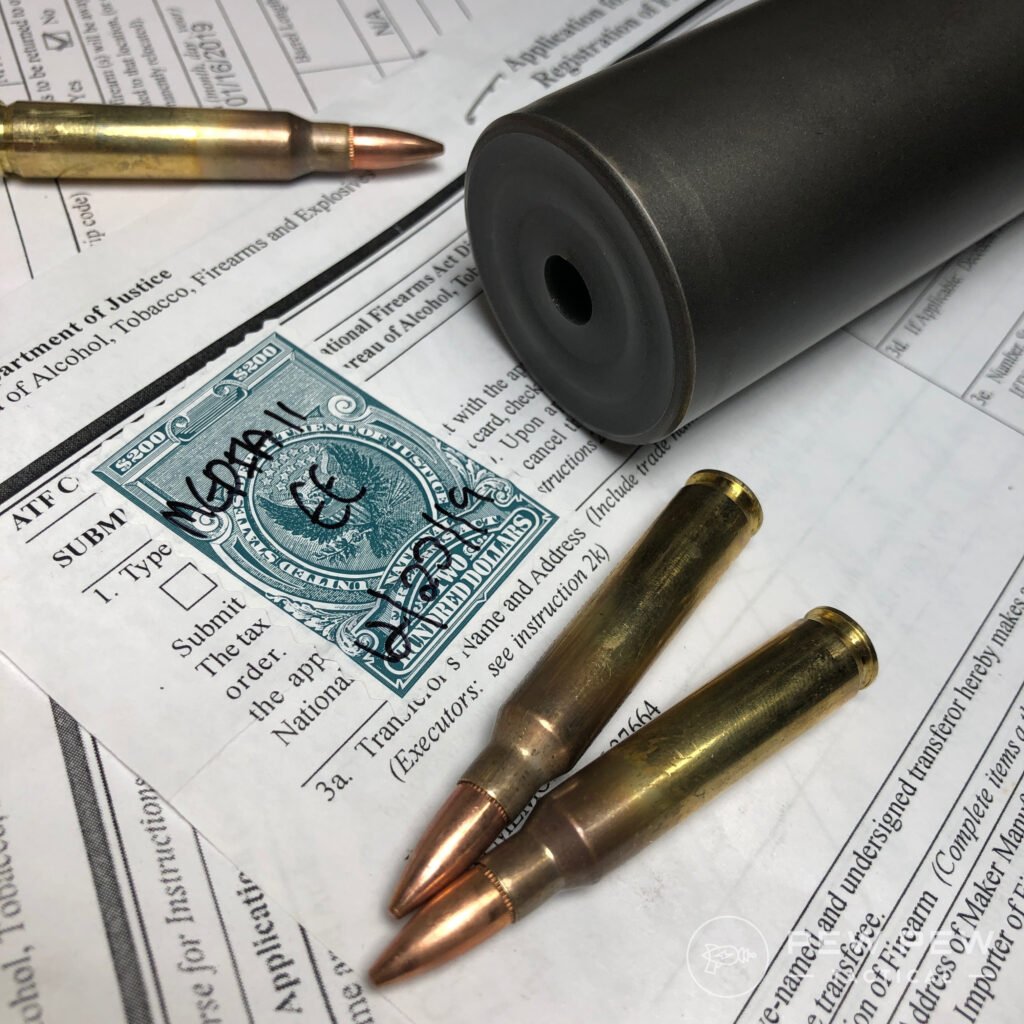 But once you do, a suppressor is a joy to have, so that's what we're going to talk about today. Specifically, we're going to focus on suppressors for .45 ACP.
.45 ACP is an extremely popular round for handguns, reflected in the multitude of .45 caliber suppressors on the market. But how do you know which .45 suppressor to choose?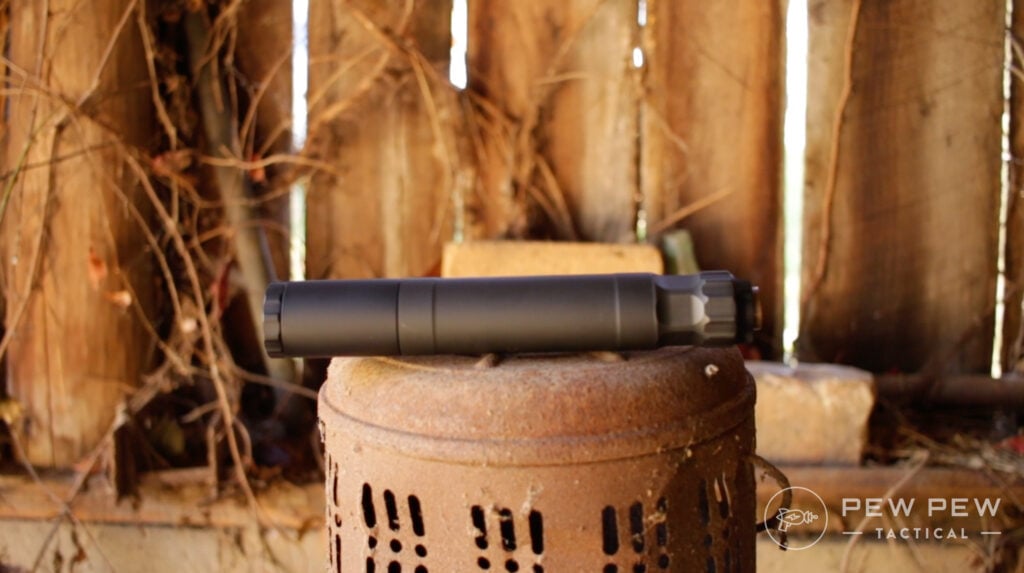 This guide will help you out. We've assembled a list of the best .45 suppressors from some of the best suppressor companies on the market to help you narrow your options.
After all, just the process of buying a suppressor is complicated enough. Choosing your suppressor in the first place shouldn't have to be.
Best .45 ACP Suppressors
Before we dive into some awesome silencers, let's take a moment to talk "hearing safe." The National Institute for Occupational Safety and Health's threshold for hearing safe is 140-decibels — meaning, anything higher than that will damage your hearing.
An unsuppressed .22 LR measures about 145-decibels while a "normal gunshot" (we're going to guess your average 9mm, .45 ACP, etc.) comes in around 165- to 170-decibels.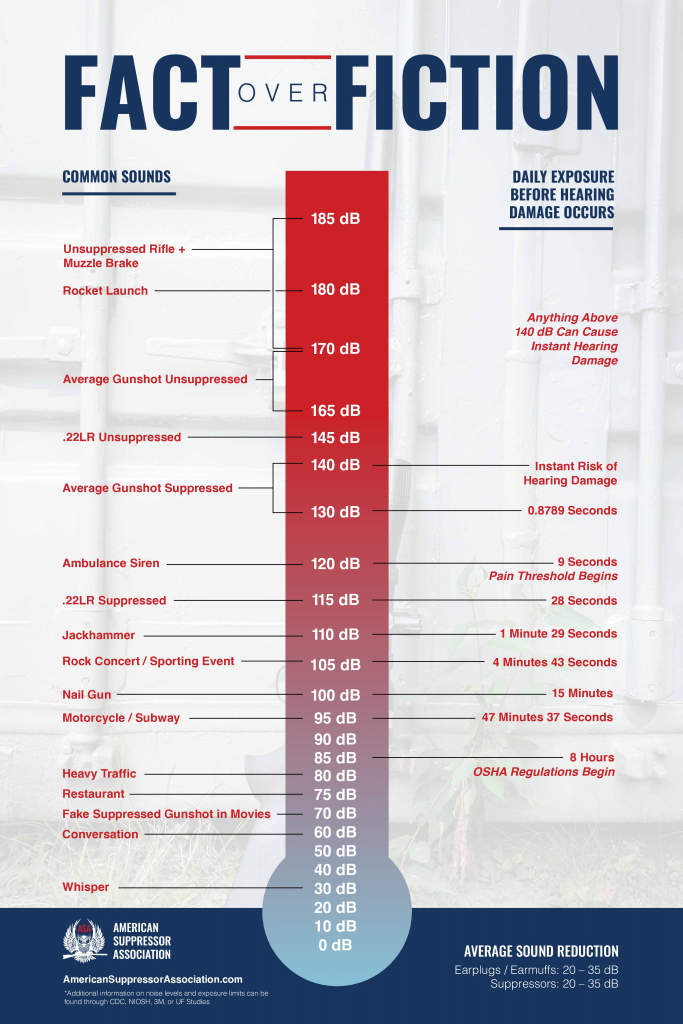 On the other hand, most average caliber suppressors cap out around the 130- to 140-decibels — scrapping below that hearing safe threshold. Though, .22 LR suppressors significantly reduce the volume to 115-decibels.
Why am I telling you all this? Because a silencer doesn't mean you shouldn't also wear hearing pro. It just means that you might not need the heavy-duty pair you usually tote to the range.
With that said, let's jump into our recommendations.
1. Silencer Central Banish 45
Have a few handguns of different calibers that you want to suppress?
The Silencer Central Banish 45 will allow you to do just that without dealing with the inconvenience and expense of buying multiple suppressors.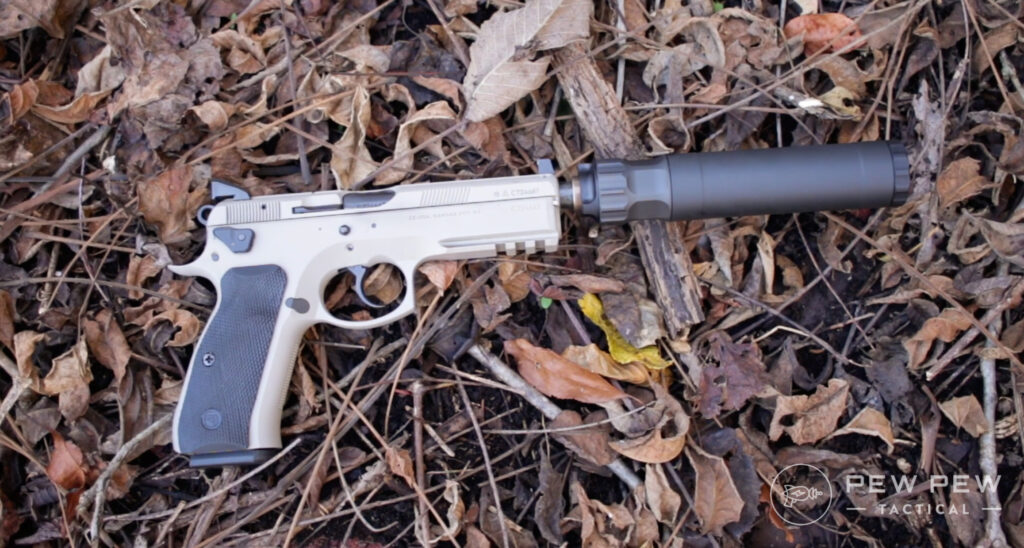 The Banish 45 works with handguns in calibers ranging from rimfire up to .45 ACP.
Silencer Central specifically advertises it for competition use, but the Banish 45 has a user-serviceable, modular design that makes it well suited for a wide variety of uses.
In addition, the Banish 45 comes in two configurations.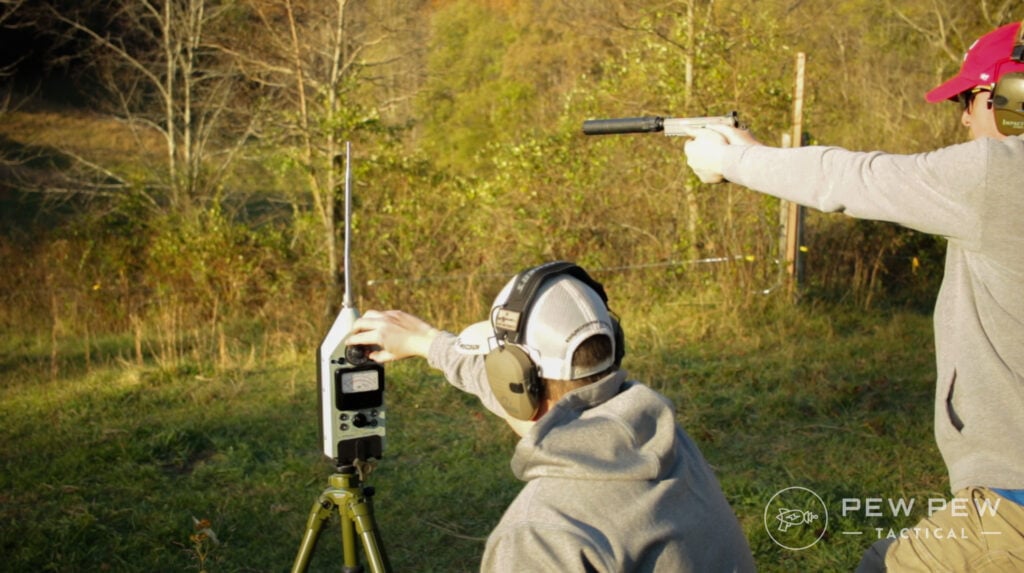 The shorter configuration weighs just 9.6-ounces — making it one of the lightest .45 suppressors available. It measures 6.7-inches long and features eight baffles to reduce noise and felt recoil.
Meanwhile, the longer configuration weighs 11-ounces and measures 8.6-inches in length. It uses 12 baffles.
The titanium and aluminum construction keeps weight low without sacrificing durability.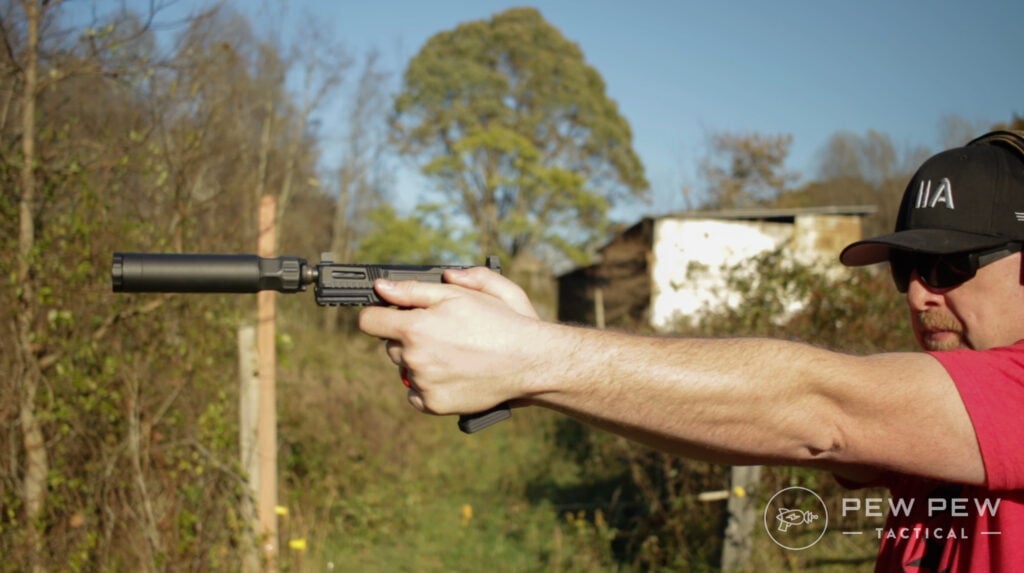 In total, the Banish 45 reduces the noise of a 9mm shot by about 36-decibels, making it one of the most effective suppressors available.
However, all of this quality comes at a price, quite literally. You'll have to pay about $200 to $400 more for the Banish 45 than for any other suppressor on this list.
949
at Silencer Central
Prices accurate at time of writing
Prices accurate at time of writing
Learn more by reading our Silencer Central Banish 45 Review.
2. SilencerCo Osprey 45
Let's be real…SilencerCo is one of the biggest names in suppressors.
And the Osprey 45 stands as one of the company's most popular suppressors.
Like the Silencer Central Banish 45, the Osprey 45 is a multi-caliber suppressor.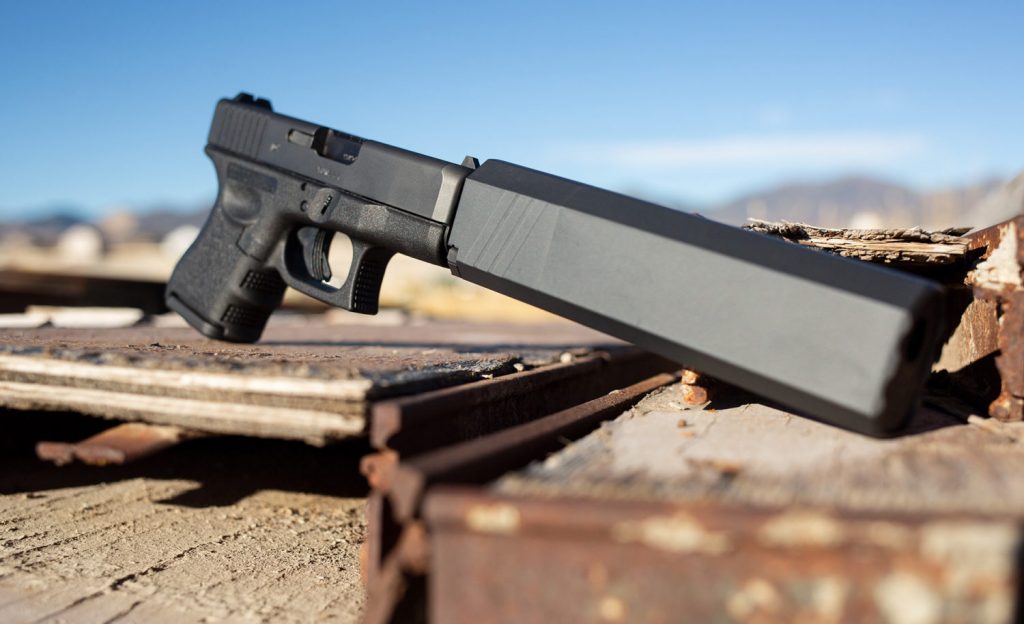 However, the Osprey 45 works with a smaller range of centerfire only calibers — from 9mm to .45 ACP, including .300 BLK.
The Osprey's polygon shape increases the suppressor's volume while still retaining a relatively similar profile to similar round suppressors. This .45 ACP can measures 8-inches long, with a weight of 11.1-ounces.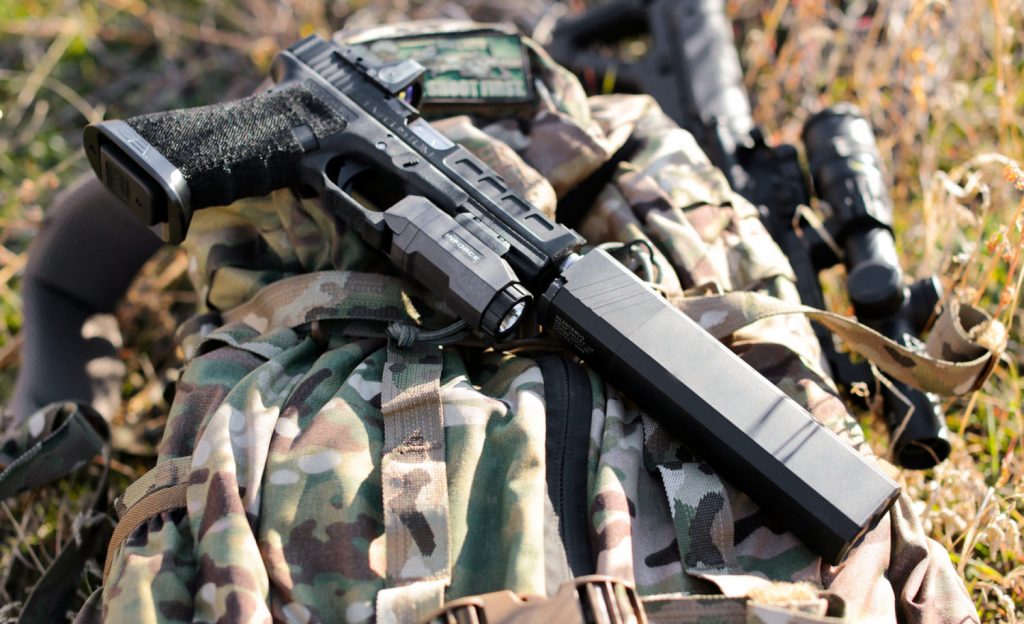 Its construction allows the Osprey to suppress sound more effectively without a substantial increase in size. It uses an aluminum and stainless steel build for durability.
Volume reduction on a .45 ACP round comes down to 131.3-decibels on average. 9mm cuts down further to 125.2-decibels on average.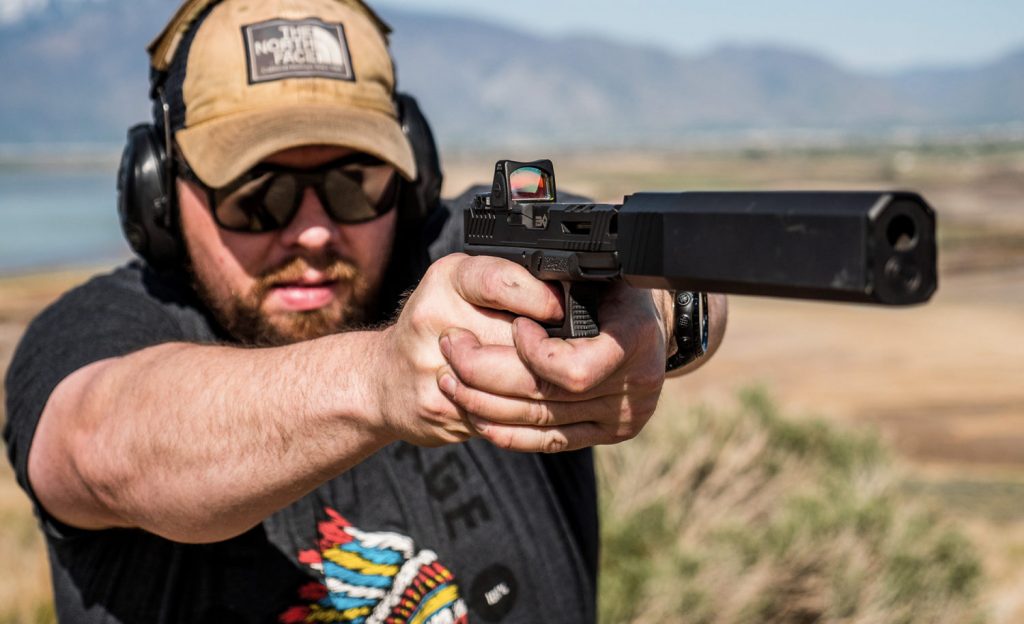 Now, the inability to see sights on target is a frequent complaint from suppressor users. So, how does SilencerCo address this?
The Osprey 45 adopts a locking cam system allowing you to index the top of the suppressor with your pistol's sights so that the Osprey doesn't block them.
One other feature of note is the piston attachment system. It's a bit trickier to use than a thread or QD system, but still pretty straightforward.
918
at Brownells
Prices accurate at time of writing
Prices accurate at time of writing
3. Gemtech Lunar-45
Like the Banish 45, the Gemtech Lunar-45 comes in long and short configurations.
Gemtech's long configuration measures 8.5-inches long and lowers a .45 ACP shot down to below 130-decibels, which is hearing safe and should prevent pain.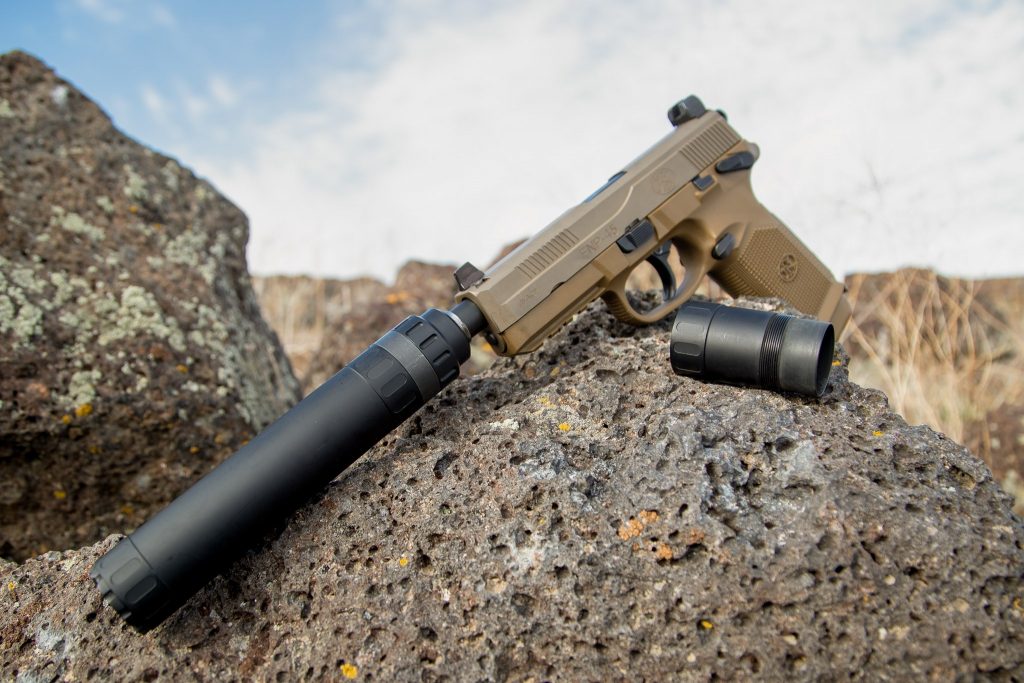 On the other hand, the Lunar-45's short configuration is a mere 6.9-inches and lowers a .45 ACP shot down to 137-decibels.
That's low enough to be safe for your hearing but will probably still cause pain.
The Lunar-45's long configuration comes up slightly ahead of the Osprey 45 for noise reduction. It also gets bonus points for sporting multiple formats.
However, it feels a little heavier. But at 12.3-ounces (or 10.9-ounces in the short configuration), it still seems pretty light.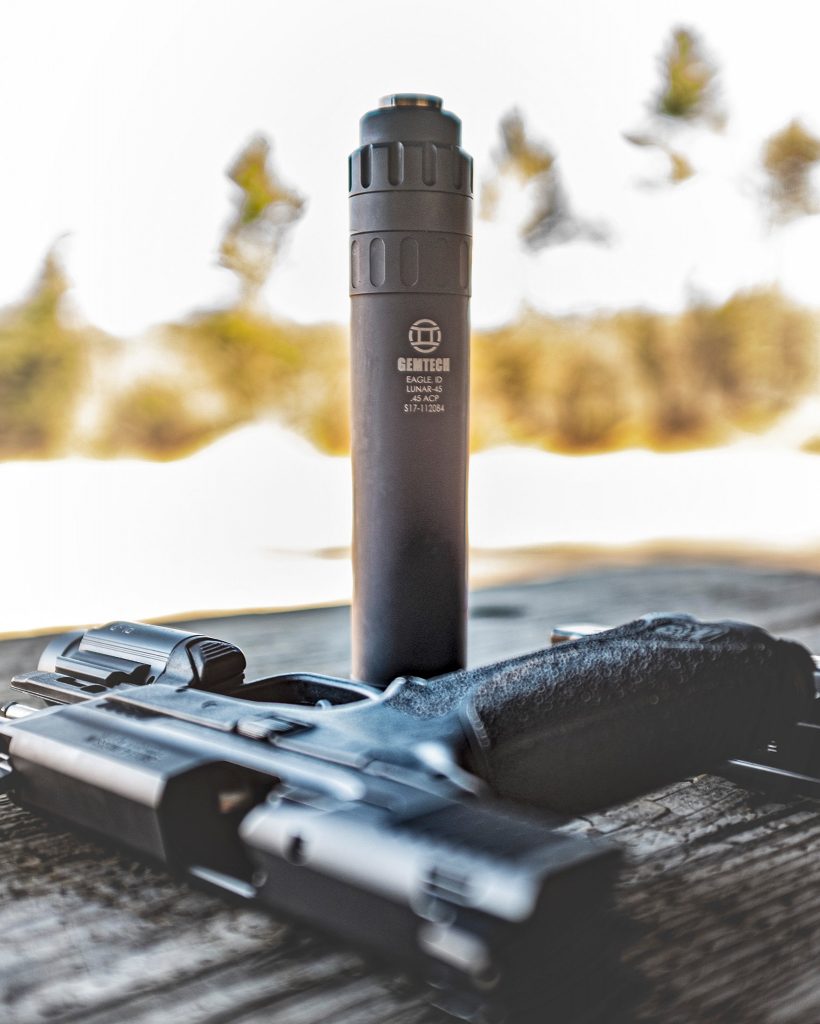 Also, like the Osprey 45, the Lunar-45 uses a piston attachment system.
It comes with what you need for .45 ACP, but you can also use this suppressor with 9mm or .40 S&W with the necessary pistons.
The Lunar-45 features an aluminum rear cap, titanium tube, stainless steel mount, baffles, and front cap, plus a Cerakote finish.
If you're looking for a suppressor with a more "tactical" style design, the Lunar-45 is a great option.
700
at Primary Arms
Prices accurate at time of writing
Prices accurate at time of writing
4.SilencerCo Omega 45K
Not to be outdone, SilencerCo comes in again with another .45 caliber can. This time, it's the Omega 45K.
Using a rounder design, the Omega 45K pushes weight down more than the Osprey 45, weighing just 10.3-ounces.
It's only 6.36 inches long, ideal if you're looking for maneuverability.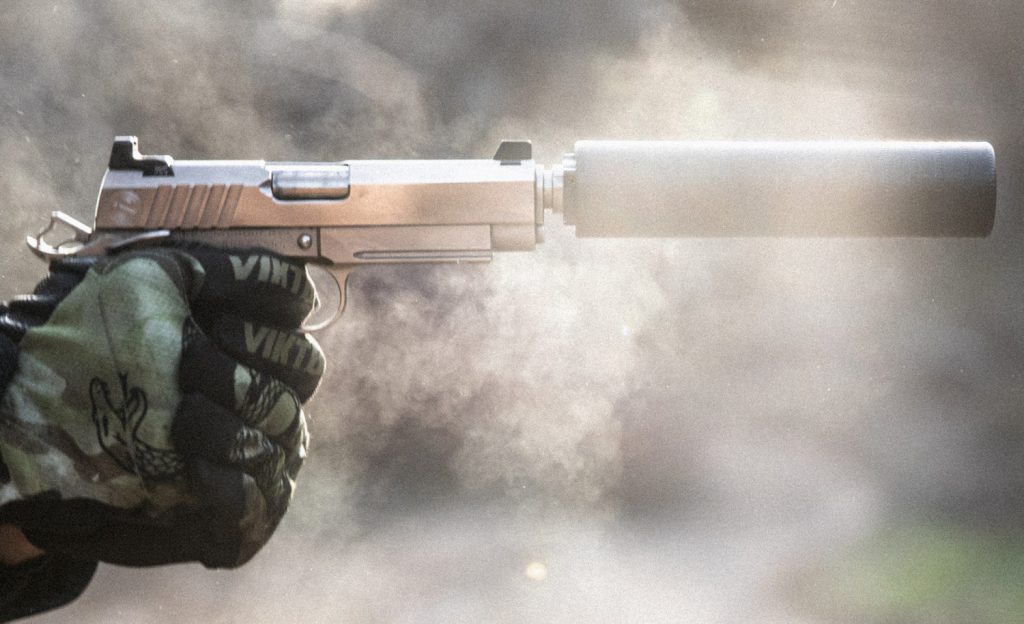 Like the Osprey 45, the Omega 45K can be used with calibers from 9mm to .45 ACP, including .300 BLK, using a piston attachment system.
The Omega 45K won't prevent muzzle rise as much as the Osprey, and it's also not as effective for sound reduction.
The average .45 ACP round will be 135.9-decibels while the average 9mm will measure 136.7-decibels.
It definitely helps, but you'll still want to pair it with wearable hearing protection, especially for longer shooting sessions.
That said, the Omega 45K comes in about $70 cheaper. So, it's not surprising there's some give and take when it comes to features.
700
at Brownells
Prices accurate at time of writing
Prices accurate at time of writing
Have you tried SilencerCo's Osprey 45? If so, rate it below!
5. Advanced Armament Ti-Rant 45 Auto Pistol Suppressor
Now let's round out this list with a couple more budget-friendly options.
The Advanced Armament Corp. Ti-Rant 45 Auto Pistol Suppressor is another multi-caliber, multiple configuration options.
It gives you a ton of versatility in a single suppressor, so you don't have to bother with multiple tax stamps.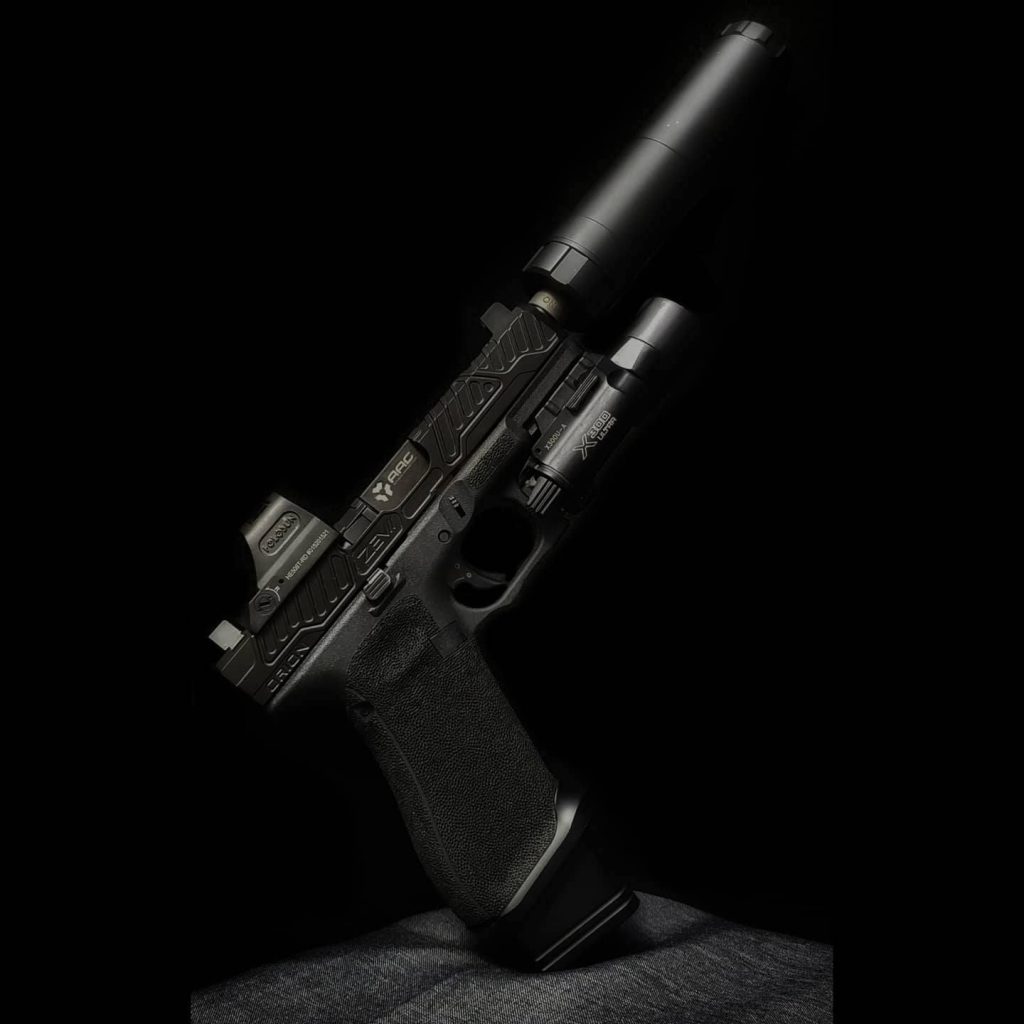 And the suppressor itself costs less than $650.
The Ti-Rant pairs with .45 ACP out of the box, but piston adapters (sold separately) allow it to work with 9mm, .40 S&W, or 300BLK guns — subsonic ammo only.
Like other configurable suppressors, the Ti-Rant offers both long and short configurations.
The short configuration measures 7-inches. Meanwhile, the long configuration comes in at 9-inches. This means the Ti-Rant is quite a bit larger than the other suppressors we've talked about here.
In the short configuration, the Ti-Rant reduces a .45 shot down to 144-decibels. In the long configuration, it reduces down to 132-decibels.
As you can see, despite the larger size, the Ti-Rant isn't as effective at noise suppression as the previous suppressors.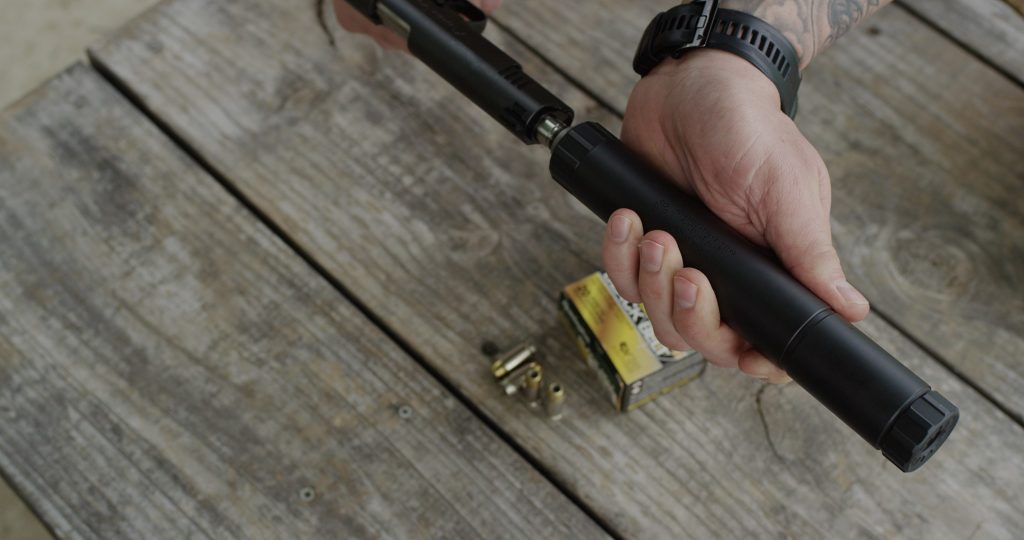 The long configuration is actually a solid showing, but the short configuration is pretty weak.
Only in the long configuration does noise reduction meet hearing safe requirements.
Still better than nothing, though.
You shouldn't have any problem reducing the noise to hearing safe levels with additional hearing protection.
Other benefits of the Ti-Rant are the durable titanium and easy, tool-free disassembly for suppressor cleaning and maintenance.
Overall, it's a solid choice for the budget-conscious.
620
at Brownells
Prices accurate at time of writing
Prices accurate at time of writing
6. Rugged Suppressors Obsidian 45
Need another wallet-friendly suppressor at around the same price point as the AAC Ti-Rant?
Check out Rugged's Obsidian 45.
Like the Ti-Rant, the Obsidian 45 is multi-caliber and configurable to give you the best versatility for your buck.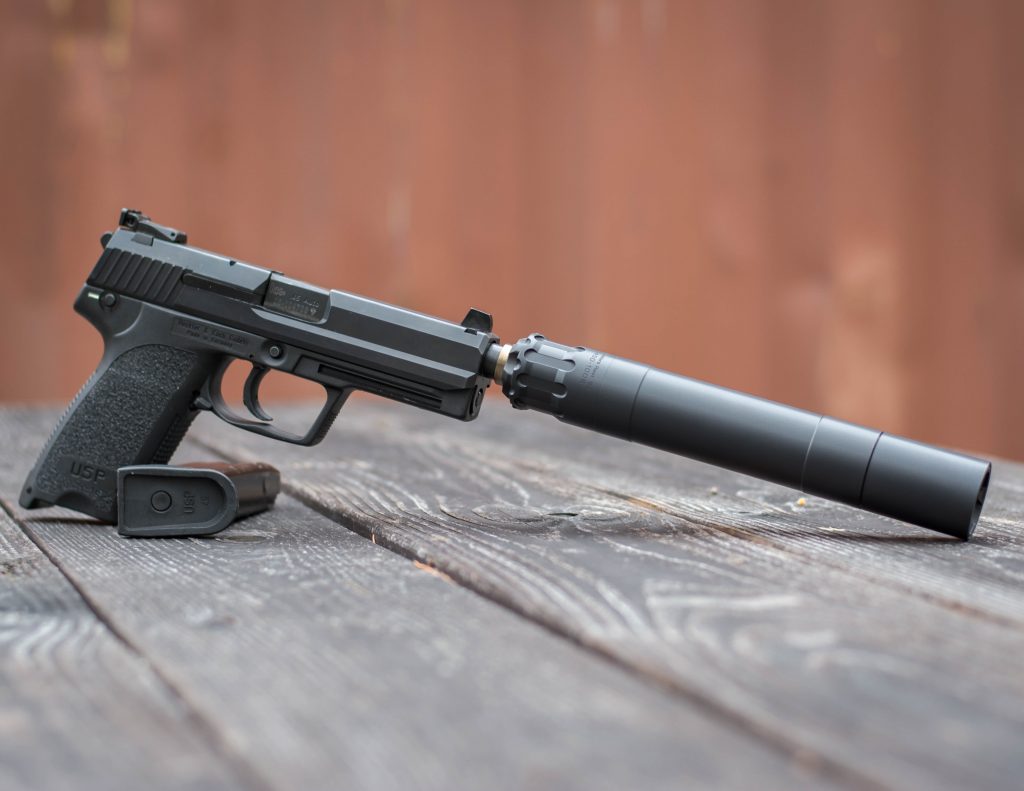 However, the Obsidian introduces a good design for the hunter-on-a-budget because of the particular calibers it offers.
Most of the previous suppressors are really only useful for handguns or PCCs, with a couple of exceptions that can pair with .300 BLK rifles.
However, the Obsidian works with 10mm and subsonic .300 BLK ammo, in addition to .45 ACP.
What makes it stand out further is it can also be used with .350 Legend and .450 Bushmaster.
Just make sure the rifle has a barrel of at least 16-inches.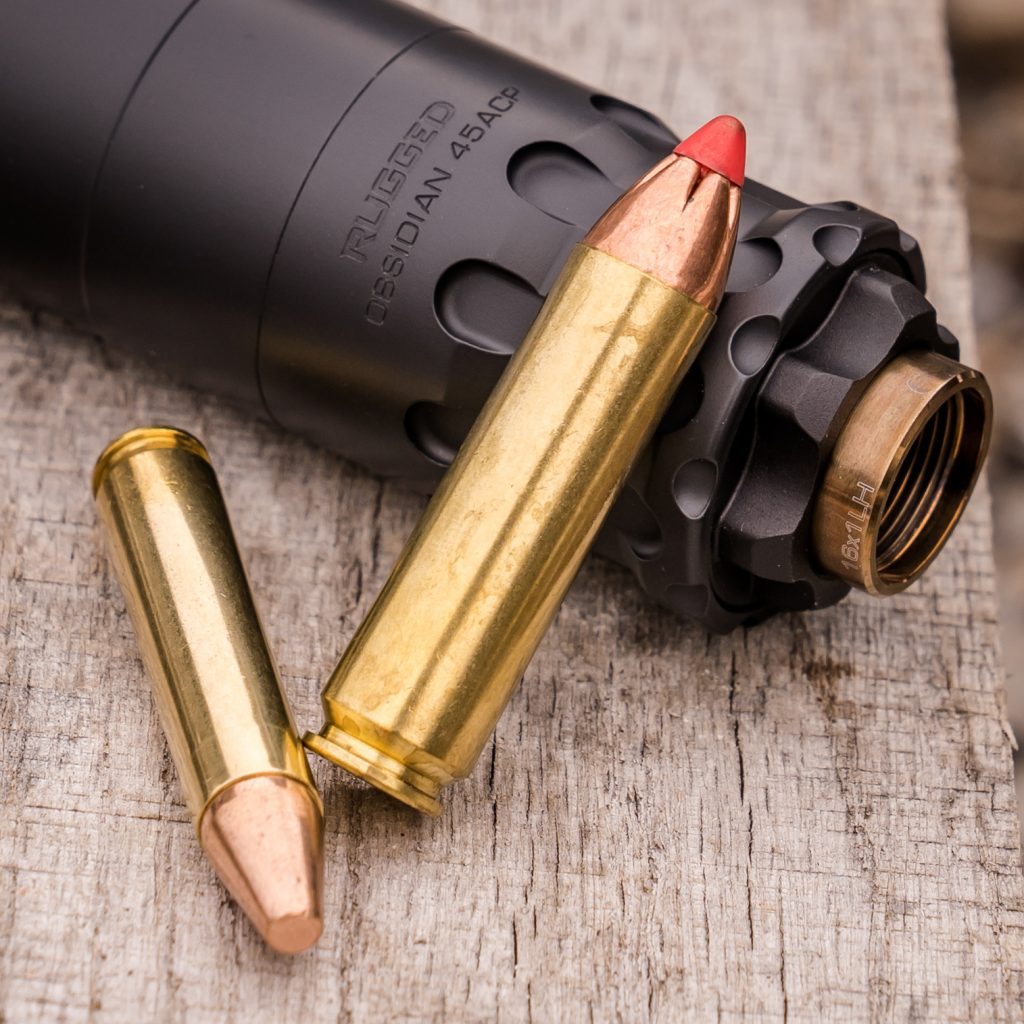 This makes the Obsidian a much more versatile choice as it works on both a defensive handgun or hunting rifle.
Again, you'll have to get the proper pistons for anything other than .45 ACP.
The durable stainless steel and aluminum construction prove that Rugged comes by their name honestly.
It's not a small suppressor, but it is still smaller than the AAC Ti-Rant.
The long configuration measures 8.6-inches, weighing 12.8-ounces, while the short comes in at 6.7-inches and 10.7-ounces.
It still won't obstruct your sights, which is a bonus!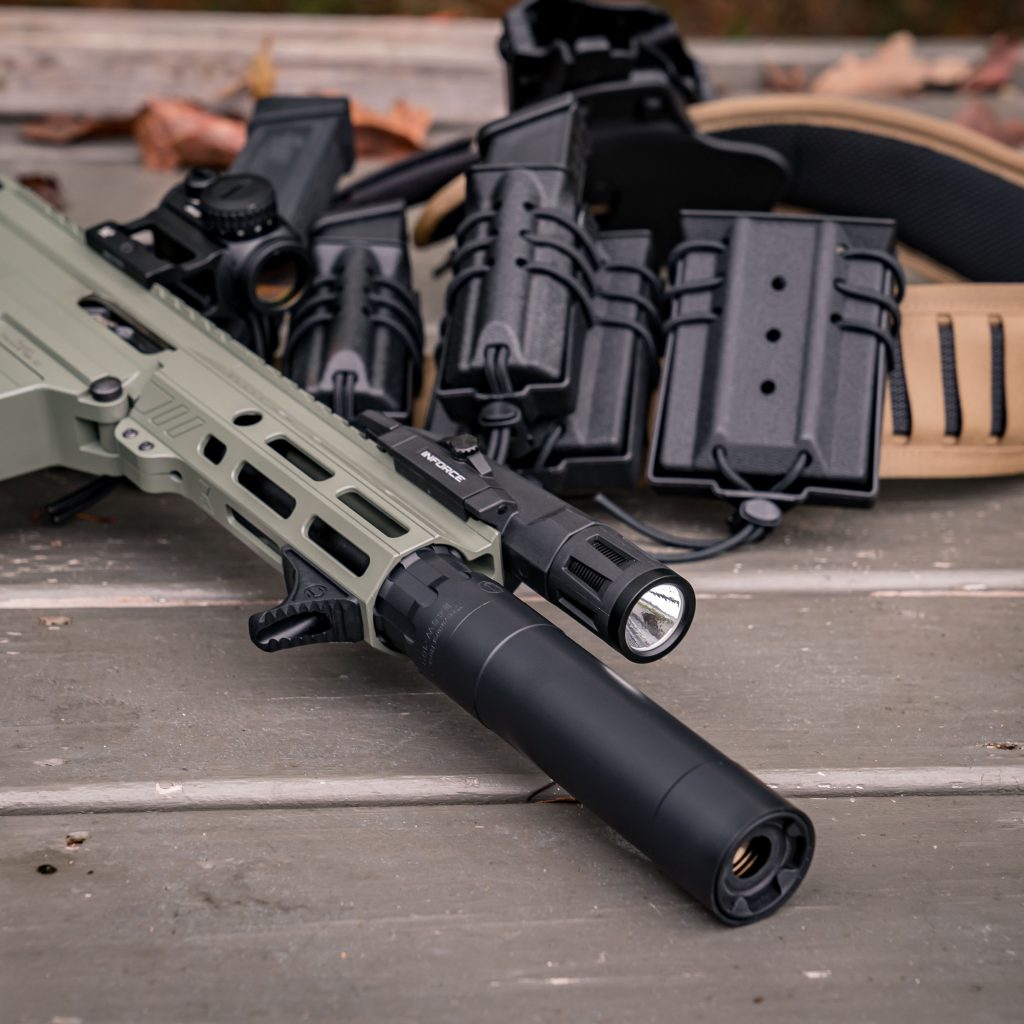 And the Rugged Obsidian 45 is quite effective as well.
In the full configuration, it will quiet .45 ACP to 129.3-decibels and 9mm to 123.7-decibels.
In the K configuration, .45 ACP will measure about 137.6-decibels and 9mm about 130.4-decibels.
The Rugged Obsidian 45 is an amazing suppressor, especially for the money. But it's not for everyone.
If you're looking for a suppressor that you can use on a bunch of different handguns, it's not your guy.
That's not a shortcoming for the Obsidian, though. It's just not what it's designed for.
654
at Silencer Shop
Prices accurate at time of writing
Prices accurate at time of writing
Conclusion
Whether you're after a .45 suppressor that is more or less loyal to .45 or you want something that cuts across multiple calibers, this list aims offers a good starting point.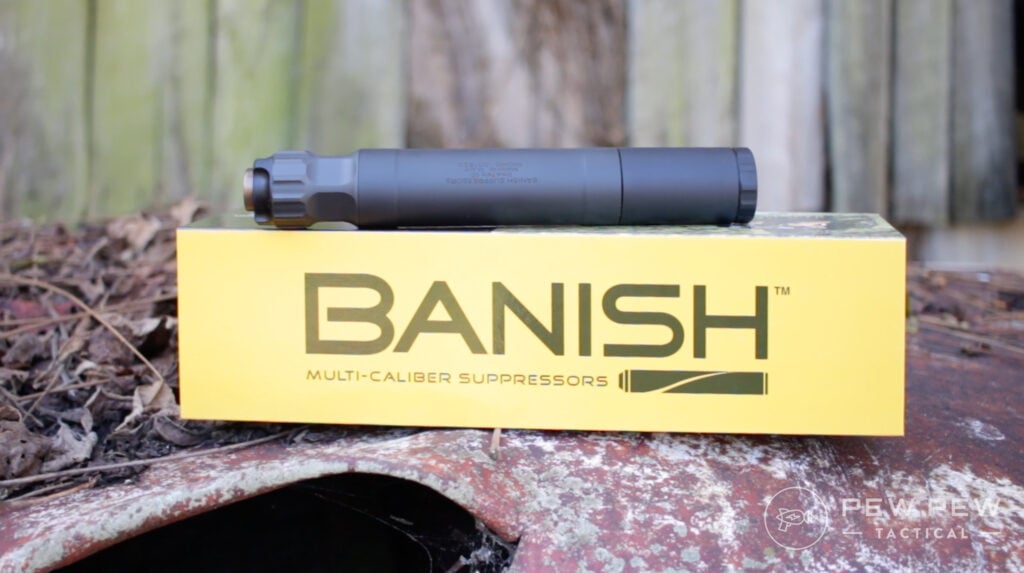 Speaking of options, check out the best 9mm suppressors for some more handgun suppressors that you might love. (Many of them are also available in .45 caliber versions.)
Finally, once your suppressor arrives, you may want to grab a suppressor cover to manage the heat that inevitably comes off your suppressor while you shoot. These handy accessories seriously make it easier to handle your hot suppressor.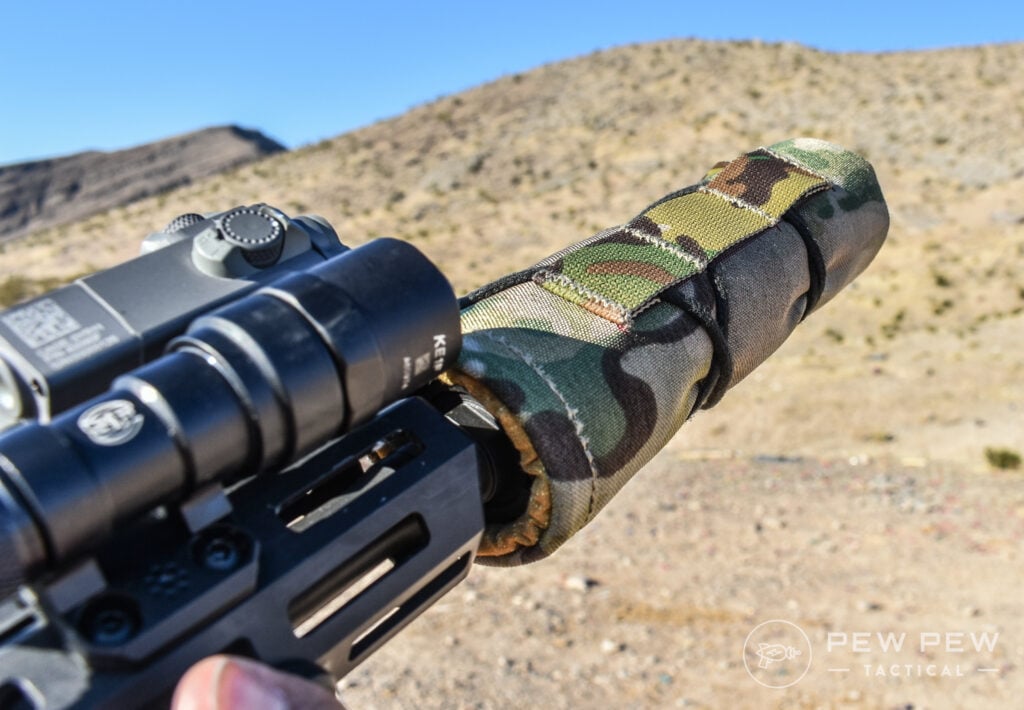 Now let's hear from you. Did any of these suppressors catch your eye? Which one and why? Let us know in the comments below. So, you've decided on a suppressor, but how do you bring it home? We got ya', fam. Check out our guides on How To Buy a Suppressor Online and the Best Places to Buy a Suppressor.
The post 6 Best .45 ACP Suppressors [Ultimate Guide] appeared first on Pew Pew Tactical.